Is there some trick to adding captions in MMM? I know I can add type text headlines to my animations in MikuMikuMoving … how do I do it?
Adding captions in MMM is easy!
One of the things MMM has that MMD doesn't is the ability to add captions.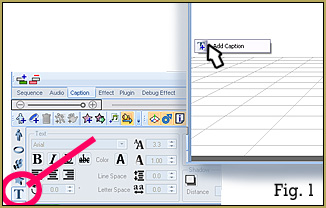 It's really easy to do, but not very obvious. You select the Caption tab by clicking the 'T' at the bottom left side of the screen. Then place the cursor where you want the Caption to appear and right click. A button will appear labeled 'Add Caption'. (Fig 1)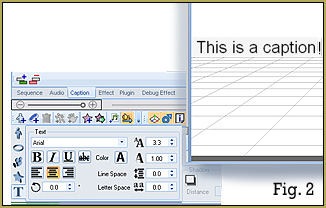 Click the button and type your caption, You will notice that all of the formatting tools in the caption tab become activated! (Fig 2) You can use these tools to format the captions in your videos to help tell your story! (Fig 3)
Happy animating!
Bull :)
---

Happy Lebericson Day
… but no, seriously, lets talk about movies!
No, I don't mean the new Thor movie. OR Frozen.
I mean MIKUMIKU MOVIE!
What? You dont know?
Oh well … I wouldn't expect you to. It hasn't been made yet; key word here being YET!
'Project: MikuMiku Movie!' is UNDER WAY! And youve been invited to watch it all unfold! Every glitch, every crash, every deleted scene and blooper! I plan to document every mishap and screw-up; just for you- I think. *Fishing for suggestions* First order of buisnes, MIKU.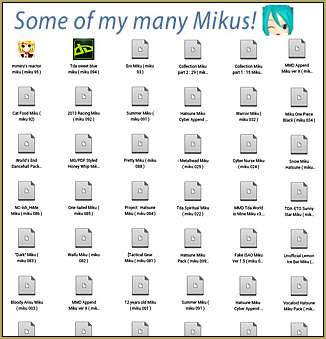 Were gonna need Miku models right? Let's use about 95 Miku models to start with. (spoiler* Miku raises an army of Mikus *spoiler.) But don't all the creators deserve credit? Yea! So let's show them our bookmarks!
No. this dosen't count. You have to name them and link them if possible! Though I'm not going to bore you with my extensive list of models at the moment, I DO credit. "Keep the faith!"
"Now what do we do after we document our models? FIND MATCHING OUTFITS ! I mean STAGES!
Wait.
Why cant I just use one stage?
Because its not pretty, that's why … and movies have scenes! Pretty matching scenes! So when Hatsune Miku meets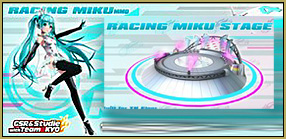 Racing Miku, we have a racetrack stage, right? Right!
Where do I get one of those? Oh my… this will work! We have everything we need for the first scene now!
( I had cars )

End Part One … of many!
---
Are you running the Latest Version of MMM?

When you go to download MikuMikuMoving you are presented with a history of the various versions available … be sure to upload the latest version of MMM … you probably do not need an earlier version.
Updated More Often than MMD!
Seeing those options made me laugh. It's not just MikuMikuDance that gets updated every few weeks … MikuMikuMoving looks to be going through similar gyrations!
I like that MOGProject lists the various older versions of MMM. The MMD VPVP homepage only shows the latest version of MikuMikuDance as if it's the only DirectX version that ever existed. LearnMMD.com hosts all of the earlier versions of MikuMikuDance, starting with MMD 7.39 through today's version. (If you do not see the older version you are looking for, just adjust the link to the ZIP file to show the version you want … we have it for you!) See the LearnMMD Downloads Page for the latest versions of MMD and for links to the MOGProject homepage where you can get MMM.
---

What are some of the differences between MMD and MMM? Is MikuMikuMoving different from MikuMikuDance? Is MMD better than MMM or is MMM Better?
MMD VS MMM
I discovered MMD and MMM while looking for anime models for Daz Studio, a free 3D animation program.  I had dreams of making an animated movie with my laptop.  Unfortunately, my laptop proved to be unequal to the challenge.  I was able to make very short simple animations of multiple models or longer animations of fewer objects, but project files that I saved would not reload, and without the ability to save the program would crash without warning and I would lose all of my work!  This was very discouraging and I resigned myself to learning as much as I could about key frame animation.
Then I found MikuMikuDance!
I found some MMD models online, and that led me to the LearnMMD site where I discovered the links and downloaded MMD and MMM.  I rendered the All Star sample that came with MMD  and was totally blown away!  So many models, effects, lighting,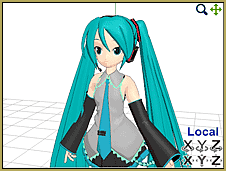 shadows, and physics… and it all rendered in less than 10 minutes!  Suddenly, my dream of making an animated movie was alive again!
In the series of articles I am writing, I hope to share my experiences learning both programs… I have found that if I can't figure out how to accomplish something with MMM, I can usually find a relevant tutorial for MMD and apply the methods to MMM.  I really prefer the interface to MMM and I will be describing it in more detail in my next article.
MMD VS MMM …
For now, I just want to describe some of the differences in these 2 fine programs. Please keep in mind that I'm still a newbie with both of these programs, so be sure and check the comments for corrections!  One of the first differences you will notice about MMM (as compared to MMD) is the Settings button in the upper left corner of the interface.  Clicking this button opens the Settings dialog box with 3 tabs… Screen, Editor, and System (Fig1). The first option on the Screen tab lets you set the maximum FPS that the program will attempt to display when you hit the Play button. Next is the default screen size, which can be changed at render time.  Next is an option called Clip which lets you set values for Near Plane and Far Plane (I don't really know what this is for).  Next you can set the Selfshadow buffer size, which Read more

How do I Keep the Faith-MMD? Who owns what in MikuMikuDance? Is there an MMD "honor system"? What are the rules when it comes to downloading MMD items?
Keep the Faith-MMD!
Who owns what in MMD and MMM?
Everything in the MikuMikuDance and MikuMikuMoving worlds is FREE … no charge for anything but a few items which are charged-for or bartered-for by their creators. An MMDer can download almost everything

she needs for her projects … and those things which she must create, herself, can be made using free software available online at the click of a link.
But where does it all come from? … ?
Everything has been created … is being created … by talented artists/MMD enthusiasts across the planet! Through their generosity they have put their artistic treasures online for us to find and utilize in our projects. We owe them a debt of gratitude; we owe them some form of "Thank you" for the works they have given to us.
With great freedom comes great Responsibility!
Everyone knows that once a file is uploaded to the web, it goes "Public". The author or artist who uploads a file to share loses control of it … it's out of his hands. As MMDers … as members of the global MMD Community… it is our responsibility to pay respect to the artists … to keep track of who created what and where we got it, so that we can give credit to the artists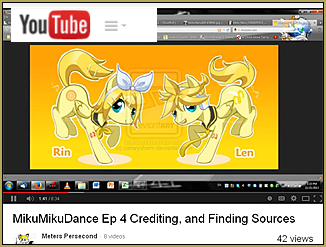 who create our items and softwares. It is the only payment that they will receive!
LearnMMD has several articles, pages, and even a video describing methods for keeping track of your models, accessories and other items.
Our respect for the creators of our files extends, also, to keeping track of any modifications or re-distributions of those files. Think about it; if we don't really "own" the models … we really do not have the right to give them away to someone else. To redistribute a model, do not upload the file to make it available online. Instead, reference the website or dA page where you found the link. Send your reader to the creator's page.
Modifying/Making Changes to a Model …
The same applies to making changes to a model. It's fun to customize a model to make it your own. Since you didn't create the base model, you cannot really claim the modified model as your own. If you use your modified model in a video … be sure to mention that you modified the model and list the original artist's credit.  Do Not Share your modified model without clear permission from the artist. Most models come with a ReadMe.txt file in which the artist who created the model details his permissions as to sharing and modifying his model. Many times the ReadMe.txt is in Japanese! Learn how to translate those files into YOUR language.
Keep the Faith-MMD!
I have covered only a few points … there are a few more. Please visit the LearnMMD Keep the Faith-MMD page.
---

How do you get started with MMM? How do you load a model in MikuMikuMoving? Can MMM run my older saved MMD dances? Can I load an Mp3 into Miku Miku Moving?
Get started with MMM – The Basics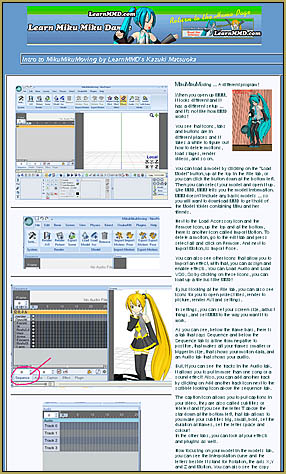 MikuMikuMoving … A different program!
You see that icons, tabs and buttons are in different places and it takes a while to figure out how to delete motions, load stages, render videos, and so on.
I had so much to say and so many large images to show you that LearnMMD gave my article a whole page, by itself!
I show you how to get started with MMM … how to load models and where to find some of the many buttons that seem "new" in MikuMikuMoving … and some controls that you will not find in MikuMikuDance!
---