How do you use the Interpolation Curve in MMD? What does the Interpolation Curve do in MMD? What is the purpose of the

Interpolation Curve in MikuMikuDance in MMD DirectX?  What is the Interpolation curve in MikuMikuDance Direct X version?
Using the Interpolation Curve in MikuMikuDance.
Remember in Math class when you studied graphing and you had to plot and connect your answers on a grid? You didn't know it, but you were interpolating your answers. Interpolation, in MMD, is showing the relational change in movement between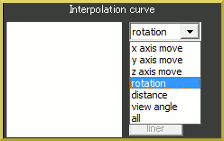 two points, over a specific time frame. The Interpolation Curve Panel is that panel in the very bottom left corner of your screen when you open MikuMikuDance. It just sits there looking rather innocent, yet it is one of the most powerful features in MMD's arsenal. Using the Interpolation Curve, allows you to customize the motion data you create. It can manipulate movement in all three XYZ axes. So don't be afraid of it.
You read MikuMikuDance's Interpolation Curve (IC) from left to right. You can adjust the curve by grabbing the two red "X's" and changing the shape.  What the curve does is to distribute the velocity of the movement. This is all done within the frames you have selected in the Frame Manipulation Panel. The diagonal line shows that the speed dispersed evenly throughout the movement. A plateau shows a pause or slowing of the motion. Peaks and valleys denote a sharp increase or decrease in speed and location of the movement.
Curves Ahead:
I created motion data showing a simple slide across the field. I've loaded 5 beach balls and given them the exact same motion data. Using the Interpolation Curve will create some radically different effects to the motion data. These are, by far, the most extreme examples of using the Interpolation Curve.  Remember, this is only a demonstration- So please no wagering.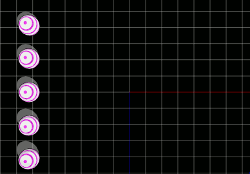 Read more
C'mon, let's get serious …
There are at least SEVEN THINGS you don't want to do!    
That I did anyway *shot*
#7
Why We Don't Talk About GAME Miku
---
There are…… Limited scenarios. ( I don't think pulling her hair is going to work )
#6
Why We Don't Combine Models

(twin model making)



---

There is a way to do this correctly, but it would send you into OCD mode faster than you can say AWE HELL NAW.
#5
Why We Don't

Recolor

Willy

Nilly

---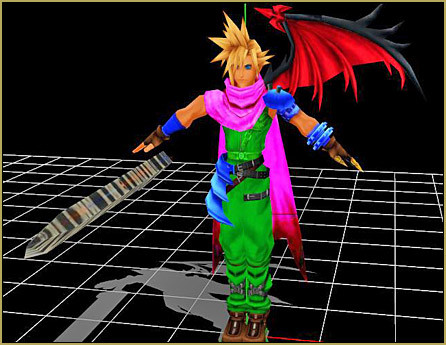 Everyone take a moment to respect a fallen soldier. He appears to have turned to the Sparkly Side!
#4
Why We Don't Destroy Teto's Innocence.
---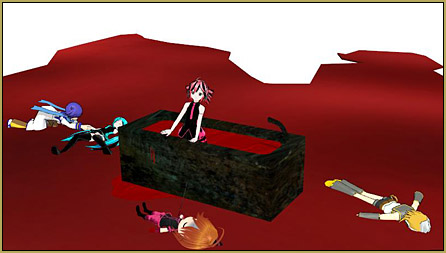 NO VOCALOIDS WERE HARMED IN THE MAKING OF THIS MURDER.

OTHER THAN KAITOS SANITY.
did i go too far this time?
#3
Why we don't use Animasa Miku a

nymore.

---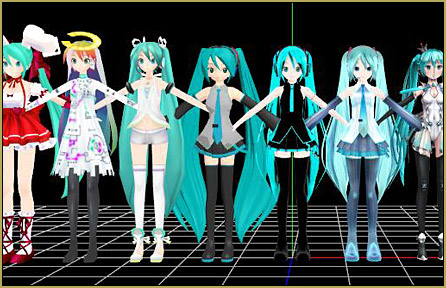 Who are you talking about again? I've never heard of her.
( we should feel bad. )

#2
Why you should rethink that model part
---
 Boy shorts are not meant to be on the outside. You are NOT superman and you are NOT wearing tights under them.
#1
Why we don't use Animasa Miku anymore Pt 2
---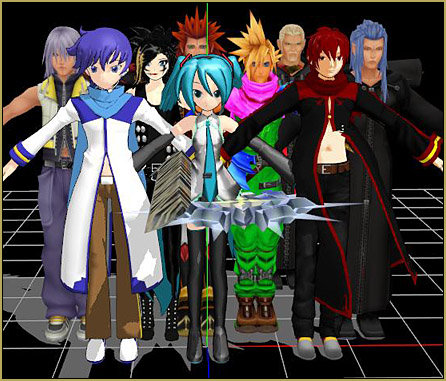 Seriously, who is that short girl in the middle of those beautiful models?
---
Let's come together to focus on not destroying something good, and maybe some day we can have nice things!
Sure, some of these were just silly, but they were true. Sometimes people take it too far.  Like 3dcg. Take MMD seriously, and don't get shunned from the MMD community!
           Like  ME! *shot*    
Can you come up with any more hilarious scenarios? turn them into videos! ( who knows maybe we can turn that into a contest… ) remember, trolls are trolls. buuutt….. sometimes they have a point. you dont have to play it safe, but dont put vocaloids on TOO much crack! unless, that is, you want to be known as the Lady GaGa of MMD!
-

Was there a MikuMikuDance workshop at San Japan? Did learnmmd.com sponsor a panel at San Japan? Wasn't there an MMD

workshop at San Japan? MMD and San Japan?
LearnMMD In San Japan.
This is more a letter of thanks than an article. Last Saturday (July 19, 2014) I attended San Japan Samurai 7. San Japan is an annual anime convention in San Antonio, Texas (https://www.facebook.com/sanjapan ). I had the honor of hosting a panel on learning to use MikuMikuDance. About 30-50 people attended the panel. I hope everyone learned a lot and got excited about using MikuMikuDance. Just over a year ago my friend NekoMANiac aMMDy came up with the idea of doing MMD panels for anime conventions, in particular San Japan. I honestly hadn't considered it so we set about working on the logistics of doing this type of panel. One of the biggest hurdles in doing a panel on MikuMikuDance is the name. Most people think it's a dance. The prevailing misconception is that the panel will require DJ's, rave pants and glow sticks (it doesn't). The other mistaken preconception is that people think we'll be teaching them the choreography from Miku Hatsune videos (not happening). Once you overcome those preconceptions, the program gets many people excited about animating. A goal we decided on was to have one of the attendees make a video during the panel and show their completed work toward the very end and let them take it home on a flash drive.  I was very glad that Ashley was able to make her first animation at San Japan.
MikuMikuDance + San Japan = San Japanimation.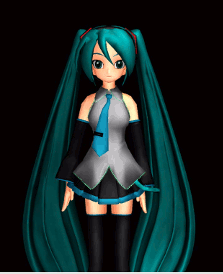 "If anything can go wrong, it will." is a variant of Murphy's Law (People don't realize that Murphy was an optimist). Though I am no stranger to public speaking, you never know what will happen. Fortunately, nothing completely unsurmountable happened. In large part, that is due to the following people. I must thank and compliment the attendees for all of their enthusiasm I was really concerned about the possibility of no one having any questions (In reality, my biggest fear was no one showing up for the panel). So, I was glad to have such a good turn out and the fine caliber of questions from all of you. I hope to see you next San Japan. I must also thank the organizers, volunteers and staff of San Japan. This was such a fun event! I hope they will let me host again next year. I now know that I'll need longer than an hour for next time. It would be remiss of me not to thank Reggie and my colleagues here at learnmmd.com. I reviewed just about every article we have in order to prepare for this. I had no idea what questions would  be asked. Yes, not only do I write for learnmmd.com, I use the site as well. Special thanks for the support of the wonderful people of S.A.A.N. (The San Antonio Anime Network) especially my fellow hosts (Alex, Andy, and David). You all are my best supporters. Special shout out to NekoMANiac aMMDy for the idea and supporting role. Because of you, two newbies were able to make their first videos. Because of all of you, I can now "Tell My World" about MikuMikuDance in another and more personal way. I had fun with this.
Sources: Model: Default Animasa Miku. Effects: Adultshader and SSAO.
---

A Project for MMDers …
Melanie's
"Ring Around the Moon"
Create a beautiful little duet using a pair of your favorite models. I would call this a MEME except that I am only supplying the WAV file for the music. The pose, the motions, the camerawork and the Emotion is all up to you.
Melanie Safka's little love song was included in her 1971 "Gather Me" album on Neighboorhood Records.  There is a lot of love packed into this 40-second song and it easily becomes an MMD video. Though she sang it as a solo, I have "converted it into a duet" by lowering the pitch of the second verse to simulate the answering voice.
To get you started, I created this little video. Only camera motion is used.
Show the love …
The song runs a bit less than 40 seconds … and all you need is the download of my WAV file from the Downloads page and two loving MMD models. You can add a stage … adjust the lights … add some motions to fit those described in the lyrics … make a smooth camera-work … maybe create the lip-sync motion … and show the warmth of the love that this song can bring.
Who will draw a ring around the moon
Who will draw a line from star to star
Who will sing a penny's worth of song
To tell them how in love we are
I will draw a ring around the moon
I will draw a line from star to star
I will sing a penny's worth of song
To tell them how in love we are
Please include MMD Ring Around the Moon in your video's title, leave a credit for LearnMMD.com, and send me the link to your video so that I can write about it on the pages of LearnMMD.com
– Enjoy!
---

Sometimes there is that one deviant in the MMD community who grabs your attention. It could be the skills they have in animation, their knack for finding the new features, or maybe they send shivers down your spine with how beautiful their work is in story telling. Today I'll be showing you a few of those Deviants worth a spotlight! ( and I'll be going in depth as to why! )
---
TehRainbowLlama @ http://tehrainbowllama.deviantart.com/
---

Maybe it's her outgoing attitude that drew me in, but I have noted Rainbow Llama as one of the greats for as long as I can remember. Her "Random MMD Packs" spark inspiration throughout the community with their eventful variety. And with over 40 packs in all,  you can be sure she has what you need when you need it.  I hear if you ask real nice, she takes little requests! So go take a look at the living mall that is TehRainbowLlama!
---
AnimeNebula003 @ http://animenebula003.deviantart.com/
---

Nebula is a generous deviant with skills unmatched in the pmd/ pmd editor and modeling world. I personally get most of my model parts from her and don't hesitate to comment on her marvelous work! ( especially the needle cyber legs, I mean what model wouldn't want those?) well known for outstanding works with requests and more, Nebula can be counted on in her work.
---
kazuki9484 @ http://kazuki9484.deviantart.com
---

Kazuki is the creator of what is likely the most famous male Kingdom Hearts OC in the MMD community: Kazu. Along with his amazing Kingdom Hearts models, friendly Kazuki, lover of role-play, can often be found updating his recent Frozen model collection that has gone up for download. His Kingdom Hearts models are also very likely the most famous in the community due to the extreme amount of detail and dazzling proximity to the real thing. If you don't have them already, your missing out on the very best! Not to mention those FABULOUS stages!
---
 mmd-nay-pmd @ http://mmd-nay-pmd.deviantart.com/
---

All of MMD owes a debt to Nay and the Motion Data index, without which most of us would be  Censored big time. With both the three part index, and pretty much anything you could need in MMD ( INCLUDING MY FAVORITE PROP THE BLOOD BATH ) Nay can be considered the main resource for almost every MMDer I know personally, though that might be because I've hounded them about good ol Nay. You know, that name seems familiar. (She writes for LearnMMD.com!)
---
Do you know a fabulous deviant in need of attention? Does that deviant do wonderful things in the Community or make cool stuff? Show us in the comments and well update this post!
( I encourage my fellow contributors to do so as well )
Lets feel the love!
They deserve the credit. Remember! Keep the faith! We want them to keep being awesome!
---
MMD 9.12 is NEW as of July 15th, 2014

Where can I download the latest version of MikuMikuDance? What is the latest version of MikuMikuDance MMD? Download the 64-bit version of MikuMikuDance. MMD 64-bit. MMD for Windows 8. MikuMikuDance for Windows 7 and Windows 8.
Visit the DOWNLOADS Page to get the latest version of
MikuMikuDance

… for Windows XP, Windows Vista, Windows 7 and Windows 8!
Download the latest 64-bit version of MikuMikuDance from the LearnMMD Downloads page!
MMD 9.12 now includes LUKA MEGURINE ver 1.1 … an update to the Luka model included in old MMD 8.10! … and 9.12 includes Luka in the Sample(AllStars).pmm dance! LearnMMD still has MMD 8.10 available from our Downloads page.
If you are already running an older version of MikuMikuDance and want to upgrade to MMD 9.12, be sure to open the new MODEL folder inside the 9.12 UserFile folder, Select All (Control-A) … and copy/paste the new data into your existing MODEL folder. Click "Yes to All" to replace your existing old standard models with the new ones … including Luka! Read more