MMD 9.26 is NEW
as of December 17th, 2014

Where can I download the latest version of the free 3D animation software, MikuMikuDance? What is the latest version of MikuMikuDance MMD? Download the 64-bit version of MikuMikuDance. MMD 64-bit. MMD for Windows 8. MikuMikuDance for Windows 7 and Windows 8.
Visit the DOWNLOADS Page to get the latest version of
MikuMikuDance

… for Windows XP, Windows Vista, Windows 7 and Windows 8!
Download the latest 64-bit version of MikuMikuDance from the LearnMMD Downloads page!
If you were already running MMD 9.12 or newer … the only difference in all of the folders is the MikuMikuDance.exe file … Download the MMD 9.26 zip, and drop the new .exe file into your old MMD folder and say YES to replace the old with the new. None of the other files have changed since 9.12
MMD 9.26 includes LUKA MEGURINE ver 1.1 … an update to the Luka model included in old MMD 8.10! … and 9.26 includes Luka in the Sample(AllStars).pmm dance! LearnMMD still has MMD 8.10 available from our Downloads page if you want to get Luka 1.0
MikuMikuDance is the free 3D animation software used to create the tons of music videos seen on YouTube! Just search YouTube for MMD … and be amazed!
If you are already running an older version of MikuMikuDance and want to upgrade to MMD 9.26, be sure to open the new MODEL folder inside the 9.26 UserFile folder, Select All (Control-A) … and copy/paste the new data into your existing MODEL folder. Click "Yes to All" to replace your existing old standard models with the new ones … including Luka! Read more

What is an animation shortcut? How do I use pose files? What's a .VPD file? Why would I want hand poses?
Hand Poses
make a great Animation Shortcut!

When I first started working with MikuMIkuDance, it was a desire to create my own animations from scratch that energized me! I jumped right-in and found out how detailed and complicated the work would be.
I discovered that having a set of model poses available "on stand-by" would speed-up the process. I created a couple of poses … not for the whole model … but just for parts of the model … like "Left arm relaxed" … or righ-hand pistol-point … or left-hand relaxed-open.
I don't know about you … but I bet you are the same as I am … When I start a new project, I want to get right into animating the scene … the actions and interactions of my characters; I don't want to spend time on the little details .. I want to see my models in action … NOW! … so, having a few poses available lets me load my models, load a pose for each one … and start animating.    Once I am well into the animation and my "creative fire" has died-down, a little, I can go back and move a few bones, here and there, to get away from the "saved" pose data that I had loaded.
Whole Body Poses are a good start…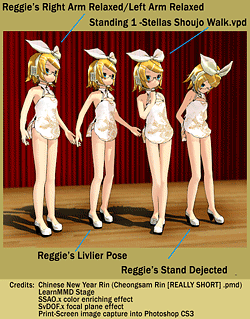 I have only a few "whole body" poses saved. They are great as the "first thing you do" when you load a model.  … Open Miku; load the "Livelier Pose" … just like that … to snap her out of that frozen "just loaded" stance. She instantly looks "composed".
I have Stella the Alchemists "Standing 1 – Shoujo Walk" pose for a demure stance … my "Reggie's Livelier Pose" fora good starting position … and my "Reggie's Stand Dejected" pose for when I need someone looking a bit "down".
Download Reggie's Little Pose Collection.
Not "Whole Body" … but just as useful are my "Right Arm Relaxed" and "Left Arm Relaxed" poses which, by themselves,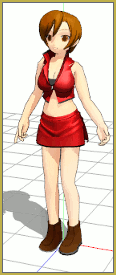 relieve your newly loaded model from her stiff position.
 Slide one pose into another…
You can see, here, that almost instant animation is possible … This image is just two poses, 20 frames apart … with a bit of a pause … before returning to the original pose, again. If nothing else, it's an easy way to show a friend how MikuMikuDance works … the way the program can create all of the in-between frames to make a smooth animation for you. Read more
How do I use the Ghost Effect for MMD? Where do I get the Ghost Effect for MikuMikuDance? I can't get the Ghost Effect to work

in MME!
How to use The Ghost Effect.
Ghosts are generally seen as unwanted entities. However, in MMD and film making in general, they are very useful and not just for scary stuff (The Ring). They can further a story (The Sixth Sense), add comic effect (BeetleJuice), provide advice and inspiration (Star Wars), and even be the main protagonist (Ghost).
The Ghost Effect is a handy tool for your MMEffect tool box. You can download the Ghost Effect at http://harigane.at.webry.info/201010/article_1.html . You will find it listed as "Ghost." Make sure you put it in your Effects Folder (You have made one, I trust). I'm also assuming you have installed the latest version of MMEffects. If not, then check out this article: http://learnmmd.com/http:/learnmmd.com/download-mme-install-mikimikueffects-add-effects-mmd-7-39/ .
As usual, load all your models, motion, and camera data. Effects should be loaded last. They are a drain on your system, your CPU will thank you. The Ghost Effect (Ghost_v005 at the time of this writing) file has several elements the ones you will be working with are: Ghost X; Ghost Mask1; and Ghost Object.
Spirited Away.
Open your Accessory Manipulation Panel (AMP), load and register the Ghost.x file. Then click the MMEffect button at the top right and select the Effect Mapping option. A new window will open and it will have three tabs: Main, GhostRT and MaskGhostRT (side note: RT is short for render target). Click on the check box next to the name of your model then select the Set Effect Button. You may have to navigate your way back to your Ghost Effect file. Then choose the Ghost Effect Object the new window that pops up. Your model will now disappear. Don't panic! Ghosts appear and disappear all the time.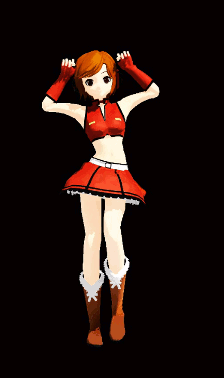 Now, click on the GhostRT tab; make sure your model's name is highlighted and this time, use the Remove Effect Button. This is one of those instances in order to set the effect you have to remove it. I totally understand how counter-intuitive this sounds however, trust me on this.
Now choose the MaskGhostRT tab and click and highlight your model's name and opt for GhostMask1 (I haven't been able to use GhostMask2, nothing seems to happen). Viola, your model is now back. I realize your model doesn't look any different than when you first loaded up the effect. That's because the controls are in the AMP. Don't forget to click the OK Button.
If you're the other person who's read my article on accessory manipulation, then you know how to work the Si and Tr fields and all the other fields in the AMP. (It's here if you want more info: http://learnmmd.com/http:/learnmmd.com/use-accessory-manipulation-fields-to-positionadjust-accessories/  ). Remember, 1.00 is the absolute maximum value for both of these fields.
If you watch the animated.gif, you will see these Ghost Effect options at work. If you adjust the Si field from 1.0 to .0, then your model will start losing their opacity from the bottom up. When you apply the same numeric values to the Tr field, then your entire model becomes more transparent. Allow yourself freedom to mix and match these options.  Don't forget to register your changes. I've uploaded a video featuring the Ghost Effect for our YouTube Channel. It's here: http://youtu.be/dg0wgQoF5uU
The Ghost Effect is more than just an effect you use for Halloween. Ghosts aren't just seasonal entities. You can use them all year long. So don't be scared of ghosts or the effects they have.
Have fun with this.
Sources:
Model: Default Meiko Sakine.
Motion Data: CaramelDansen by Unknown.
Effects: Ghost Effect; SSAO; and o_SelfOverlay.
---
– SEE BELOW for MORE ARTICLES on similar subjects …
–
---

How do I make a walking motion in MikuMikuDance? How do I move the body to make walking motions in MMD? Can I make my model walk in place?
Can't talk-the-talk if you can't walk-the-walk!
Analyzing Mahlazer's MMD Walking Motion…
I just saw Mahlazer's new video posted to YouTube that included a link to the motion and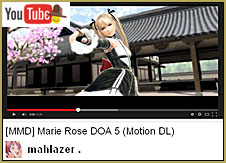 WAV files used in the video …  I had to have 'em!
After unzipping the files and starting a new MMD animation, and trying out the new VMD motion files, I could see that I probably wouldn't be using them for anything I'd be going to do.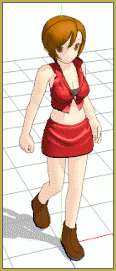 … but … I noticed the nice walking motion Mahlazer had created for the opening seconds of the animation.
With a little bit of copy/pasting I was able to make a continuous walk! Mahlazer's walking cycle repeats itself using frames 15 thru 54. I kept it going until I got the walking motion to include nearly 1000 frames.
DOWNLOAD the walking-motion zip!
You can see that the model is walking-in-place … walking with a will, like she's on a mission … shoulders back and a solid, confident stance. The only change I made to the basic pose in Mahlazer's set-up was to bring the models left arm forward … my downloaded vmd file had the model's arm and left hand behind her back.
I liked this motion because it's more complicated than Read more

Where can I get Reggie's Evil Eye effect for MikuMikuDance? How do I use Reggie's Evil Eye effect? Reggie's MME Effect adds an anime-style effect!
Try Reggie's Evil Eye Effect!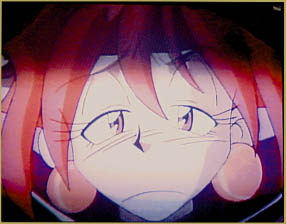 Watch almost any comedy anime and you will see an effect like this in a scene where a character is startled, embarrassed, or ticked-off by something someone just said. The camera does a close-up and we see her melt with sadness or "fry" with anger … it's kind of an aside to the audience to let US know that she is having a response.
I wanted to make something similar that I could use in MikuMikuDance … and so I invented the …
Reggie's Evil Eye Effect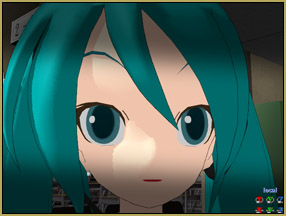 My evil eye effect let's you throw a shadow over your scene … over your model's face. It IS an MME effect so you will need to have MME downloaded and installed in your MMD folder.
Reggie's Evil Eye effect makes use of Beamman's Nameplate effect. I have already included everything you need into a zip folder … you download the zip, unzip, and drop the folder into your Effects folder.
(What? … You don't HAVE an "effects" folder … now is a great time to create one! Put all of your effects into the folder so you will be able to find them quickly.)
To use Reggie's Evil Eye, just open the .x file like any other accessory.

DOWNLOAD Reggie's Evil Eye Effect from the LearnMMD.com Downloads Page.
Inside your Evil Eye folder you will see two more folders … Black and Red. Each of them contains these seven choices for the angle of the effect's shadow mask. Being based on the Nameplate effect, you cannot rotate Read more