Avoid the Dark Side …
Be on Good Terms with the MMD Community …
Keep MikuMikuDance free and alive …
Rules of MMD Etiquette
Easiest ways to avoid trouble:
Don't share models you download.
Don't make changes to a model and share it.
Do Credit your model when you use it.
See all of the rules, explained in detail …
The MMD enthusiasts who make our models deserve our protection! They let us use their creations … and we return the favor by leaving credits in our videos … and by not passing them off as our own.
There are plenty of hard-feelings out there within the MMD community. Too many MMDers are so excited to share the free goodies they have found online that they unthinkingly trample on the rights of the artists who created those goodies.



Keep the Faith-MMD is a LearnMMD.com push to educate MMDers as to the rules of proper MMD etiquette.
Learn the Rules … Be a Good MMDer!

How do I use MikuMikuDance? How do I make smooth motions with MikuMikuDance? How do I make music videos with MMD? What do I do first with Miku Miku Dance?

A beginner's Getting-Started Guide…
How do I use MikuMikuDance?
MikuMikuDance is a free 3D animation software for the PC with a huge, world-wide following!

Download the latest version of MikuMikuDance from the LearnMMD Downloads page, and get started!
First … move the downloaded ZIP folder to your desktop. Unzip the MMD folder: just double-click it and choose "Extract All", and OK the defaults … and you will find the MMD folder on your desktop, ready to go! There is no install; MMD runs from its folder on your desktop.
Open MMD … MikuMikuDance.exe …
It opened, right?
If not … there are a handful of possible issues for you to investigate.
Carefully read

the error statement so that you can know what needs to be done. Take a look at the Tutorial List on the right side of this page to see the many solutions that we offer. Also see the special instructions in the top area of our Downloads page. Don't feel alone! Many beginners have a spot of trouble getting MMD to start the first time … do the research; see what you can do to get it running … or leave a comment on any of our tutorials and we will reply to your comment (or we will even contact you) with our help! … be sure the email address you leave in your comment is correct so that we can answer your question, personally.
Okay … MikuMikuDance opened!
How do I get started with MikuMikuDance? What do I do first?
I recommend that you play the Sample Dance first. It shows you what MMD can do! Just go to the FILE tab, and click open(O) … and open the sample.pmm or the sample(AllStar).pmm sample dance … those are the two dances that are included in your original download. (NOTE: there is no music included for the Sample dances … they are silent.)
Add Miku…
and play with MikuMikuDance!
Next you will want to go to the FILE tab and click on NEW to bring back the white, empty stage. Find the LOAD button near the lower left of your screen … in the brown area … and choose your favorite model from the list … one of the MIKUs, of course.
NOW is when it gets complicated!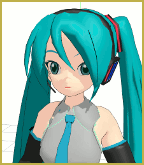 For further instructions on the basics of making Miku move, of "doing" MikuMikuDance, see our Start Here page!
See LearnMMD's HOW TO page for a list of links to our tutorials that will help you find out what you want to know … what you NEED to know as you work with MikuMikuDance. Also see our Bonus Pages page for links to some of our hard-to-find tutorial pages!
What do I do with MikuMikuDance?
Most new MMDers discovered MikuMikuDance by seeing some of the tens-of-thousands of MMD videos on YouTube … and they think they'd like to try it for themselves. Once they have MMD running on their desktop, they discover how complicated it can be! … just calm down and take it easy. Yes … MikuMikuDance is complicated if you want to make your own animations from scratch … but there are EASY ways to use it, too!
Memes …
The easiest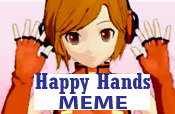 way to make an MMD animation and video is to use a meme (rhymes with seem). LearnMMD has a meme that you can download right from our Downloads Page … the "Happy Hands" meme. Find it on our downloads page, download the Happy Hands zip folder, unzip it … and you will find files for the music, the motions, and even a background image: Pink … See the full instructions for doing the Happy Hands meme. Search YouTube for MMD meme and you will Read more
Can PMD Editor be used to make accessories? Can I make something from scratch using PMDE? How do I make my own accessories with PMD Editor?
Who ever said that PMD Editor can only be used for editing models?
Now you can create simple accessories with PMD Editor!
Did you know that you can create primitives with PMD Editor?
Primitives are basic shapes that serve as a base for most 3D models. You could basically almost do anything to them. There are five primitives that PMD Editor can create:
Plane
Cube
Sphere
Cylinder
Torus
PMD Editor can also generate text-shaped mesh!


Sounds interesting, huh? I'll show you how to do it!
Note: This works on PMDE ver. 0139 and above.
Press ctrl+P on your keyboard and a small window will appear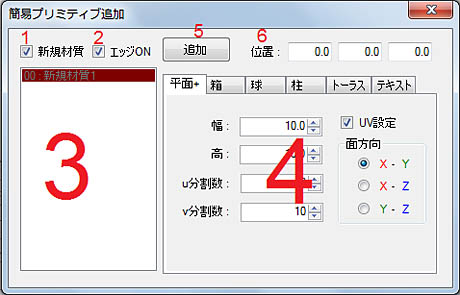 1 – Create Primitive on a new Material
2 – Edge lines are on Read more

What is an animation shortcut? How do I use pose files? What's a .VPD file? Why would I want hand poses?
Hand Poses
make a great Animation Shortcut!

When I first started working with MikuMIkuDance, it was a desire to create my own animations from scratch that energized me! I jumped right-in and found out how detailed and complicated the work would be.
I discovered that having a set of model poses available "on stand-by" would speed-up the process. I created a couple of poses … not for the whole model … but just for parts of the model … like "Left arm relaxed" … or righ-hand pistol-point … or left-hand relaxed-open.
I don't know about you … but I bet you are the same as I am … When I start a new project, I want to get right into animating the scene … the actions and interactions of my characters; I don't want to spend time on the little details .. I want to see my models in action … NOW! … so, having a few poses available lets me load my models, load a pose for each one … and start animating.    Once I am well into the animation and my "creative fire" has died-down, a little, I can go back and move a few bones, here and there, to get away from the "saved" pose data that I had loaded.
Whole Body Poses are a good start…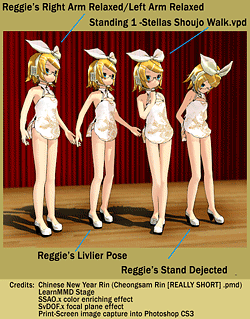 I have only a few "whole body" poses saved. They are great as the "first thing you do" when you load a model.  … Open Miku; load the "Livelier Pose" … just like that … to snap her out of that frozen "just loaded" stance. She instantly looks "composed".
I have Stella the Alchemists "Standing 1 – Shoujo Walk" pose for a demure stance … my "Reggie's Livelier Pose" fora good starting position … and my "Reggie's Stand Dejected" pose for when I need someone looking a bit "down".
Download Reggie's Little Pose Collection.
Not "Whole Body" … but just as useful are my "Right Arm Relaxed" and "Left Arm Relaxed" poses which, by themselves,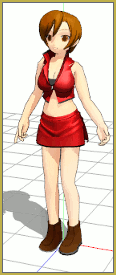 relieve your newly loaded model from her stiff position.
 Slide one pose into another…
You can see, here, that almost instant animation is possible … This image is just two poses, 20 frames apart … with a bit of a pause … before returning to the original pose, again. If nothing else, it's an easy way to show a friend how MikuMikuDance works … the way the program can create all of the in-between frames to make a smooth animation for you. Read more