Are there blood effects for MikuMikuDance? How can I splash some blood in MMD? What can I use for blood in my Halloween video?
Halloween is just around the corner…
Using blood "effects" in MMD
Well, Halloween is just around the corner folks. So no doubt we'll start seeing the annual influx of Miku in seasonal-themed witch outfits (not that it's a bad thing mind). But for some users, they may want to skip the "cute-witch" theme and instead focus on the horror aspect for their MMD Halloween. And MMD, being the all-powerful deity we know and love, can easily cater to our horror needs. Well, almost. Back in my days of searching DeviantArt for MMD art (which were dark and horror-filled days. I'll save that for another article though) one thing I kept noticing was that most users did not know how to add blood into MMD. Some users used Microsoft Paint, more advanced users used their fancy photoshops or whatever new photo-manipulation software kids are using nowadays. But it seemed that there was no blood accessory or effect for MMD… decent blood accessory/effect I should say.
Guess people just didn't know where to look. Thanks in part to the user Mio-nee, we now have ourselves the perfect blood effect. Or spilled jam effect if you're squeamish. So grab your haunted house, your zombie hoard, and let's get started!
This blood "effect" (actually it's an accessory, but effect sounds cooler) comes in a pack of eight or so different "types" of splatters. All are .X file-based, but thanks to accessory manipulation adjusting the size and position of the blood is a piece of cake… errr, spilled jam. Now, getting the blood to stick onto a wall or floor is easy but how about that zombie hoard I mentioned not a mere three sentences ago? Well, that can be as easy and or as hard as you make it.
If you're planning on just making a simple picture (like the one pictured) then this should be a snap. Simply select the version of blood you want and then "add" it to your model/set. Well I say "add", but for objects that are not flat surfaces you'll have to use the magic of perspective! Take my avatar (yes that is my MMD avatar. Looks nothing like me) for example. The blood seen on him was "added" in MMD. All I did was simple place the blood in front of the model and then adjusted the size and position to make it look like its attached to my model. Clever, but I'm assuming most users know about manipulation of perspective.
This being said, if you want the blood to "wrap" around the model for your videos or GIFs, you'll need to manually attach the blood texture to your models texture using .PMDE or .PMDX. I myself haven't worked with such usage, so I can't really be your guide. All I can say is that if you know how to work Photoshop and spend a little time on the positioning you'll be fine. Just make sure you Read more

In my Latest Video …
NyaReimu dances to Miku's "The World is Mine"

Isn't she pretty?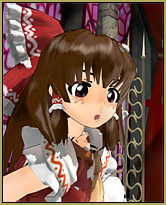 I know her as NyaReimu … but her official name is:
Reimu Hakurei [Version] V1.2a (Version 110509a).
The old page where I found the link for her does NOT have a link to her files anymore:
http://homepage3.nifty.com/knuko/mmd/mmdIndex.html … but a reader gave me THIS Link that includes NyaReimu … and a bunch of other fun things!
http://nya.b.la9.jp/mmd/atochi.html
The "ReadMe" specifically says "Do Not Redistribute" … so I cannot share my model with you.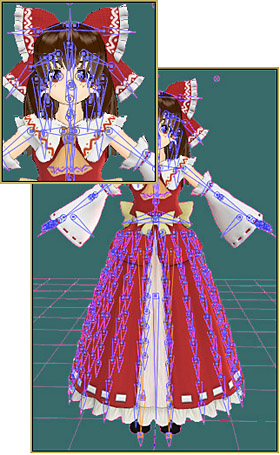 NyaReimu is the most complicated of my models. All of those flowing fabrics are properly weighted … LOTS of bones … the physics works very well. As you watch my video, watch carefully and see that at no time is there a failure … the skirt flows beautifully, the hands never pass through the sleeves, or anything like that. (OK … there IS one moment where her right sleeve flutters against her body ":o).
I first made this animation as I wrote my previous article … a tutorial to help MMD newbies to make their first MMD music video. In that article, I used the model Mew that was supplied in the links that I referenced for that project.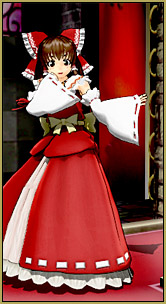 When I was done with that project, I played with the animation, a bit, and decided to upload THIS version to YouTube, just to show off the model.
One of the tweaks I made was to adjust the video size from the original animation's 512×385 "academy format" to a 16×9 widescreen 512×288. Although the widescreen was a good idea, my numbers are too small … and, at best, the video looks kind of low-res on YouTube!
The "World is Mine" dance is high energy … but the frantic motions become much less-so when translated through the gentle swaying of NyaReimu's beautifully-weighted heavy fabrics.
Except for NyaReimu, the links for all of the files used in this video are found in IA Vocaloid Channel's video:
http://youtu.be/68kWqxOWvd4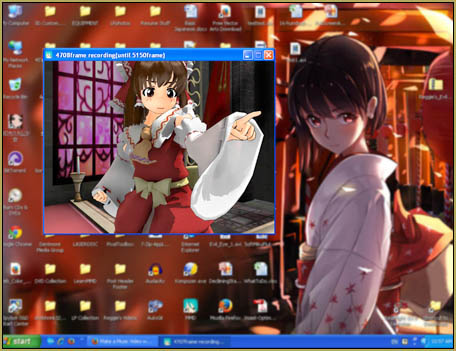 That complicated stage …
… and my complicated model … and the MME SSAO_Lite effect … slowed my computer to a CRAWL when it came time to Render to AVI.
… CRASHED my computer!
In-fact, the first time I tried to render the video, my computer locked-up at about frame 580; the monitor went dark for a couple of seconds and,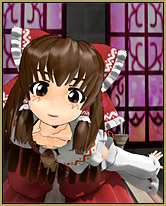 when my desktop was again visible, there was a large error message announcing that the ATI Video Card had suffered a temporary failure.
I closed MMD … opened MMD, opened the dance, made sure the settings were correct and, again attempted to render to Video … and AGAIN had that failure occur … got that same message … at frame 620, this time.
So … I shut off the computer.. I know that it was hot; had been running all day … 14 hours, at least?? … and I waited until next morning. Then, I started the computer, opened MMD, and did a Render to AVI before the system had time to heat-up… SUCCESS!
Enjoy watching NyaReimu dance to Miku's "The World is Mine".
---
– SEE BELOW for MORE ARTICLES on similar subjects …
–
---
When was Miku Expo 2014? Where was Miku Expo held? How was Miku Expo? Review of Miku Expo 2014?

Miku's network Television Debut on The Late Show with David Letterman.
On October 8, 2014, Miku made her US television appearance on the Late Show with David Letterman to promote the Miku Expo 2014 event in Los Angeles, that weekend, and New York, during the following weekend. This appearance also comes a day before the show at  Wallplay (a local coffee shop) and Kinokuniya Book Store in New York opens its Miku Art Exhibit. Check out Reggie's excellent article about the Letterman appearance: http://learnmmd.com/http:/learnmmd.com/hatsune-miku-david-letterman/.
Miku Expo Art Exhibit at Wallplay – Universal Positivity
One of the attractions of Miku Expo New York was the art exhibit at Wallplay. I went on the last day, October 19, 2014, the day after the concert. As soon as you enter the building, you are greeted by a life size Miku and off to the middle is a Miku nendroid about a foot tall. On the walls were displayed art, specially made for Miku Expo 2014 New York. The art was also available for sale in poster form upstairs. Unfortunately, at the time I went, many of the options were sold out. Also upstairs there were many figurines on display, as well as many of the software and the brief history of Miku/Vocaloids.
NeKo MANiac aMMDy's Art Exhibit at Wallplay album: http://s44.photobucket.com/user/nekomaniacammdy/library/Miku%20Expo%202014%20Wallplay
"Piapro Postcard Project" Exhibit at Kinokuniya Book Store
Wallplay was not the only location in New York that did a Miku art exhibit, Kinokuniya Book Store had an exhibit of their own. It was a small area set up in the front corner of the store by the stairs to the lower level, just when you enter the store. It was easy to miss; I didn't know it was there until a clerk pointed it out for me. Displayed on the walls were a collection of artwork from Piapro, specially selected for their Miku Expo exhibit. In the same area they had consolidated their Vocaloid and Miku items that they had for sale. From the Miku Expo website, Kinokuniya Book Store had a set of the art in post card format for sale. Unfortunately, it was sold out when I visited on October 18th, before heading to the concert.
NeKo MANiac aMMDy's Art Exhibit at Kinokuniya Book store album: http://s44.photobucket.com/user/nekomaniacammdy/library/Miku%20Expo%202014%20New%20York%20Kinokuniya%20Book%20Store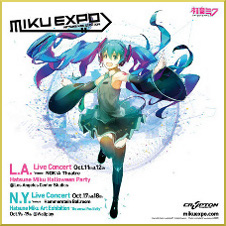 Miku Expo's Miku Hatsune in Concert
Miku Expo would not be complete without a live performance from the virtual diva herself and her entourage: Luka, Meiko, Rin, Len and Kaito. I went during the October 18th concert and I have to say it was an experience! As soon as the doors open, you go to the merchandise kiosk. Most if not all of the merchandise got sold out by the end of the concert. The concert was under 3 hrs long and featured about 27 songs and was simply amazing. The projection of Miku and her entourage was so high def that it was like they were there. Watching YouTube footage doesn't compare to actually attending a Miku concert. It felt like how a concert should feel!  There are nuances in a concert that you simply don't get through a video … like struggling to see the stage because you are short; being in close proximity to the person beside you; arms tired from swinging the glowstick and voice horse from chanting and singing along. After the concert, we were able to meet the CEO of Crypton Future Media Inc., Hiroyuki Itoh, and be interviewed by WOWOW, the Japanese Network that was filming the event.
NeKo MANiac aMMDy's Miku Expo Concert album: http://s44.photobucket.com/user/nekomaniacammdy/library/Miku%20Expo%202014%20New%20York%20Miku%20Concert
Final Thoughts
All in all, I thoroughly enjoyed my time at Miku Expo. I especially enjoyed talking to the many attendees that were there; from the Snow Miku cosplayer and the group of University students from New Jersey, while waiting in line for the concert; to the cat girl Miku and the Japanese national who has been to most, if not all, of  the Miku live events and brought his own hand made figurines to the Wallplay exhibit. For it is the people within the fandom that makes the community the way it is. This experience has made me a bigger Vocaloid fan and inspired me to be a stronger MMDer. When the next available event comes around, I would definitely attend.
For more information visit: www.mikuexpo.com, and www.mikubook.com
'Till the next Miku event!
---
– SEE BELOW for MORE ARTICLES on similar subjects …
–
---

Miku … the virtual performing idol
… is only the beginning!
 Miku, "Live" onstage in New York at Miku Expo 2014 …
Can you imagine …
Imagine "what's next"! … Using Miku's 3D holographic projection system along with Hollywood's nearly infinite budget for the right projects … Hollywood's incredible computer graphic imagery capabilities … and the market for new off-the-wall entertainment …
It's only a matter of time … a few months?? …
Hundreds of "Live", very human, virtual idols!
… only a matter of time before very realistic human personalities are introduced as new virtual entertainers.
Imagine a digital personality to compete with Taylor Swift …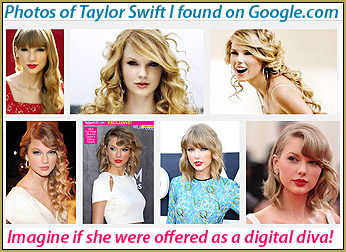 I am just dreaming … but I see no reason why the folks who, today, create "Miku Live" cannot create a photo-realistic human virtual idol to entertain on the Letterman Show and who will pack-the-house to sell-out crowds at arena events across the nation … several at a time! … and make appearances on the Las Vegas and Atlantic City concert stages … where her digital endowments could appeal to adults in ways in which no human performer could compete!
All seriousness aside … 
It's just a short matter of time before your local bowling alley will have a holographic-display stage and a subscription to a 3D digital concert provider offering new songs, each week, by new digital artists and, in fact, by entire digital groups … idols and groups that will develop followings and histories and will compete in national awards programs. Fans may track digital individuals as we might even see a member of one group take his own star-power and join ANOTHER  group … and taking his human followers WITH

him.
I am thinking that virtual idols, both male and female, created by teams of creators, being constantly updated and fine-tuned, may evolve personas more fetching and alluring, simply more human, than any real human could be.
Shades of what we saw in "Blade Runner" … we don't need "robots" … these virtual lovers will look so real that you could almost feel the texture of their skin and hair from your seat at the bar.
A Brave New World is headed our way …
…Coming soon! 
---
– SEE BELOW for MORE ARTICLES on similar subjects …
–
---