A Project for MMDers …
Melanie's
"Ring Around the Moon"
Create a beautiful little duet using a pair of your favorite models. I would call this a MEME except that I am only supplying the WAV file for the music. The pose, the motions, the camerawork and the Emotion is all up to you.
Melanie Safka's little love song was included in her 1971 "Gather Me" album on Neighboorhood Records.  There is a lot of love packed into this 40-second song and it easily becomes an MMD video. Though she sang it as a solo, I have "converted it into a duet" by lowering the pitch of the second verse to simulate the answering voice.
To get you started, I created this little video. Only camera motion is used.
Show the love …
The song runs a bit less than 40 seconds … and all you need is the download of my WAV file from the Downloads page and two loving MMD models. You can add a stage … adjust the lights … add some motions to fit those described in the lyrics … make a smooth camera-work … maybe create the lip-sync motion … and show the warmth of the love that this song can bring.
Who will draw a ring around the moon
Who will draw a line from star to star
Who will sing a penny's worth of song
To tell them how in love we are
I will draw a ring around the moon
I will draw a line from star to star
I will sing a penny's worth of song
To tell them how in love we are
Please include MMD Ring Around the Moon in your video's title, leave a credit for LearnMMD.com, and send me the link to your video so that I can write about it on the pages of LearnMMD.com
– Enjoy!
---

Sometimes there is that one deviant in the MMD community who grabs your attention. It could be the skills they have in animation, their knack for finding the new features, or maybe they send shivers down your spine with how beautiful their work is in story telling. Today I'll be showing you a few of those Deviants worth a spotlight! ( and I'll be going in depth as to why! )
---
TehRainbowLlama @ http://tehrainbowllama.deviantart.com/
---

Maybe it's her outgoing attitude that drew me in, but I have noted Rainbow Llama as one of the greats for as long as I can remember. Her "Random MMD Packs" spark inspiration throughout the community with their eventful variety. And with over 40 packs in all,  you can be sure she has what you need when you need it.  I hear if you ask real nice, she takes little requests! So go take a look at the living mall that is TehRainbowLlama!
---
AnimeNebula003 @ http://animenebula003.deviantart.com/
---

Nebula is a generous deviant with skills unmatched in the pmd/ pmd editor and modeling world. I personally get most of my model parts from her and don't hesitate to comment on her marvelous work! ( especially the needle cyber legs, I mean what model wouldn't want those?) well known for outstanding works with requests and more, Nebula can be counted on in her work.
---
kazuki9484 @ http://kazuki9484.deviantart.com
---

Kazuki is the creator of what is likely the most famous male Kingdom Hearts OC in the MMD community: Kazu. Along with his amazing Kingdom Hearts models, friendly Kazuki, lover of role-play, can often be found updating his recent Frozen model collection that has gone up for download. His Kingdom Hearts models are also very likely the most famous in the community due to the extreme amount of detail and dazzling proximity to the real thing. If you don't have them already, your missing out on the very best! Not to mention those FABULOUS stages!
---
 mmd-nay-pmd @ http://mmd-nay-pmd.deviantart.com/
---

All of MMD owes a debt to Nay and the Motion Data index, without which most of us would be  Censored big time. With both the three part index, and pretty much anything you could need in MMD ( INCLUDING MY FAVORITE PROP THE BLOOD BATH ) Nay can be considered the main resource for almost every MMDer I know personally, though that might be because I've hounded them about good ol Nay. You know, that name seems familiar. (She writes for LearnMMD.com!)
---
Do you know a fabulous deviant in need of attention? Does that deviant do wonderful things in the Community or make cool stuff? Show us in the comments and well update this post!
( I encourage my fellow contributors to do so as well )
Lets feel the love!
They deserve the credit. Remember! Keep the faith! We want them to keep being awesome!
---
MMD 9.12 is NEW as of July 15th, 2014

Where can I download the latest version of MikuMikuDance? What is the latest version of MikuMikuDance MMD? Download the 64-bit version of MikuMikuDance. MMD 64-bit. MMD for Windows 8. MikuMikuDance for Windows 7 and Windows 8.
Visit the DOWNLOADS Page to get the latest version of
MikuMikuDance

… for Windows XP, Windows Vista, Windows 7 and Windows 8!
Download the latest 64-bit version of MikuMikuDance from the LearnMMD Downloads page!
MMD 9.12 now includes LUKA MEGURINE ver 1.1 … an update to the Luka model included in old MMD 8.10! … and 9.12 includes Luka in the Sample(AllStars).pmm dance! LearnMMD still has MMD 8.10 available from our Downloads page.
If you are already running an older version of MikuMikuDance and want to upgrade to MMD 9.12, be sure to open the new MODEL folder inside the 9.12 UserFile folder, Select All (Control-A) … and copy/paste the new data into your existing MODEL folder. Click "Yes to All" to replace your existing old standard models with the new ones … including Luka! Read more
How do you download MikuMikuDance models? How do you download music for MMD? How do you get Miku Miku Dance motions? Where do you download stuff for MMD? Where do you download MMD models?

I Just Downloaded Miku Miku Dance!
So  …  Now What?
Okay!    You've just downloaded MMD (The latest DirectX version,I hope). You played the sample dance. Then you might have loaded one or two of the default models. So you're thinking: "Now what?" … This next part of your MMD experience can be a lot fun.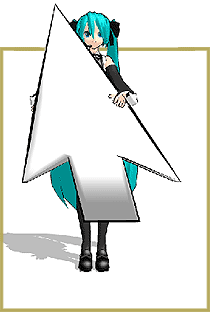 You are now about to start collecting!  Models, .wavs, motions, stages, and effects of all kinds are out there for you.
The first thing you need to be prepared for is that the majority of these file sites are in Japanese! The files, folders, and other data are also listed in Japanese. So navigating your way through these sites will test your net savvy. Don't Panic! There are English-language sites, too. YouTube up loaders will sometimes put links in the "Descriptions" as part of their up loads. DeviantArt has a plethora of channels for downloads. One of my fellow contributors, VocaMix2684, recently wrote an Read more
What do I do first with MikuMikuDance? How do I play the sample dance in Miku Miku Dance? The MMD sample dance doesn't play smoothly.

Let's Play the Sample Dances and
Learn About MikuMikuDance
When you first open Miku Miku Dance, you are faced with an intimidating number of buttons and drop-down menus … and then there's that blank white coordinate grid filling the main screen.
"Looks too complicated!" To make yourself feel better and to see the "power" of MMD, play the included Sample dance files.
Click OPEN from the File tab at the top of the screen. Choose the one simply called "Sample". After a pause the model, Miku, herself, appears on a darkened stage. Click PLAY … the lights rotate and brighten and Miku comes to life for a few seconds. Is that fun, or what? Her gyrations are almost antic as she romps around the stage with her hair flying and her belts and fabrics swinging franticly.
Play it several times. Try to see everything that's going on. The apparent lights that change color and intensity … the way the "camera angle" changes … the "laser lights" and the other aspects of Read more

How can I adjust the shadows in MMD? What are popular  MMD shadow mistakes and how do I not make them? Can I change the shadows? Why do the MMD model's shadows look fake, look weird?
Shadow business …
Adjust the

Shadows

in MikuMikuDance
Shadow handling is one of the more confusing elements of MMD. There are plenty of videos where shadows are simply turned off (quite often, I suspect, because their creators just didn't like how it turned out and didn't know how to do better), and there's a lot of those where the shadows look rather crude; demeaning the overall quality of an otherwise good video. This happens because MikuMikuDance actually has *two* independent systems of shadow rendering and they can conflict if not managed wisely.
Don't be afraid of your shadow!
Launch MMD and call for the View menu. In the upper half of the list you'll see "Display ground shadow" command (and two of its minions – "Ground shadow color" and "Transparent ground shadow"). The most important thing you must remember about Display ground shadow is HOW TO TURN IT OFF. There are only two possible reasons to use it: when you make a video without a stage (fig.1), or your computer is really weak and can't handle more intensive calculations.  In all other cases, Display ground shadow brings more trouble than it's worth. What it actually does is produce a flat shadow at zero height, regardless of stage's actual position and terrain – if your surface is at Y<0, the shadow will dangle in the air, and if the stage is higher there will be no shadow visible at all (fig.2). And even if you level your stage exactly at the necessary height, the color will not look natural – even at its best. In addition, you can't determine which models should or should not cast shadows, and don't even try to make stage elements cast shadows of their own. You have been warned.
So … How do you make GOOD shadows?
Now, that we got rid of this cheap impostor of a shadow rendering engine… why don't we see *good* shadows?  The answer is: each element of your video has its own setting determining both whether it will cast a shadow of its own, and at the same time, will it reflect shadows cast by other elements. And, unlike .pmd models, all Accessories Read more