How do I use MikuMikuDance? How do I make smooth motions with MikuMikuDance? How do I make music videos with MMD? What do I do first with Miku Miku Dance?

A beginner's Getting-Started Guide…
How do I use MikuMikuDance?
MikuMikuDance is a free 3D animation software for the PC with a huge, world-wide following!

Download the latest version of MikuMikuDance from the LearnMMD Downloads page, and get started!
First … move the downloaded ZIP folder to your desktop. Unzip the MMD folder: just double-click it and choose "Extract All", and OK the defaults … and you will find the MMD folder on your desktop, ready to go! There is no install; MMD runs from its folder on your desktop.
Open MMD … MikuMikuDance.exe …
It opened, right?
If not … there are a handful of possible issues for you to investigate.
Carefully read

the error statement so that you can know what needs to be done. Take a look at the Tutorial List on the right side of this page to see the many solutions that we offer. Also see the special instructions in the top area of our Downloads page. Don't feel alone! Many beginners have a spot of trouble getting MMD to start the first time … do the research; see what you can do to get it running … or leave a comment on any of our tutorials and we will reply to your comment (or we will even contact you) with our help! … be sure the email address you leave in your comment is correct so that we can answer your question, personally.
Okay … MikuMikuDance opened!
How do I get started with MikuMikuDance? What do I do first?
I recommend that you play the Sample Dance first. It shows you what MMD can do! Just go to the FILE tab, and click open(O) … and open the sample.pmm or the sample(AllStar).pmm sample dance … those are the two dances that are included in your original download. (NOTE: there is no music included for the Sample dances … they are silent.)
Add Miku…
and play with MikuMikuDance!
Next you will want to go to the FILE tab and click on NEW to bring back the white, empty stage. Find the LOAD button near the lower left of your screen … in the brown area … and choose your favorite model from the list … one of the MIKUs, of course.
NOW is when it gets complicated!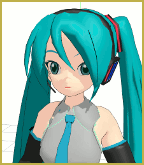 For further instructions on the basics of making Miku move, of "doing" MikuMikuDance, see our Start Here page!
See LearnMMD's HOW TO page for a list of links to our tutorials that will help you find out what you want to know … what you NEED to know as you work with MikuMikuDance. Also see our Bonus Pages page for links to some of our hard-to-find tutorial pages!
What do I do with MikuMikuDance?
Most new MMDers discovered MikuMikuDance by seeing some of the tens-of-thousands of MMD videos on YouTube … and they think they'd like to try it for themselves. Once they have MMD running on their desktop, they discover how complicated it can be! … just calm down and take it easy. Yes … MikuMikuDance is complicated if you want to make your own animations from scratch … but there are EASY ways to use it, too!
Memes …
The easiest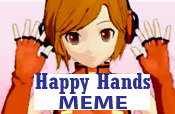 way to make an MMD animation and video is to use a meme (rhymes with seem). LearnMMD has a meme that you can download right from our Downloads Page … the "Happy Hands" meme. Find it on our downloads page, download the Happy Hands zip folder, unzip it … and you will find files for the music, the motions, and even a background image: Pink … See the full instructions for doing the Happy Hands meme. Search YouTube for MMD meme and you will Read more

We get questions …
… and we answer them!
Adding a skirt to a model using PMD Editor
Is there a way to select only bones for the clothes and not the body?
A reader emails:
—–Original Message—–
From: Reader
To: reggiedentmore
Sent: Mon, Feb 16, 2015 5:09 pm
Subject: PMX Editor and clothes
Hello! so i saw you welcomed questions, and i have one that's put a stop to my experiments.
so i've fairly learned my way around the editor(english version), and am getting rather good at making up the base model…changing hair,clothes, skin, etc. but my issue is now when i import a file of clothes, it overlaps the model, and the models bones.
so if i want to move say a skirt and its bones to fit the model i'm using, i'm unable to just select the skirt bones, and can't keep it with the skirt the way it should be. is there a way to select only bones for the clothes and not the body?
thank you very much for your time and any help you can offer!
From: reggiedentmore
To: Reader
Sent: Monday, February 16, 2015 7:13 PM
Thanks for your question … Thanks for reading LearnMMD.com!
I am no PMDE guy … but a few of us are! … I will forward your question and get you an answer!
– Reggie
I forwarded the note to a few of our teammates whom I know to be active PMDE users…
… and KyokiDoesMMD was the first to respond:
From: KyokiDoesMMD
To: Reggie Dentmore
Sent: Mon, Feb 16, 2015 8:26 pm
Subject: Re: PMX Editor and clothes
Unlike mesh, bones can't have certain "layers" where you can select them separately. When merging models, the bones are also merged with the model's main skeleton. However, this doesn't mean that you can't select them separately. You can select like usual, then hold down the ctrl key while doing so to deselect the unwanted bones. Holding down shift does the opposite (i.e. adding another part to the selection). This also works on other elements like mesh, physics and joints.
Another solution is to go to the bones tab on the other window and select the bones you want, while holding down the shift key to add more to the selection. (This doesn't work if PMXE is on PMD mode)
Hope this helps!

 … followed by an answer from our KillerBeer:
From: KillerBeer
To: reggiedentmore
Sent: Tue, Feb 17, 2015 3:38 am
Subject: Re: Fwd: PMX Editor and clothes
When adding a skirt model to a make sure you have "Merge with the same name bone" option checked in the "addition selection" panel. As Kyoki said, skirt's bones have to be *merged* with body's ones, so rather than have two "lower body" bones in a merged Read more

My Learnmmd on Facebook is your link to the latest MMD Tutorials and Downloads on LearnMMD.com … LIKE us today and get the posts as they happen! My Learnmmd
How do you use the VMDSpectrum? What is this VMD Spectrum feature on the LearnMMD Stage? How do you use the VMD Spectrum Analyzer?
Using the VMDSpectrum Analyzer…

If you have taken a look at the LearnMMD stage, you would find a feature, the VMDSpectrum. The VMD Spectrum is an MMD accessory/model that acts as a frequency spectrum visualization; it lets you "see" your soundtrack. To use this feature the wave file will need to be put through the VMD Spectrum Analyzer to create the VMD motion data used by the model. The VMD Spectrum Analyzer can be downloaded from the LearnMMD.com Downloads Page.

The VMD Spectrum Analyzer will only accept .wav files that are 44.1kHz and 16bits mono/stereo. If your file does not meet these specification, you must change them through the use of an audio editing software such as Audacity; simply Open Audacity and "import" your music … then "Export" as a WAV.
Changing the frequency and format bit rate of the .wav file using audacity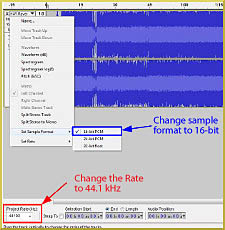 Once you have open/imported the .wav file in Audacity, change the frequency rate to 44.1kHz from the project rate at the bottom left of the screen in the selection toolbar and change the format bit size to 16bit under the "Set Sample Format" under the drop down menu on the left of the screen where the track details are. Export your new .wav file.
Running the .wav file through the VMD Spectrum Analyzer
Once you launch the VMD Spectrum analyzer, load your desired .wav file you would like to analyze for your project from the open wav file, ファイルを開く(O), under the file menu, ファイル(F).
Specify the number of bands the VMD motion is to have for the given VMD unit (the specified band provision + 1) on the top left option of the program, バンド数. The LearnMMD stage VMD Spectrum has a provision of 10 bands, so you want to set this number to 11 (10+1).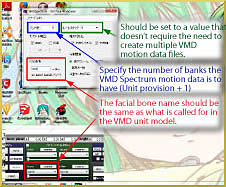 MMD has an upper limit of 20,000 data motion. If your project will exceed this limit, the program will automatically create multiple VMD motion data files (you will have to load multiple VMD unit models, for each of the motion data created). On the top right option, フレームスキップ,  change the frame sampling rate to 5-6. If the program still ask to create multiple motion data, simply change the frame sampling rate to a higher number at which the program will not ask to create these multiple files. However, you can keep the value low if you would like
Verify that the base "facial bone name" matches what is given on the botton left option, 対応表情. The LearnMMD stage VMD Spectrum uses "band".
Once this is done, save the VMD motion data from the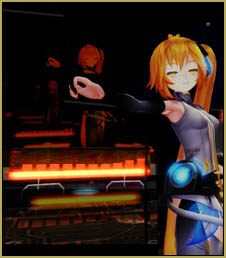 save motion,
モーション保存(S), under the file menu,
ファイル(F).
Loading the VMD Spectrum motion data
Once you have created the VMD Spectrum motion data, load the motion data to the VMD Spectrum unit as you would any other motion data to a model.
Play the video and enjoy your creation.
---
– SEE BELOW for MORE ARTICLES on similar subjects …
–
---

The New…
LearnMMD Stage is ready to Download!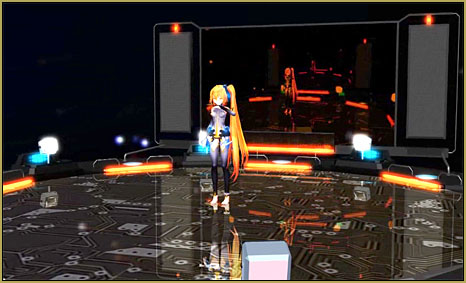 LearnMMD.com is proud to announce our new
LearnMMD Stage created especially for LearnMMD by our friend, Trackdancer. DOWNLOAD NOW from the LearnMMD Downloads Page.
You will love this stage! The stage has a mirrored floor, "lights" that work when you engage the AutoLuminous effect, a custom dark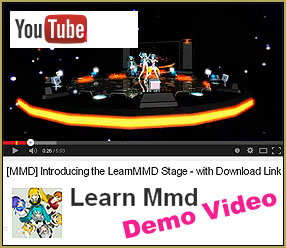 skydome with soft, distant "stars"/spotlights, an optional "meter" that displays VMDSpectrum data … and, what could be a "world-first": a tinted motion capture screen! … or you can use the included "standard" screen.
Looks so Professional … that you can imagine it installed at ground-zero inside Madison Square Garden, mid-field at the Super Bowl, or screen-center in your music video!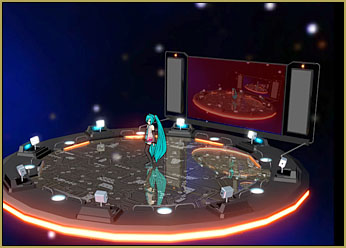 You will want to install the AutoLuminous effect to "switch-on" those beautiful lights  … and, behind the models in the Demo-Video you will see the sound-spectrum meter driven by VMDspectrum data; yet another new thing to learn!

Comic-strip Instructions …
Trackdancer included an MMD "comic" to show you how to set-up your stage. There is an order of things … and a manipulation or two to be done as you get it ready to go.
You'll need MME …
You will want to have MME, MikuMikuEffects, installed inside your MMD folder … get MME "in English" from our Downloads page. With MME, you can use the AutoLuminous effect to ignite the lights on your new stage.
 Enjoy the LearnMMD Stage!
Download our stage and get started on your next hit video!
Post Note:

Don't forget to download the application for the VMDSpectrum.  The URL is on the LearnMMD Downloads Page.
---
– SEE BELOW for MORE ARTICLES on similar subjects …
–
---