When is Miku's Birthday? Miku's birthday is what day in August? What is a good way to celebrate Miku's birthday?
Some thoughts on Miku's Birthday.
Today, August 31, being Miku's Birthday, I would like to share some of my thoughts on this occasion. Even though today is her birthday and her original voice bank is seven, she remains sixteen years old. For a sixteen year old girl she has made, and will continue to make a big impact on today's society.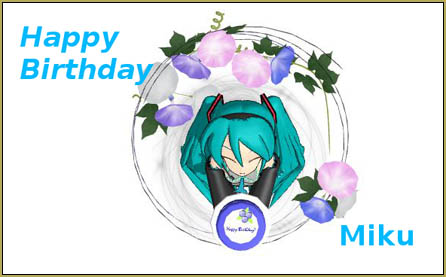 Without Miku, the Vocaloid software would not be as popular as it is today. About five vocaloids had been released before Miku's release in 2007. It was with the release of Miku that the popularity of Vocaloid took off. Originally developed as a professional software, Miku's popularity spilled over to the amateur side. With this came the birth of a community based on collective creativity. This idea has spawned many derivative applications to enhance one's creativity, including Utauloid and MikuMikuDance. Miku's image can symbolize the creativity of the community as her image is based on the creator's ideas and is not set in stone (Short history of MMD Miku Models Part 1, Short history of MMD Miku Models Part 2) . In fact, for the initial cover-image of Miku for the Vocaloid Software, the artist who designed Miku, Kei Garo's only direction was that she was an android and her color scheme: turquoise color.
Although, Miku was artificially created, to many of us she seems more real than many of today's flesh and blood artists. This is due to that fact that she is a reflection of the creators of her song. As a consumer, we thrive in relating to the background of an artist. This also contributes to her popularity. The PBS Idea Channel dives into this in their video "Is Miku Hatsune A More Authentic Pop Star Than Lana Del Rey?"
As time passes, Miku, Vocaloid and the community continues to evolve. This is shown through the development and re-release of many Vocaloid characters in Vocaloid3, which includes an English version and specialized version … as well as her performing sold-out 3D concerts.
As we celebrate her birthday by listening to her songs, I would like to wish her a …
Happy Birthday!
---
– SEE BELOW for MORE ARTICLES on similar subjects …
-
---
How do I find Yukari's Gap for downloading? Where do I download Yukari's Gap for MikuMikuDance? How do you use Yukari's Gap

for MMD?
The In's and Out's of Yukari's Gap.
I, like the rest of you, have seen the Touhou videos on YouTube and NicoNicoDouga. Bad Apple is arguably the most famous of these videos (Here's a link to a comparison video of the original shadow animation and an MMD version: https://www.youtube.com/watch?v=XXQqJDHzcHg ). I will be the first to admit that I am a late comer to Touhou fandom. I started collecting these models for their character design rather than back story. Thanks to the help and information of two friends of mine (Nick and Alex) I now have a better appreciation of what Touhou is about.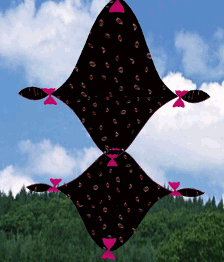 I noticed that one of the major characters had an effect associated with her. Yukari Yakumo is a gap youkai. She has the ability to open up portals in time and space and thereby manipulate boundaries. The gaps she opens up seem to just float in mid-air and blend into the surrounding scenery. She can also bring and take things through these gaps.
I downloaded a version of Yukari's Gap from this Bowl Roll account (http://bowlroll.net/up/dl40910) and the password is one that you'll have to figure out yourself by going to the original NicoNicoDouga video (http://www.nicovideo.jp/watch/sm19593150 ) this isn't a difficult password.
Once you have downloaded the model you would load it up just as you would a regular MMD model. You'll notice that you have two models. One is larger than the other. It will show up as three pink bows and a series of normal bones (rotate and move). Because they are normal bones you can create motion data to open and close these gaps. The two left and right furthest from the center bow will control a whole chain. The model also has a mother bone so it can be set on its side and used that way.
Bridging the Gap.
If you want Yukari's Gap to suddenly appear out of thin air then it would be a good idea to position the model and use the disp check box in the Model Manipulation Panel (MMP). For more details about this feature I would recommend you check out these two articles: http://learnmmd.com/http:/learnmmd.com/use-stage-changes-in-mmd/
http://learnmmd.com/http:/learnmmd.com/how-to-switch-models-and-stages-in-mikumikudance/
Please note that only the bows will appear and disappear. The most troublesome thing, about working with Yukari's Gap, is not knowing its boundaries. The effect is invisible and it can hide a lot of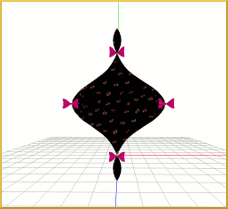 the stage, model and accessories. I know of two ways to work around this. The first is to change the draw order of the models so that Yukari's Gap appears as a solid white block with bows on it. This is done by clicking on the Background tab on the main menu bar.  The other way is to load up the model and open up the gap. This will allow you to see how the model works in situ. After you have finished your model's motion data you can add in any opening, closing and display data.
I have uploaded a video showcasing the gaps and two different Yukari models at our YouTube channel: http://youtu.be/lYFiLIff_7U
Have fun with this.
Sources:
Yukari Yakimo by Min.
Yukari's Gap model from anonymous' Bowlroll Account
Sky dome by Kaahgome.
---
– SEE BELOW for MORE ARTICLES on similar subjects …
-
---
My new "Ring Around the Moon" MMD video is on YouTube …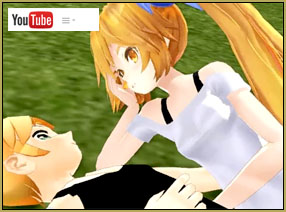 This little LearnMMD Project was fun to do … only 40-seconds long … and the lip-sync motion files are included in the download from the LearnMMD Downloads page.
We are calling this a "project" rather than a "meme" because only the WAV file … and the lip-flapping motions … are included in your download zip. It is up to you to create the scene and to create your own animation motions.
I wanted to show the lovers lying in the grass in a park-like setting. I chose one of the lawns featured in the MMD Batokin Island stage. My choice had its problems … mostly because of the slanted ground where I did my "shooting" … but, once I had the models placed and rotated to match the ground, I was ready to go.
I selected my Neru model, "TDA Neru -One Piece-", from the list of Neru models on citrusmoothie.tumblr.com. The link, there, takes you to a Bowlroll.net page … where you find out that the password given to you by citrusmoothie was incorrect. The real password is TundereBisyoujo
I searched and searched for a Len model that looked masculine,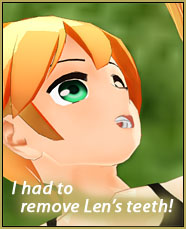 enough, and still looked to be close enough to the same species as my TDA Neru. The TDA Len model had been created from a Miku base … and he DID look rather effeminate … maybe cuter than Neru! … so I settled upon another Citrusmoothie model, "f_tr Len". This model was easy to download … no password needed. He had really clunky teeth which I was able to switch off. He almost lost the part because of his bad teeth!
The highlight of my little animation is in the second verse where Len draws "a ring around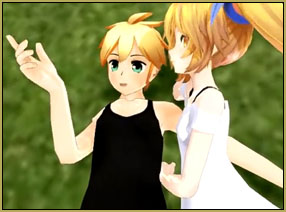 the moon and a line from start to star." I enjoy how both models follow Len's hand through the motion … Watch the hands; I made use of my hand-pose collection to quickly roll the fingers from a sharp pointing gesture into a relaxed pose and back into a "point"… back and forth. Check out the Downloads Page to download my set of hand poses.

They are a real shortcut in any animation!
One of the problems I encountered and had no solution for was Neru's skirt and hair … There was an obvious interference going on in which her skirt fought with the ground, or with the model's legs pressed against the skirt … and some of the nice little curlies near her right eye would not "be still", but were constantly flipping and flapping about.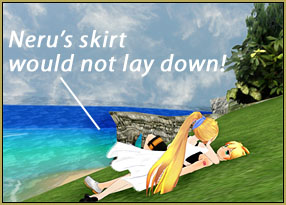 The "skirt" issue I dealt with by not letting the camera "see" that portion of the scene where all that action was going on. The "hair" issue is still there … I decided to ignore the hair problem and just let it do its thing. Watch for the hair action as you watch the video. (I am hoping that you might not have seen it until I pointed it out to you, just now. ":o)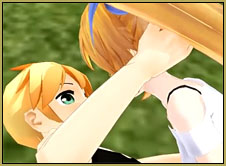 I added a couple of seconds of animation beyond the end of the music so as to allow Len to get close to Neru … I think this little bit adds a nice finish to the video.
I hope you will enjoy my efforts … and I hope you will try it for yourself. Download the ZIP and create your own version of Melanie's "Ring Around the Moon."
---
– SEE BELOW for MORE ARTICLES on similar subjects …
-
---

Why won't the ground shadows show on my stage floor? How do I get my model's shadow to show? My model casts a shadow until I remove the grid.
Adjust the stage to allow MMD to make ground shadows!
One of the powers of the 3D animation software, MikuMikuDance, is that it will generate ground shadows in your animation … but it will do so only at the precise level of the Coordinate Axis grid. If you have the grid positioned ABOVE your stage floor, the shadow (and the model) will seems to float above the floor. If you have the grid positioned BELOW your stage floor, the shadows will not be visible … and your model's feet, standing on the grid, will look to be sunk into the floor.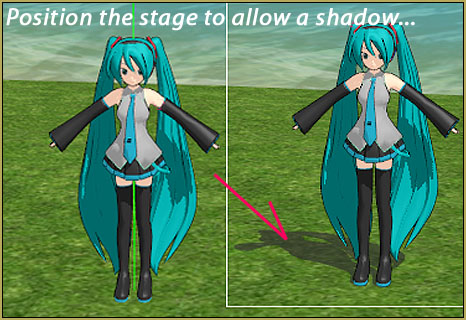 You might be tempted to use the Y axis control to raise (or lower) your model to make it "look right" as it stands on your stage. If you DO … the ground shadow will stay with the Grid … and probably will not show in your animation.
The "MMD Batokin Island" stage provides an extreme example of this shadow issue since the area I wanted to use was on a slant!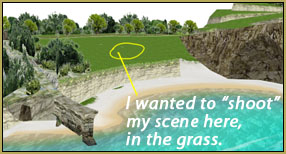 I had decided that I wanted to create my animation using that section of "grass" on the MMD Batokin Island stage. My first attempt found me moving Miku up and into the grass area of the stage. The problem was … how can I get Miku to cast a shadow?
Move the stage to your model …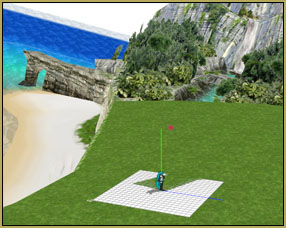 I decided to "show" the grid, attach the stage to a dummy bone, and then move the stage into a position that "worked" with the grid. You can see that the horizon line is rotated away from the horizontal in an effort to get the grid to sit flat on the grass. The landscape was not "flat" … and so I couldn't get the grid to sit flat on the grass over its whole surface … but … close enough …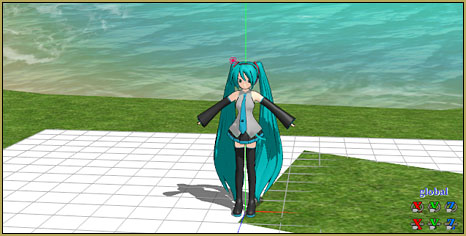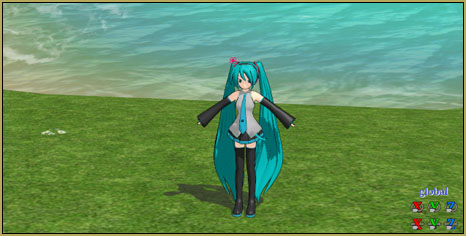 YOUR situation …
… will probably not require this much action … most stage models are designed to work well without needing this kind of adjustment. But … if you decide to "go off-road" … this technique may help you to cast shadows.
---
– SEE BELOW for MORE ARTICLES on similar subjects …
-
---