How do you use the Half-Lambert Shader in MMD? Where do you get the Half-Lambert

Shader? How do you use the Half-Lambert Shader in MikuMikuDance? I got this error message when I tried to use the Half-Lambert Shader in MMD?
How to Download and Use the Half-Lambert Shader.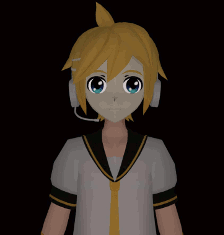 Earlier this month, we here at Learnmmd Labs had a question from a reader regarding the Half-Lambert Shader (HL). Late last year, I had started to write about the Half-Lambert but life happens, and it was tabled until this time.
     The Half-Lambert isn't really a shader as we normally use them. It is a lighting technique developed for gaming. I found my version of the Half-Lambert at Kyaami's YouTube Channel here: https://www.youtube.com/watch?v=DQGLdMznwZk . As usual, make sure you have the latest version of MME correctly installed. Please see Noko2's article (http://learnmmd.com/http:/learnmmd.com/download-mme-install-mikimikueffects-add-effects-mmd-7-39/ ) regarding downloading and installing MME. Make sure that after you have downloaded this and renamed this in English, you place it into your effects folder
      After you have loaded all your data (models, motion, and accessories and load a Dummy Bone at this point), click on your MMEffects button, at the top left corner. Select the name of your model and double-click. Another window will open up and then you need to go to your effects folder and select the HL folder. Now select the Cook-Torrance.fx (there are other versions available in that file, but let's stick with basics for now). Your model will now become very dark.
     You now need to go to the Model Manipulation Panel (MMP) and make sure it reads camera/light/accessory. Next you click the load button in Accessory Manipulation Panel (AMP) and load the Shadowmap.fx . (Note: Every time I have loaded this I have gotten this error message, I also got a white rectangle. I just uncheck the display box in the AMP and register this change. Honestly, I have skipped this step and everything seems to work out just fine-your results may vary).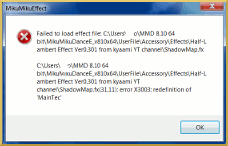 Let There be Light.
PointLight.x is the next step for the Half-Lambert Shader. This is loaded through the AMP's load button. There are several to choose from but let's just use PointLight1.x for now. You can explore the other options on your own time. A white globe will now appear between you model's ankles. Remember the Dummy Bone you loaded earlier? This would be the time to attach it to the PointLight sphere.
I'm sure you're thinking the Half-Lambert Shader is something of a disappointment. Just bear with me, this is because you haven't turned on the lights yet. If you look at the AMP's Rx, Ry and Rz fields, they all read 0.0000 that means no color or off. By assigning positive numeric values to these fields you can change the color, hue and intensity of the light. Here's a little chart to get you started.
Color Chart:
Rx: 0            Ry: 0            Rz: 0 = No color
Rx: 1            Ry: 1            Rz: 1 = White
Rx: 1            Ry: 0            Rz: 0 = Red
Rx: 0            Ry: 1            Rz: 0 = Green
Rx: 0            Ry: 0            Rz: 1 = Blue
Rx: 1            Ry: 0            Rz: 1 = Magenta
Rx: 1            Ry: 1            Rz: 0 = Yellow
Rx: 0            Ry: 1            Rz: 1 = Cyan/Aqua
The dummy bone you have attached gives you options for position and movement. Once you have finalized your PointLight's position and/or motion. You may uncheck and register the display box. This will leave just the light remaining. The size of the sphere can be tailored with the Si field of the AMP.
I have uploaded a quirky little video using this effect to our YouTube Channel at: http://youtu.be/MpoAuquLmx0
Have fun with this.
MCL Len by MMD_MCL is apparently stunned by The Half-Lambert as it goes through him!
---
MOMI CUP 2014 announces this year's TOP-TEN Entries!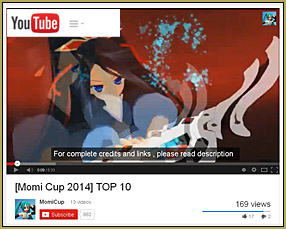 The official announcement of the Top-Ten Semi-Finalists for this year's Momi Cup competition has been released!
On April 15th, the Top-Five will be announced … and on April 20th:
The Winner!
I noticed that few of the Top-Ten entries are the typical "Sing & Dance" music videos … but the majority are, instead, action and emotion-filled. I think it's great that the top creators in the MMD world are moving MikuMikuDance away from J-Pop bubblegum rock and into the full range of action and drama genres.
MMD: not just for music videos, anymore!
---

What are materials in MMD models? What is their purpose? How can I divide materials into smaller parts and what could be gained from that?

Manipulate models in PMDE more efficiently by using materials
As you possibly know, an MMD model is divisible into "materials" – blocks of vertices sharing the same texture file or – in case of textureless stock models – the same color. Each material consists of group of vertices linked to each other in a reticular network. Each triangle – facet – made of three neighboring vertices defines a piece of texture or a solid colored surface that is seen between them.
Open PMDE and load any model. In PMDView window's lower toolbar, select "Wire+ (P)" mode and "green cloud" button allowing to see all vertices at once. Select any vertex (an astrolabe tool must appear around it) and drag it aside by astrolabe's arrows. You can see that it drags a bunch of ribs after it, skewing facets that these ribs participate in, but other vertices and further-residing facets stay untouched. If you select *several* vertices, then those facets whose all three vertices were selected will move unskewed. Now, if you manage to select *all* vertices in a material (which is actually easy if you use PMDView's "Vert/Mat" panel) and weight it to a free-moving bone, you'd be able to move that bone as a separate piece, not linked to the main part of the model in any visible way. (Actually, this is not true. There are models where this conceptual rule does not work – see below. But with PMDE, it is in your power to *make* it so).
But the fact that the material is a separate solid piece of the model does not make it *smallest* possible piece. In fact, PMDE allows you to granulate models' materials into smaller pieces, which sometimes can be quite useful. That's what we will be doing today. Read more

How do I get the K Lite Mega Codec Pack 995? What is the best Codec to use to make videos in MikuMikuDance? Which video compression should I choose when rendering to AVI using MMD? How can I make 1080hd videos in Miku Miku Dance? What size should my screen be for HD video in MikuMikuDance?
Does Windows Movie Maker give you really poor quality and nothing else works for you? No problem! This problem is solved for all Windows xp, 7, 8 (or older) 32 and 64 bit users!
The K Lite Mega Codec Pack 995 – The Ultimate HD Video compressor!
With this codec pack, you can render (in MMD or MMM) your videos in 1080 HD in just under twenty minutes! And plus, if you are using Windows xp, you can open any video or audio you want!! But XP users need to stick to ver 9.9.5 because the latest versions cause MMD and MMM to crash when you try to render.
I'm going to show you how in just simple steps, one, it's completely free so get ready! After downloading the program from looking down the bottom, open it up and when you look at the setup, you can select all audio and video formats, make sure that you have the encoding selected and have it set to Windows Media Player so it can open all video files, it will also give you the Classic Media Player if you prefer a better video Player instead.
Make sure that you have DivX and XVid activated, otherwise MMD won't take it in. But when you're finished, you don't need to restart your computer, it runs up right away!
Now, when you open up MMD, switch your screen to 1290 x 1080 for the suitable screen size, if you think that's too big, it's perfect for a HD quality. Now when you are going to render your video, switch your video compressor to XVid which is listed just above the AVI raw option. You can also see that there are more additions as well so don't hesitate to try them!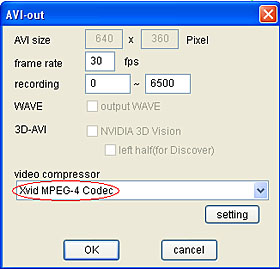 Now, when you click on the XVid option, the the video compressor options box comes up, clicking on that, you can set your video to 780, 1080 HD. But there is also the DivX option, that is a codec that allows you to even play your videos on even older TV's if you want to play it by putting it on a USB and plugging it in to your TV or DVD player and play it!
There is a TV that I have that is about 10 years old! No matter what the age or quality it supports, all DivX and XVid videos are supported! But keep it on XVid Home because it still gives you Read more

How can I translate Japanese models to English? How can I give bones unified and meaningful names instead of mixed stuff that Google Translate produces? How can I give my model Japanese names if it doesn't have any?

Use Excel to translate Japanese bone names to English in MikiMikuDance models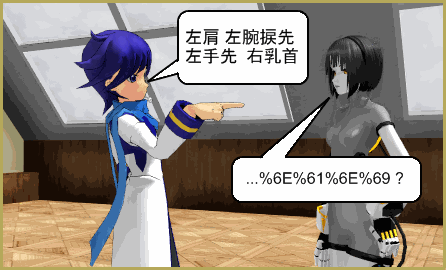 Lack of English names for bones, facials, etc. is a well-known problem. Fortunately, the solution for it is known as well. There are already detailed instructions how to make batch translations in PMDE using Google Translate, and their equivalent for PMXE. So I will assume that you already know what "Bulk Rename" (aka "Batch correction of the name") command is and how to use it. Let's focus on the translation itself.
Google Translate, with its ease of use and ubiquity, isn't a perfect tool. Sometimes it gives non-matching translations to Japanese titles that only differ by a number in series or left/right side. Sometimes it gives too vague translation or simply produces a phonetic transcription instead of a meaningful name. Whereas stock models provided with MMD have fully translated sets of bones that include names for mostly everything you can possibly meet in a model. If you could exploit that pool, you'd have an universal instrument for making ready unified names for most of bones. In other words, when you want to knock a stray nail, you can just pick up a nearby rock, but if you want to drive a lot of nails, you better get a hammer… and if you plan to drive nails in thousands, an air puncher will be a wise investment.
By integrating translations for existing stock models (and adding some translated by me or taken from other sources), I compiled an MS Excel table that can be used for somewhat more orderly translation than Google Translate can offer. This is how you can use it.
Open the file. First sheet in it is your working area, and the second is the reference table that contains all bone, facial, and group names already translated. Now open a model in PMDE, summon the "Bulk Rename" panel, and copy Japanese names for all three categories into the first column. Immediately the column named "From the reference table" will be filled with respective English names found in the table. More likely than not, some of names will be not translated, but that can be helped. Read more

How can I recolor MikuMikuDance models? How do I recolor my models. Change the color of your MMD models Tutorial on LearnMMD.com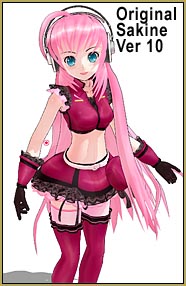 How To Recolor MikuMikuDance Models Without PMD Editor!
Hi Everyone, it's Me again, NicoleNakanoMMD … and I will teach you how to Recolor your models with simple Paint programs.
It Is Fun To Recolor Them.  It Will Show The World Who You Are!
Here Are The Steps:
1. Open the Model folder that's inside the Users folder, inside your MMD folder.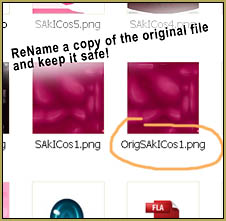 2. Open the folder for the model you want to edit. Choose one of the image files.
3. Make a copy of that file and rename the copy something different … "Original", or something … so you can save that original file in case you want to change everything back, later.
4. Right Click the image with Your Mouse And Click "Open With", And Then Select Paint (or GIMP or Photoshop)
5. Recolor It With The Colors You Like!:3  … Sometimes I like to just scribble a few different-colored X's onto the image, and save it …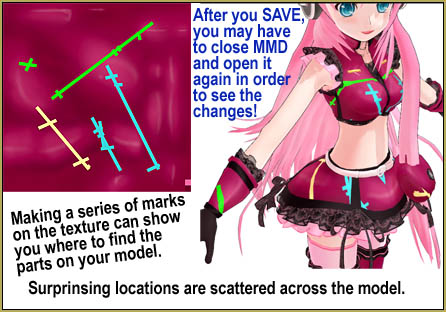 … and then try-out the model in MMD to see where the X's turn-up on my model, so I know, for sure where the parts of the image are located.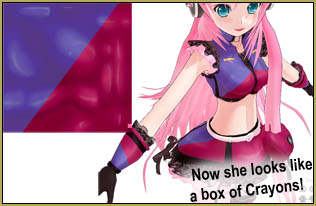 6. When you have colored your model … Click Save And Exit Paint.
7. Open Your Recolored Model On MMD And Look! Now Your Model is Recolored With Your Favorite Colors!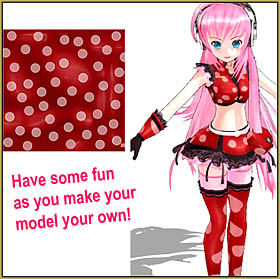 Okay, So That's My Post For Today. If You Have Any Problem, Please Comment :D

It's OK to have fun recoloring your models for your own enjoyment and your own use. But do not share the model's files with your friends or give a link to the modified model online unless the original model's README file gives you permission to do so. Click the Keep the Faith-MMD image, above, to read all about it.
---