New Users, ever wonder what all those functions or controls do in MMD? How to move your character or the camera in MikuMikuDance? What are the Basic Controls? How to save your project or insert a model? What does "Keep the Faith" Mean?
NEW MMD How-To Videos: Basic Controls, Citing Sources, Japanese Locale
---
Hey everybody,
I haven't posted in a bit but here is my latest update on 3 videos as of 12-4-13, which includes controls and citing sources, plus a request.
Keep the Faith MMD!


The first one is Keeping the Faith in MMD. Here at LearnMMD.com, we strive for proper crediting and sharing information fairly. This video talks about getting downloads, and what to look for when trying to cite your sources. Also, make a citation page using notepad.
Setting your computer to Japanese Locale!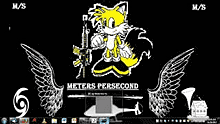 My second video was a request by HavocAngel and Reggie Dentmore. In this video, I will show you how to put your whole system in Japanese Locale so it works better with MMD, Japanese files, and for writing/typing in Japanese.
MMD Basic Controls and Motions!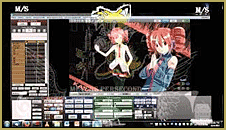 My third video talks about recognizing and learning how to do the basics in MMD, like motions, pictures, character movements, lights, accessories, etc. I also added a project video I made to show you how the controls effect everything live time, and how to make it smoother. I call the controls of MMD a Milestone system. What I mean is when you register, or save, a control setting or a motion, it's best if you do it by checkpoints. Start at a normal pose, then move the controls and character up as many frames as you like, then insert the ending pose there. The program will calculate smooth motions for you.
See all of my videos!

Click on my avatar image to go to my YouTube channel and check out those videos! Let me know if you have any questions … and thanks again to ALL the users here on LearnMMD.com, I don't know what I'd do without their knowledge.
M/S … LearnMMD's Meters Persecond

Have you ever wondered how to install MMEffect? How to use MME Effects? Where to get MikuMikuEffects? See my Introduction to MME video!

MMD How-To vid…
Ep 3: Introduction to MME
Hey everyone, this is the 3rd video of my How-To series. In this video, I will demonstrate how to get MMEffect, plug it in, and demonstrate how it's used.  Most of this was from Reggie's article (Download and install MME) so thanks Reggie.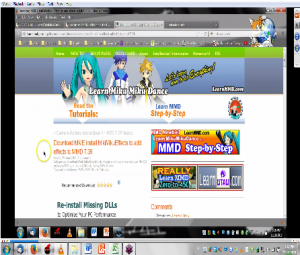 The effect used in this demonstration is the Self-Burning Effect. There is an article on LearnMMD describing this effect … but I get more from watching a demonstration video than from reading articles, so I have made this newest demo-video for you. Check it out and I hope it helps!
Have fun with MME!
– Meters Persecond

Why are my Japanese models white? Why can't I do anything to let me read those READ ME files that come with my models?
MMD How-To vid: Ep 2: 7zip-AppLocale
Hey Everyone! This is the second video of my MMD How-To Video Series. In this episode, we will be using a combination of 7zip and Applocale to keep Japanese file names intact as you download them on your Western computer.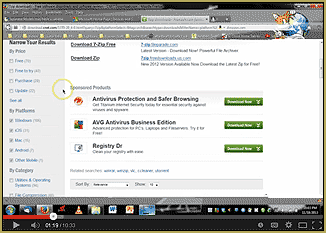 Both are vital programs when using MMD, and users need these programs when they work with Japanese files. I will show you how to download, install, and set up 7zip using Applocale.
This is also my first posting by myself on LearnMMD.com and my first article on MikuMikuDance, so I am very excited. Thanks to Reggie's article for information on this topic ( check out his article here! ). If you have any questions, feel free to leave a comment and I will do my best to get back to you as fast as I can. I am a Windows technician (which DOES help). Also leave a comment if you have any comments to help make my videos better for y'all! Watch the video here!
Enjoy! Meters Persecond

What is Nico Nico? How do I use it? Looks like there are a lot of Nico Nico MMD videos! Can NicoNico help with my MikuMikuDance?
Nico Nico MMD Videos…
Models, Motions, and Music!
Using Nico Nico is fun, easy, and informative!
If you have been searching around the catacombs of the internet, chances are you've run into Nico Nico (formally known as Nico Nico Douga). Nico Nico is a video service, similar to YouTube (and has gained the nickname of "Japanese YouTube") where users upload their videos. Though unlike YouTube, Nico Nico users can also upload images and much more. But I will get to that later on in this article.

Now, you may be wondering how Nico Nico can be useful with MikuMikuDance. To put it simply, Nico Nico is one of the major hubs for Japanese MMD videos. As of current, Nico Nico hosts over one hundred thousand MMD videos and over sixty thousand images for MMD. Now, before going further, I should note that if you want to use any of Nico Nico's services, you'll need an account. You can find the registration here. The process itself is very simple and shouldn't take more then five minutes to complete. Now, I should tell you that unless you live in Japan or Asia, you will likely log onto the English server. While you will still get full access to all the content Nico Nico has to offer, some errors may pop up from time to time.
Using Nico Nico
So, now that you're set up, let's have a look at Nico Nico's homepage. As you can see, the homepage isn't hard to navigate with the main tool, the search box, located right on the top of the page. We'll type in "MMD" into the search box for now.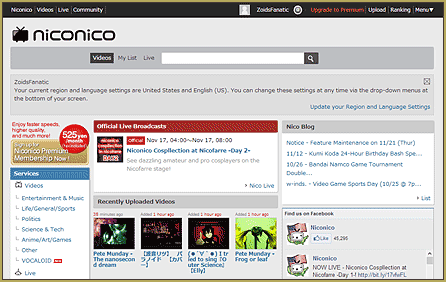 So, this will be an average search feature. Right now, I have the settings to show me the newest uploaded videos with the title "MMD". This setting can be changed by the little drop down menu that's titled "Newest Uploaded".  Now, as you may notice, there are four tabs on top of the search box labeled "Videos", "My List", "Images", and "Live". Videos are, of course, videos. My List is similar to a playlist on YouTube, and clicking it will bring up lists of MMD videos. Images Read more

Why don't my models save? How come MMD cannot open the models in my saved dances? Why does MMD crash when I try to open a saved file? Why does MMD make me re-find all my models when I save them?
Fixing MMD models that refuse to show up!
Have you ever opened up a saved MMD file only to discover this message?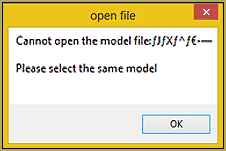 Or worse; MMD crashes?!
Well, if this ever happens to you, fear not. You did not break MMD nor does MMD have a virus. Instead, the system simply cannot find the model file you're looking for because it can't read the file. Now, if you have never seen this error screen then you're likely using Western models, as this error normally effects Japanese models. Understand that when you download a Japanese model, your computer system is going to scramble to encode it. Now, unless you have a program in place that will encode it in English, your system will likely save Japanese text as a bunch of gibberish. So, instead of a file reading "東方" ("Touhou" or literally "Eastern"), your system may encode it as "É╬".
With this in mind, the error screens appear because MMD (both the English and Japanese versions) can't figure out what "É╬" means and will therefore ask you to identify the file. On other occasions, MMD may just crash. So, how do you fix this issue? It's actually not as hard you may think.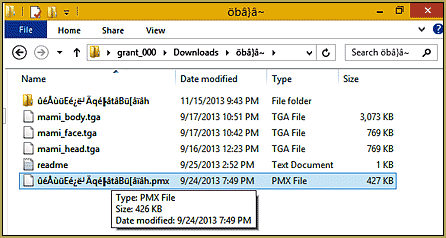 For this example, I'm going to use Hinoichis' Tomoe Mami model. First off, I download the model and unzip it. Next up, I'm presented with a window like this.
Rename your PMD or PMX file … replace the gibberish!
As you can see, a good chunk of the file is translated into gibberish. However, it's only the model file we want to change as the folder name won't really effect us much (though it's still a good idea to rename it for organization sakes).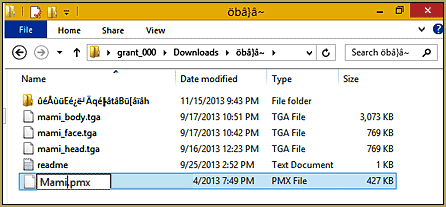 So, let's scroll down to the file itself and rename it. Since it's Mami, we'll name the file "Mami". Remember to keep the .PMX or .PMD in the name, or else the file will break.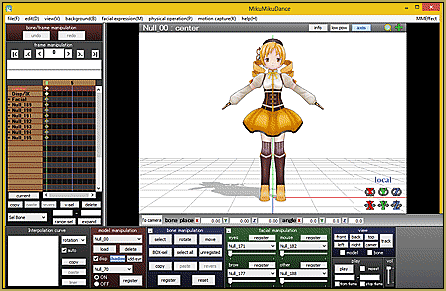 So, with that all said in done, next time we save and open a file, we should be presented with Mami.
---

Trying to run Excel, Photoshop and MMD
at the same time?
Click the Low Power Button to Multi-task!
I often have multiple programs open on my PC … internet, WORD, Photoshop. In the past, everything else almost stopped once I opened MikuMikuDance. MMD 7.39 really USED the CPU chip as it constantly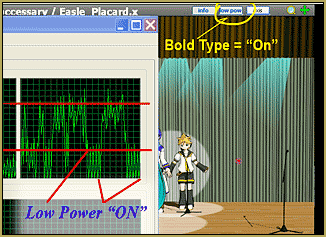 recalculated the in-between frames in your animation … making other open programs unusable.
That's in the past as MMD 8.03 offers a Low Power button!
Clicking it cuts MMD's CPU usage in a measurable way … freeing-up your CPU to be able to run other programs … even with the MMD program open. The picture, here, shows my CPU activity with the Low Power clicked  ON and Off while MMD is just idle.
The Low Power button has two states: "On" and "Off". You will know that the Low Power is ON when you see the name of the button in BOLD: Low Power … Not bold indicates that MMD is back to using your CPU full-time.
I have been running MMD 8.03 … sometimes with the Low Power ON … and sometimes OFF … and I have not noticed the difference! I cannot think of a down-side if you just leave it ON (bold)… so that your computer's background functions can run at full speed.
The Low Power button is a welcome upgrade from MMD 7.39!