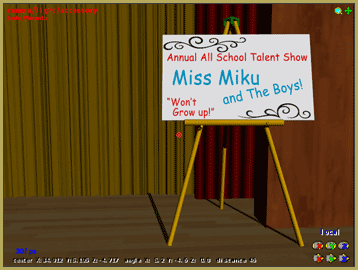 I wanted to create a show-card placard on an easel to stand on the corner of the stage for my new MMD production number:
"I Won't Grow up!"





I started by opening Google Sketchup and clicking the 3D Warehouse button ... and then searched for " office easel" ... and I found one!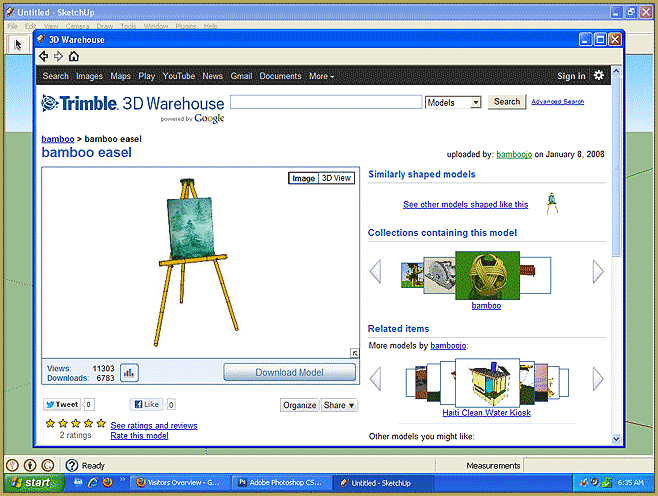 I downloaded the easle and Exploded it to break it into its basic components ... and then I discarded the image of the painting and created the white placard ... and placed it onto the easel.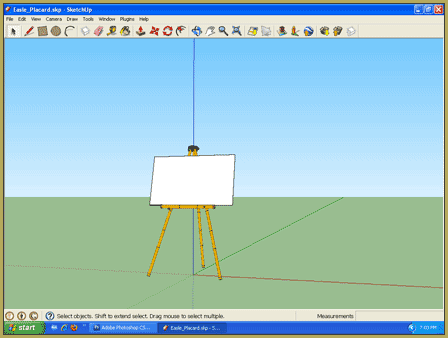 Now I did a screen capture of this image and opened it in Photoshop (could have used GIMP, instead) and made the image nice and big on my screen.

I cropped the image to show only the white placard ... and cleaned everything up so that I had the image proportions that I needed to fit that placard model I had created in Sketchup.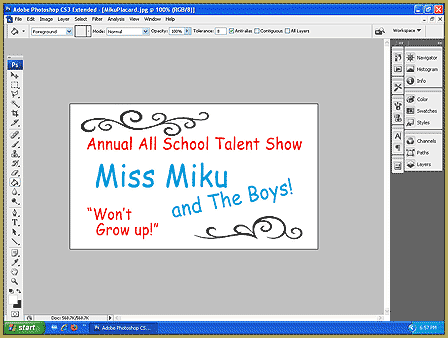 I searched for some "scrolly clip art" on Google and found several images to choose from.
I placed the scrollies and added my type to create the decorated placard image.

I saved it as a JPEG .jpg file because that is the image format that works for me as a texture image in Google Sketchup.




I went back to my Sketchup screen and clicked the Paint Bucket tool ... and then clicked the EDIT tab on the color selector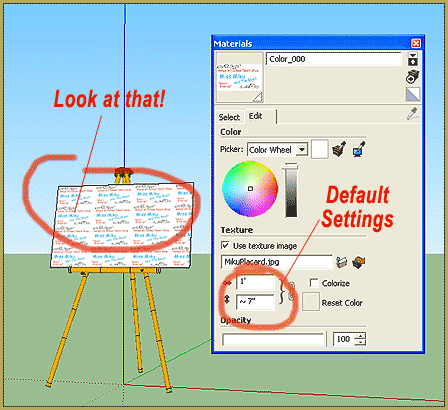 and clicked the "Use Texture Image" box.

WOW ... it looked like it didn't work!



I started playing with those image size settings ...



... just trying different numbers until I got it to look nice!








---
---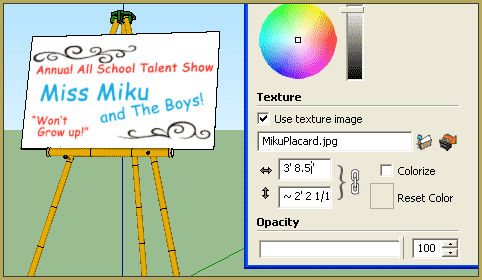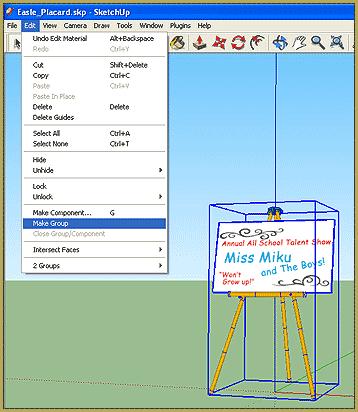 So now I clicked the EDIT tab and slected MAKE GROUP to hold together all of the elements of the finished model. SAVE






Next ... Click the PLUGINS tab and select the 3D-RAD plugin.

Choose to "Export as generic DirectX file"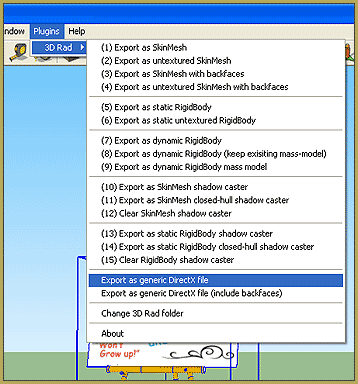 The system will ask you where to save the new file.

I find it best to make a new folder and save the new model into that empty folder.

Often a DirectX model has some graphic texture files that get created as the 3D-RAD plugin works its magic. ... You will want to keep the elements of this model separate from the elements of your other models ... so make a new folder for each new creation.




NOW for the BIG MOMENT ... !

Open MikuMikuDance 7.39 ... go to that Accessory Manipulation Panel and LOAD your new accessory ... and ...
...
...
HEY ... How come it didn't work?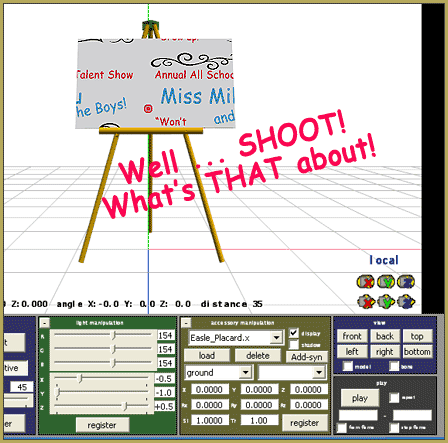 Man ... after all that work ... it didn't work!



It turns out that the texture is kind of "floating in space" on the Sketchup screen. You have maneuvered things to look good on your monitor ... but when 3D-RAD puts the pieces together, your texture is found to be in a different position!

What I did to get around it was a bit of trial and error ... moving my easel model left, right ... a bit forward and a bit back ... using the 3D-RAD plugin to make a new version of my easel ... and opening MMD to LOAD my easel acceccory and see where the texture image is "this time?"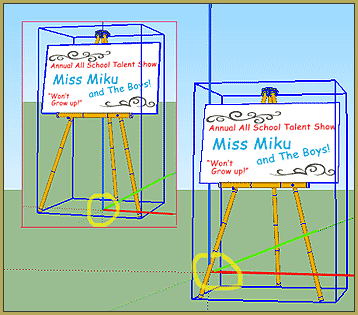 This picture ...

might be the most important ...
and the one that makes the least sense!


All I am trying to show is that, through trial and error ... moving the easel image forward and back, left and right, I finally found a position in which the texture image appeared in the correct position on the finished DirectX model.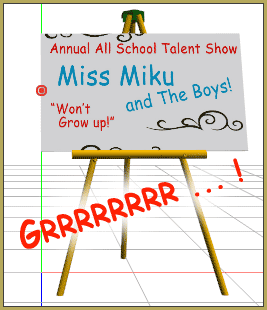 But ... Finally I got it into the "sweet spot" so that my texture landed right where I wanted it!

Ahhhhhhhhhhhhh ... Sweet success ...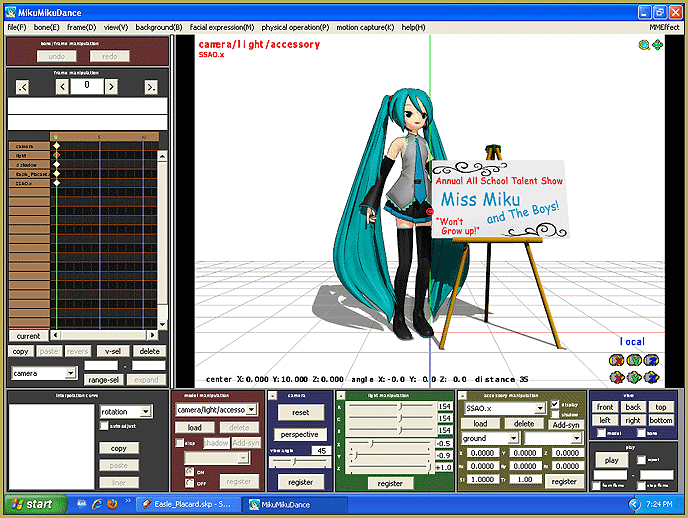 As always ... If you have an easier, better way to get this job done, Please email me at LearnMMD@aol.com! ... Leave COMMENTS on the Pages of LearnMMD.com!

---
A Reader had the Solution:

Hello!
You know that article you wrote about making custom textures, putting them on an accessory, and having it turn out wrong in MMD? I think I've found the solution!

Once you've made your image, go to File-->Import... When the Open box pops up, click your image then click the "Use as texture" option. Once you've manipulated the image to fit the surface of your accessory, right click on the face you put the image on, go to the "Make Unique Texture" option and click on that. Convert to a DirectX file and load your accessory like you normally would. The image should be there. (That is, if I did a good job explaining the process.)

I hope this helps. Keep up the good work!

-Jes


---
---
---

J-List distributes
crazy things from Japan with fast shipping from their warehouse in San Diego.
Click an item to see more!