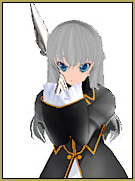 Make a PMD Model for MMD - almost from scratch!


By LearnMMD's Silent Headset

"I Would Not Exist, If Not Because Of Those Around Me"

Step-by-step instructions to make your own Model for MikuMikuDance!



In my previous article, we've learned about how to do a simple "model parts replacement and addition", and also how to use a "dummy" or a placeholder .x file to help with the editing. (You missed the article?
Read it here
. We'll be using some- if not all- the techniques mentioned there and it'll be easier if you read it beforehand since I'll be keeping them short in this tutorial).
Now let's kick it up a notch, shall we? I'll show you how I made one of my OC!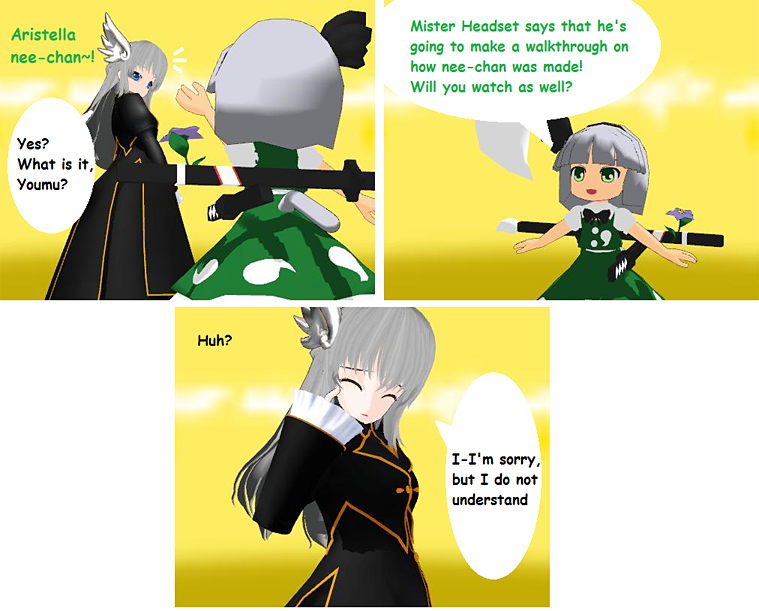 Sorry... but we're really going publish instructions showing how you were made, for everyone to see!
Aristella:

N, no way…..
Anyway…There are lots of ways to create a model. What I'm pointing out here is how I did it. If you guys have a better method, then do share your thoughts with everyone; leave a comment on
my article on LearnMMD.com
. We're always open to constructive comments and criticism, so don't be afraid to ask your questions or tell me what you think!
Well, let's learn how to assemble a model using parts from multiple models!
Step#1: Make a Character Concept!
A pretty simple step, as all you have to do is play with your imagination without actually using your computer. What kind of model would you want to make? It will be good if you can establish an idea of how the model will turn out in the end. Even better, see if you can find a reference material for it. Like a picture of an anime character or something like that. It's also a help if you can get a concept of your character's personality and how that might affect her appearance. Just like making a character for a story.


Well, maybe you won't need an elaborate setting like this. Something simple will do. Like "an honest student who excels at P.E.", or something like that. Or perhaps you want your character not to be bound by any pre-made concept, so that you can turn it into any type of character at any given time. Well, that's fine too. Although by giving no traits to your character, you actually DO give it a concept too. The concept of being a flexible character. This kind of early plotting will help you think of new ideas, and then you'll be able to turn that idea into a full-fledged story, animate it in MMD, and publish your masterpiece for everyone to see.
Step#2: Prepare the necessary pieces!
That goes without saying, so you will have to download a few things you need first. I recommend
MMD-Mall
for this, and you might want to look especially at their
Outfit
section, for some complete pieces of clothes. Do look at the other section of their gallery too! Hair, accessory, etc. They got quite a complete selection in the group. Be sure to note down the parts you downloaded as well as their creator, you'll need to credit them later!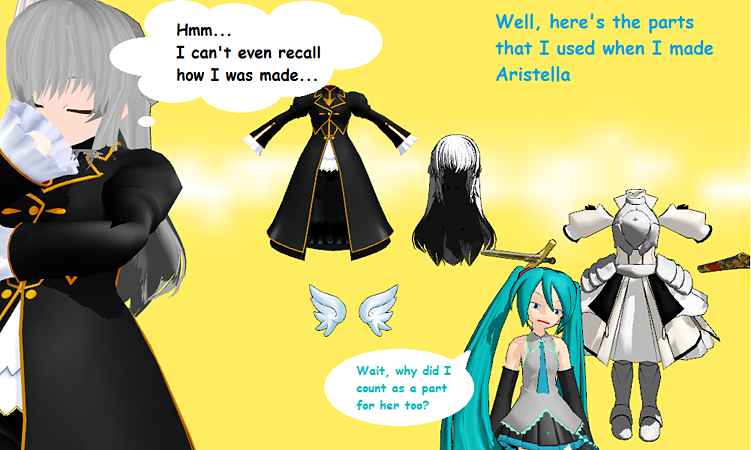 I see that even Miku didn't remember!
Well, if you're REALLY attentive then you should easily figure out the connection between the two.
If not, then read on and you'll see soon enough.
Step#3: Open the base, and make a dummy!
Obviously the "base" should be the body, right? So load it up at PMDE and create a dummy for it.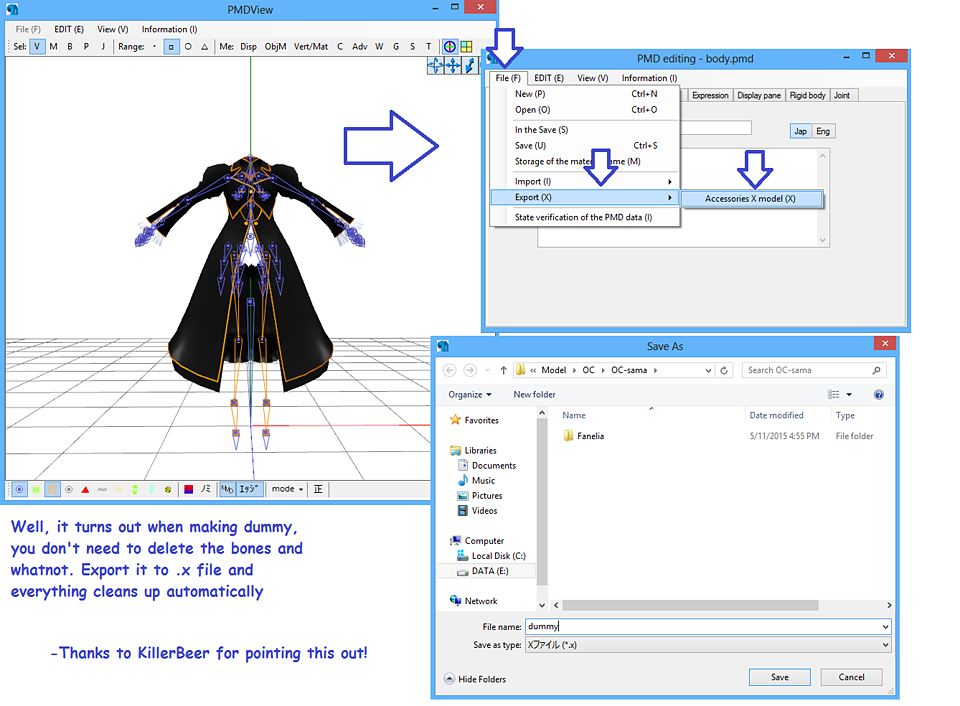 Now look at the base we use. In this case, the base definitely lacks the head, hands, and feet. We're going to compensate for that by "transplanting" other model's part to the base.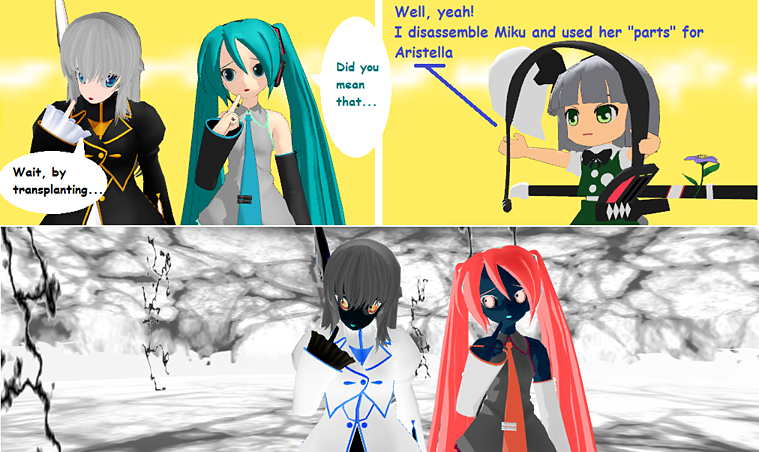 Well, maybe that wasn't a smart choice of words…


EDITOR'S NOTE:


As you consider using parts from existing models, remember to be a

good

MMDer...


"Keep the Faith-MMD"

See our Keep the Faith-MMD page.

Read the Model's README file for the author's permissions and do not use parts from a model if permission is not given. See this article for help reading Japanese README files.
Don't abuse the models you made from other's parts outside the original creator's limitation per the README file.
Don't claim as your own parts if they are not.
And most important of all: always leave a credit to their respective creators.
The Animasa models included in your original MMD download (including Miku as used in this tutorial) DO GIVE you permission to use the parts, make alterations. and to redistribute as you wish... just be sure to credit those parts as you would ANY part you use in your creations.

-- Thank you, Reggie D




Step#4: Let's get those parts!
Note that some outfits may already have hands and feet on them, so they only need the head to be placed. But sometimes, they're not... so it's up to you to attach them yourself. This is actually the most…
disturbing
part of the process, but you'll have to get through it in order to get the job done.
So I decided to use Miku as the "donor", since Animasa models are some of the easiest ones to edit.
Let's do this!
Now, what we need from Miku is her hands and head (Wow! I sounded like a psychopathic murderer/ mutilator there…) Damn it…There are some Miku fans at my front door…AND THEY BROUGHT CHAIRS WITH THEM!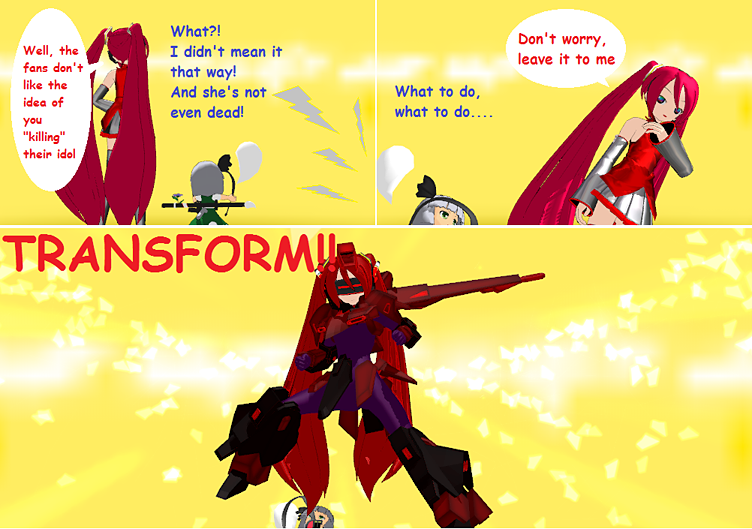 Oh! I totally forgot you also had a battle mode! Can you please keep the fans away for now?
Hiiro:

Consider it done!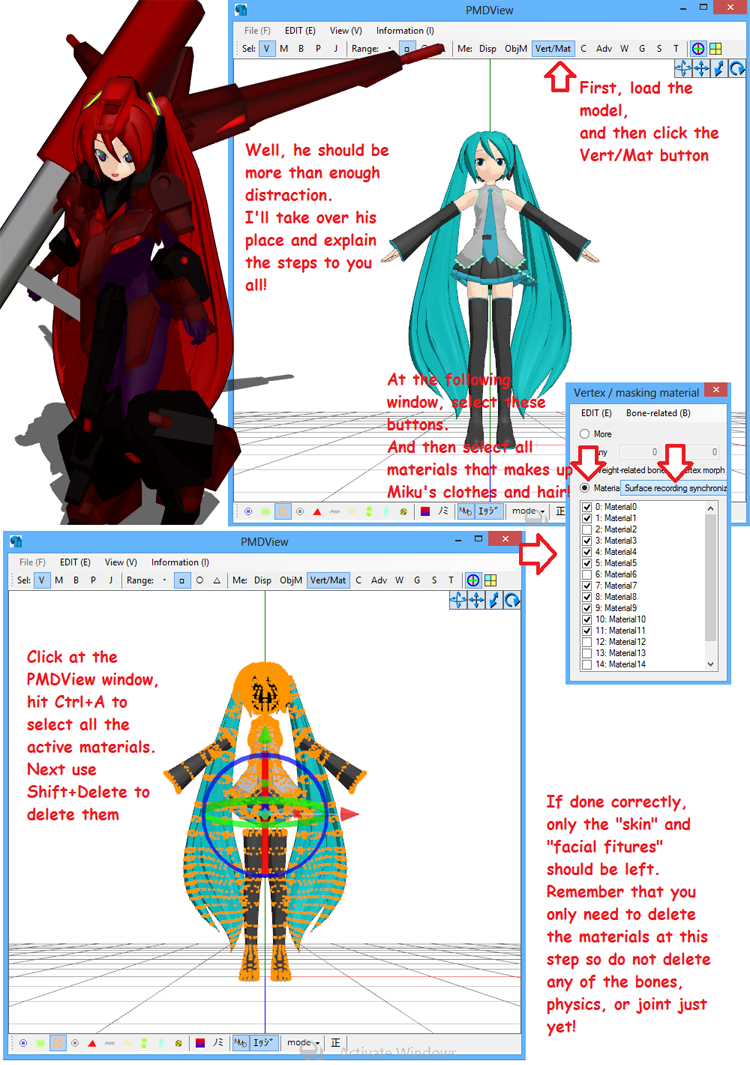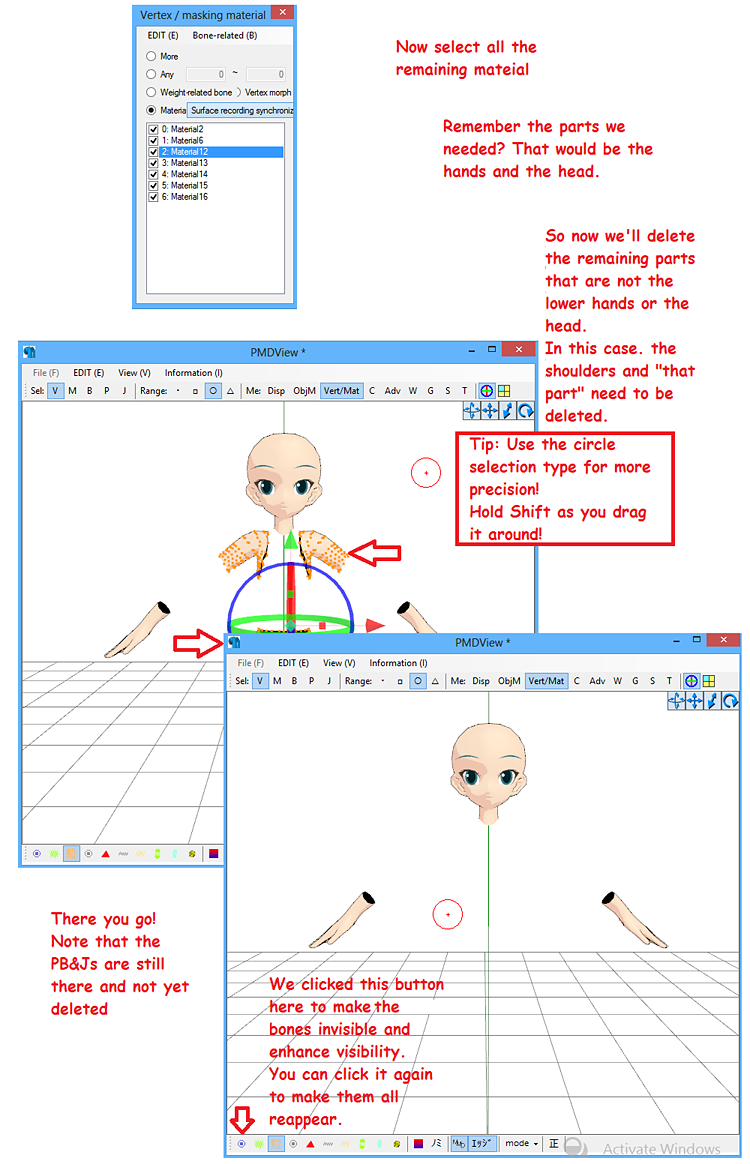 Hiiro:

Now we can start the separation!
Step#5: Separation of the parts
Hiiro:

It's not necessary to actually separate the head and hands, but it can help to improve your concentration by working on one part at a time.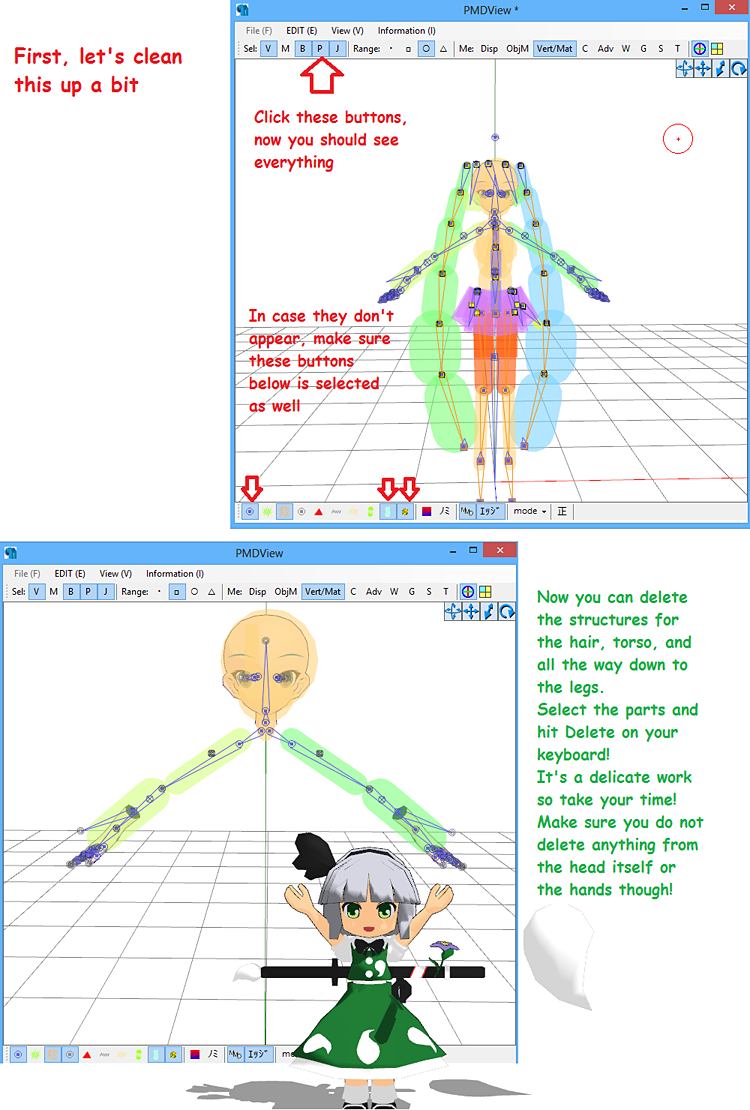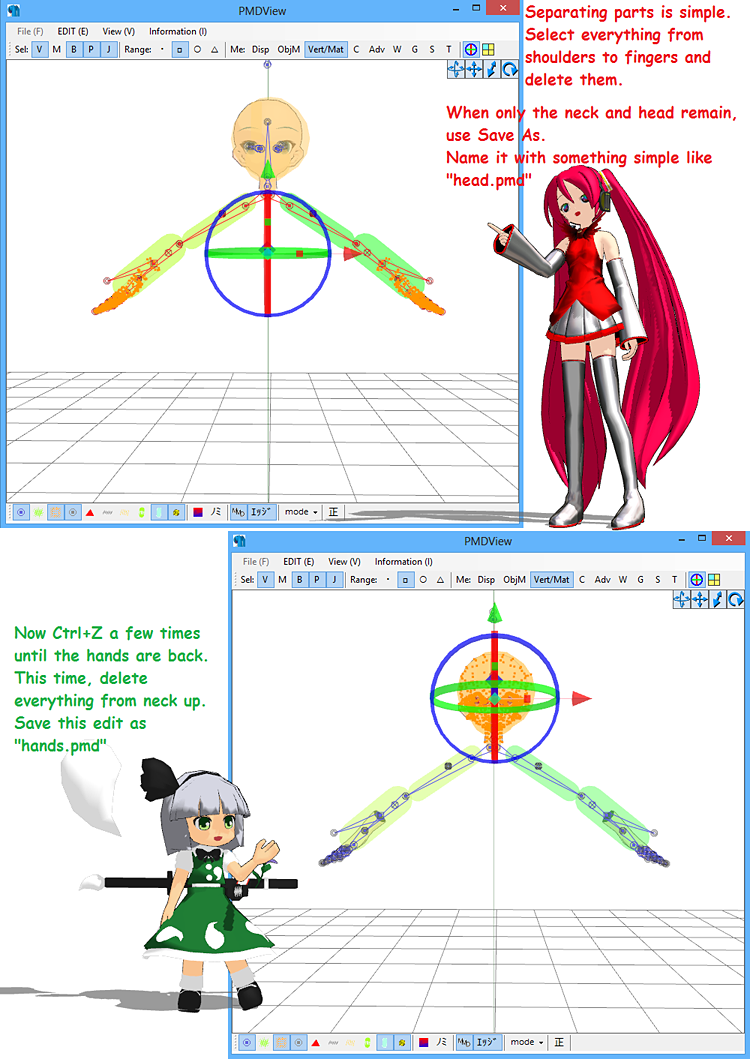 Hiiro:

Make sure you follow the instruction about which bones need to be deleted, and which to be left untouched.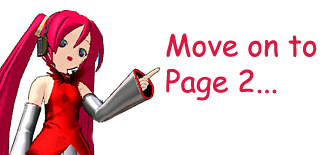 ---
Credits:

Models:

Youmu by Nya, Hatsune Miku by Animasa, SCP-173 by KingChaos622

Parts:

Outfit by saler1, Hair(gentle gleam),Boots(fate set), hair ornament(cutie wings) by MMDFakewings18

Effects:

Hit effect and Bomb by Beamman