---
How do I make a background video for MikuMikuDance? MMD does not see my background video? "Cannot open AVI file" MMD error statement.
Make MMD Background AVI from WMV files…
…using AviUtl video-editing software
I was working this week to create a background video for my upcoming MMD animation project, and I had a happy accident! … I discovered that the old AviUtl 1.0 software could import a WMV file and export it as an AVI file that MMD can use as a background video!

Do you have AviUtl software?
AviUtl is an older Japanese video-editing software… from 2013, I think… newer versions are available but I am using the AviUtl 1.0 in English… I spent a couple of hours trying unsuccessfully to find a working download link for you. The pages I found were cluttered with misleading ads and links that did not get me to the software I was looking for.
So… I have cheated. I zipped-up my own AviUtl folder and I make it available for download… 73MB.
I do not own or have anything to do with AviUtl software or its creator, I apologize for my misdeed in giving it to you.
Extract that folder and keep it somewhere safe…
DO NOT INSTALL AviUtl, run it from its folder.
You do not install this program. Like MMD, it runs from inside its folder. … Just click on the aviutl.exe file to start the program. … The program should open and show you a big empty white GUI.
You might run into problem… the program may ask you for the logodata file.
… A window pops-up saying "cannot find the logo". Click OK. Then a new window opens to help you find the logo… navigate to the Plugins folder inside the AviUtl folder and select the file logodata.ldp
That's it! AvuUtl will remember the location of that file and so not bug you for it, again, in the future.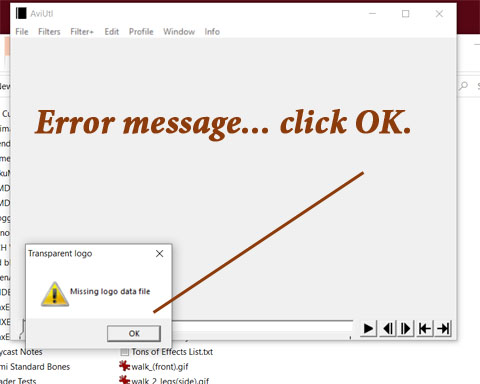 BEFORE we deal with AviUtl,
we need a WMV video!
I think every Windows computer comes with MOVIE MAKER.
… and, I bet everyone has tried to assemble a movie with it.
THIS is my…
"Using Movie Maker to Make MMD Background AVI"
Tutorial
I wanted a screen of abstract swirling colors
for the background of my MMD animation.
I searched YouTube and found "Loops & Dots Creative" channel… and many of their older Abstract Images in Motion videos have simple MediaFire download links.
I knew that I was only making a test video to see if I could create such a beast, so I simply chose some colorful clips to work with. The ones I downloaded for this project were…
Let's make a psychedelic video!
I opened Windows Movie Maker… and I clicked the Create New Project button… and then ADD CLIP button. … I added my film clips into the new project.
I also added a "Title" at the end… making it black and leaving it at the default 3-seconds.
SEE that each clip is in there at FULL Length. We need to edit those clips down to around 20-seconds long for my test video.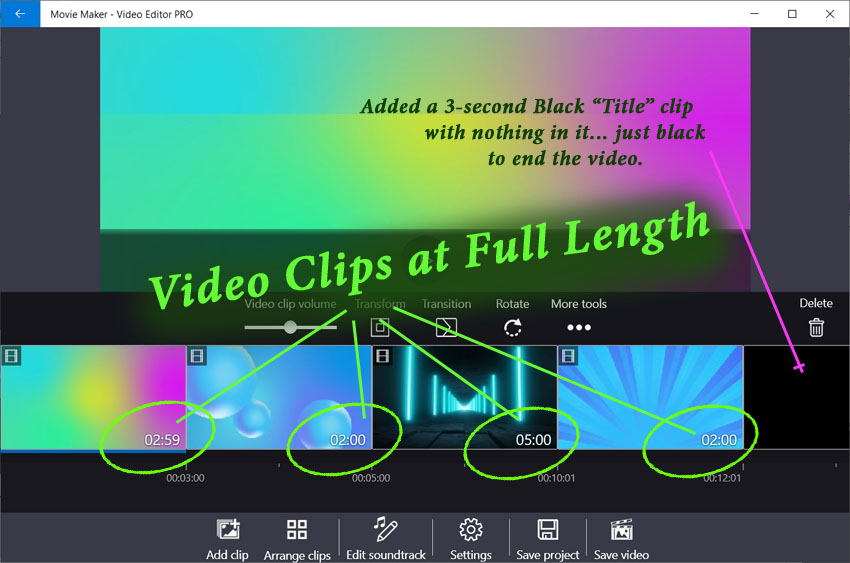 We are going to trim each clip down to the length we want…
Choose a clip and then click on the MORE TOOLS three dots to open the drop-down menu… and choose Trim Video.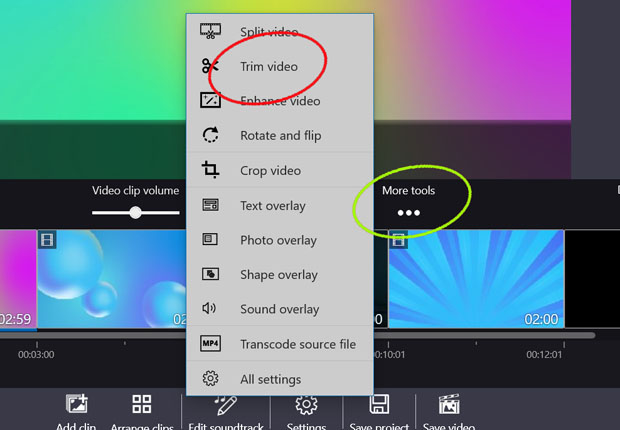 I trimmed some off of the front in order to get the swirls to be the color I wanted…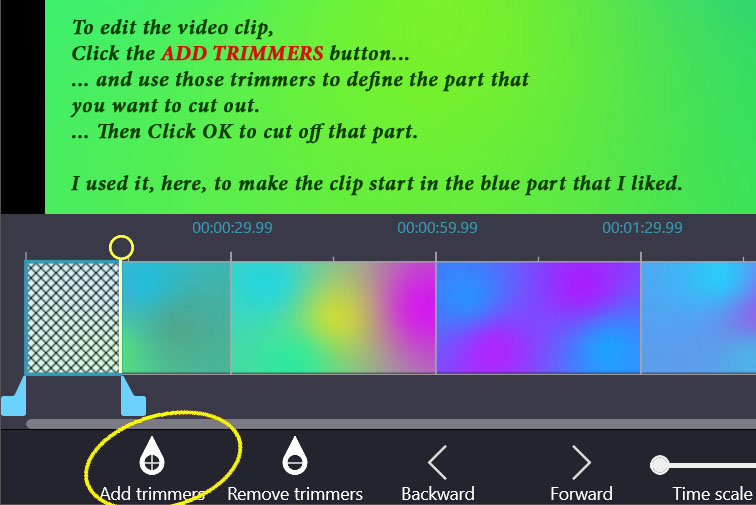 Use the Trim Video to remove whatever else you don't want to see…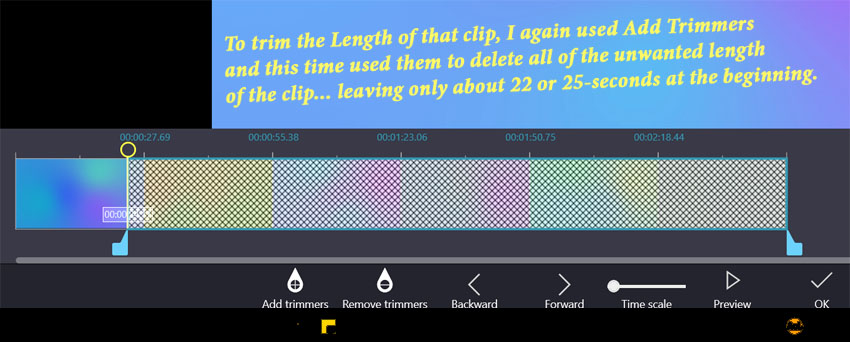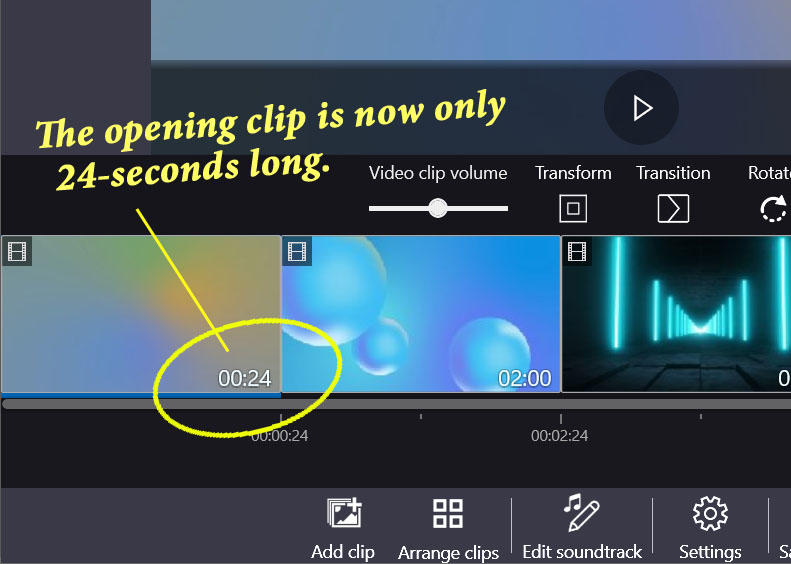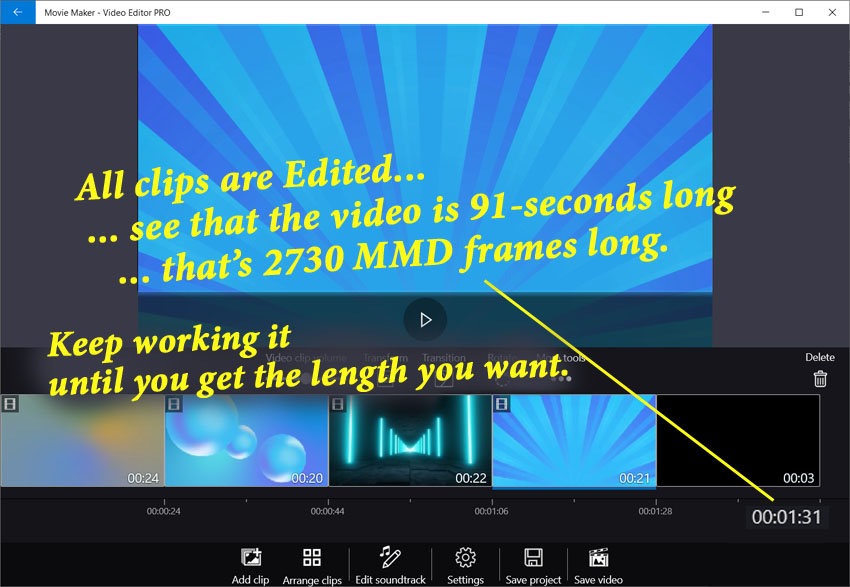 Now we will use Transitions to add some smooth fades from one clip to the next…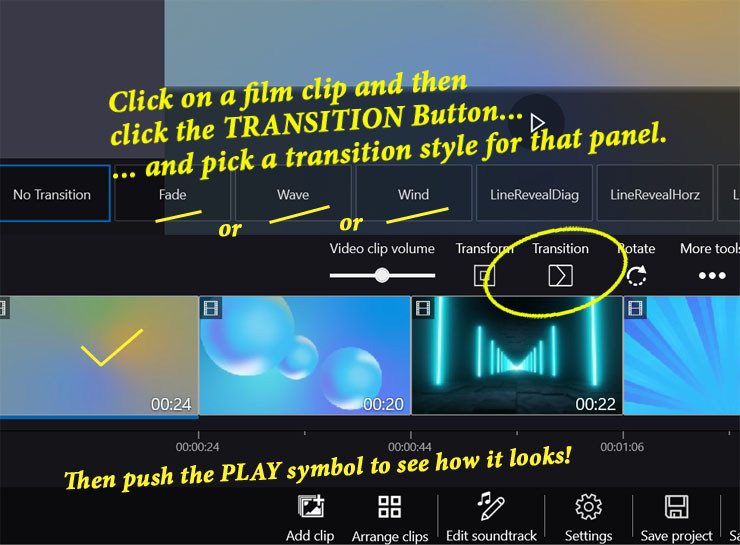 Now for the SECRET MAGIC… the WMV file format…
Click to save your video… you can save your project if you want to… When you click to SAVE your Video, this screen pops-up… See the selections I have marked… be sure to select WMV.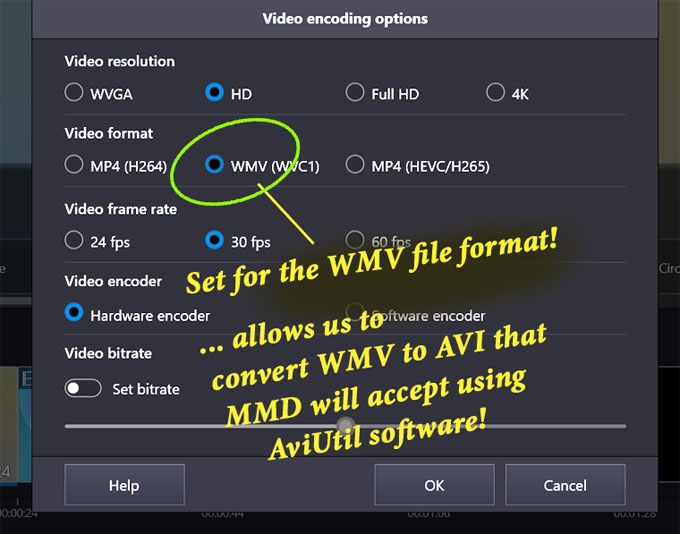 Go ahead and watch your new video… cool, right??
Now open AviUtl… and get past that logo stuff mentioned above.
Drag-and-Drop your WMV video file into the AviUtl window…
ADJUST THE SCREEN SIZE to tiny!
SECRET DISCOVERY: Many times an MMD background AVI locks-up and will not play in the background of your animation.
I have found that if the video's screen size is large, MMD cuts it off. … If we reduce the screen-size of that video, MMD will let play! …
Choose RESIZE+ from the Filter+ Menu… and enter some numbers proportional to your original video size… but make them be small… for a 16×9 "Widescreen" video, I figured 32×18 would be too small… so I chose 320×180…
CLICK the little X in the corner to close that screen-size window… AviUtl will never forget that setting… be sure to reset that number if you ever want to have a different screen size!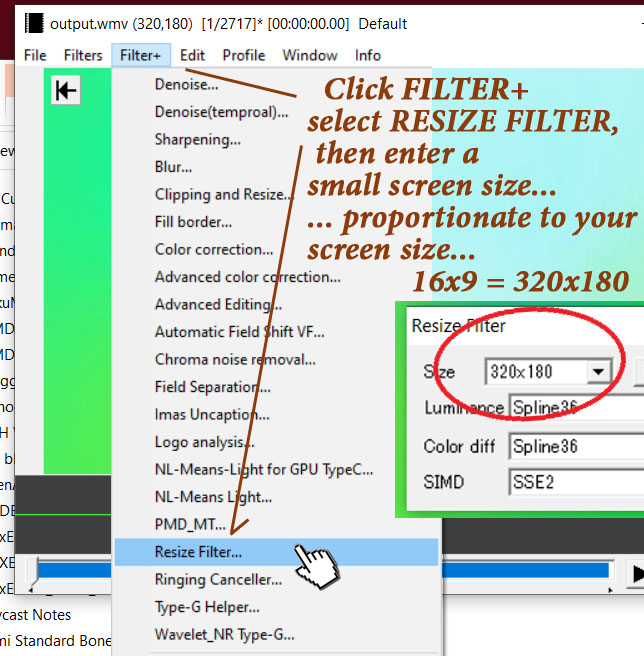 FINALLY… Export to AVI… and you will have your finished AVI background file for MMD.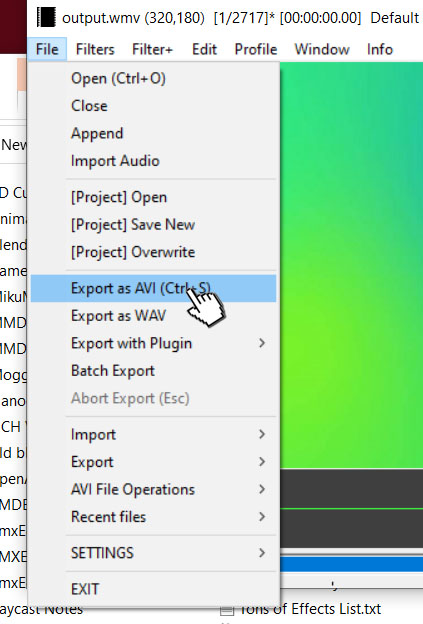 Open MikuMikuDance and try it out…
Load Background AVI under the Background tab.
I hope it works for you like it did for me…
Have fun with MikuMikuDance!
---
– SEE BELOW for MORE MMD TUTORIALS…
---
— — —
---
– _ — –
---