---
Where can I download MMD model 1052C dancers? I want the 1052C China Qipao Miku MMD model.
Introducing MMD model 1052C China Qipao Miku
…in an MMD Model Adoration Slideshow!
The 1052C MMD models…
I have always loved these 1052C MMD models; they have a style all their own. There is no mistaking them!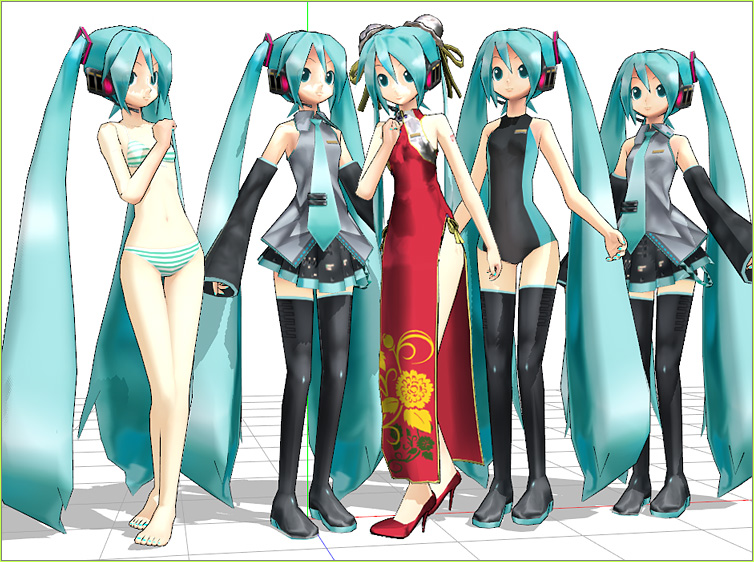 The MMD models 1052C were created in the years of 2010 and 2011. This "new" one, from 2011, I am introducing in this article is the more modern 1052C-Re Daughter Miku: "1052C-Re Daughter Miku High Heels" version that has been modified to wear that beautiful red polished-silk Qipao (the China dress).
Download 1052C China Qipao Miku from vanilla-cocoflake's dA page.
Isn't she pretty…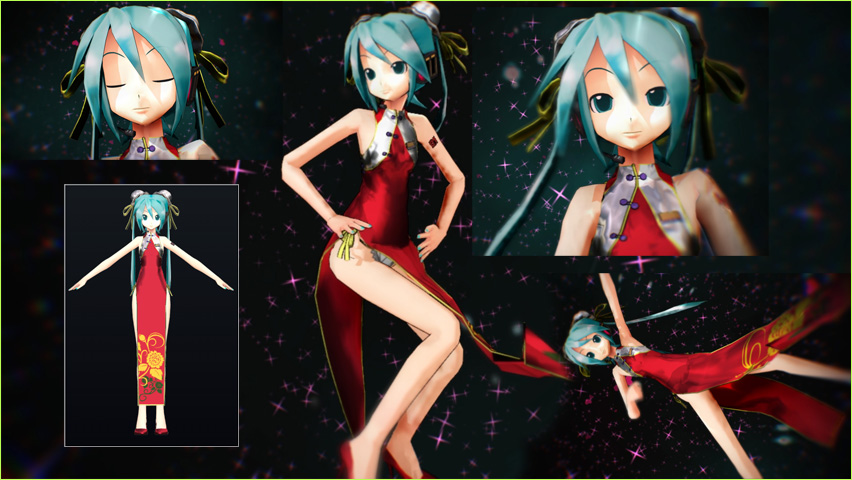 This MMD model 1052c's physics are excellent! The hair and the fabric flows very nicely!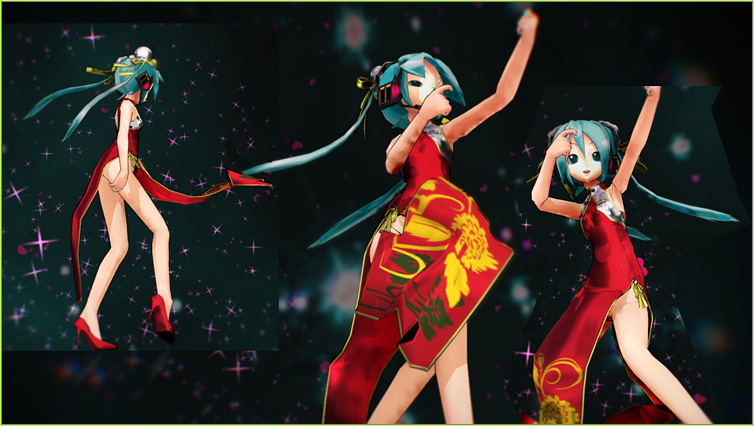 The model's ReadMe has great information:
Fun to see the 1052C model development notes:
Memorandum to high heels version

"1052C-Re Daughter Miku High Heels"
Below, "1052C-Re Daughter Miku" shows the lower body of the DIVA 2nd style swimsuit model and
Assemble the body suit of high-quality P (konoa)'s Kurenai beast model,
It is a model with self-made high heels attached.

I used the textures given to me by Mr. Hakutorii for the Chinese clothes.
Matched with Haku.

[Precautions for use]
The edge is thin, or 0 may be good.
If you can see the edge, you can see the boundary between the old swimsuit and the legs.

If you don't copy the inside of the slit, there should be no problem w

June 2011
Synthetic P

————————————————– —-
Model for MikuMikuDance Hatsune Miku 1052C – Re series

Model name: 1052C-Re Daughter Miku

This model is Mr. Hakutorii's
It is a Chinese-style costume model modified from "Hatsune Miku-1052C-Re B Suit V1.5".
Animasa's 18-year-old Miku, part of the MMD standard Hatsune Miku ver1 model is used.
We would appreciate it if you could add it to the end of the many Nanaba 1052 model costumes.

Because the number of vertices has increased compared to the original model, and the number of rigid bodies and joints has also increased.
It is a heavy model. please note.

My distribution model is usually
Regardless of "before remodeling" or "after remodeling", redistribution is prohibited.
If this costume is remodeled to Type 1052, we will allow distribution after remodeling.

I hope that more Shiki 1052 wearing this costume will be loved.

May 2011
Synthetic P

Terms of use

Redistribution: Impossible
Modification: Allowed
Distribution after remodeling to 1052 type: Possible
Distribution after remodeling to other than 1052 type: Impossible
Copyright notice for synthetic P: not required
The MMD Model Adoration Video process…
For this animation I used the "Lean On" motion file and WAV. I do not know whom to credit for that motion data; I have only the MediaFire link. That download includes the WAV file, dance motions for two models and a camera motion file… and also includes an eye-motion file. I used that file with my model.
Because the original Camera.vmd was to cover TWO models dancing, and because I was making a slideshow out of that dance video, I decided to create my own Camera motion from scratch. This "Lean On" dance motion is very much "high energy"! Most of the original camera motion kept the camera well back so that we could see the full form of both dancers. MY camera motion was created so as to stay very close to my dancing model. I knew that I was going to be making screen-captures from the finished dance video so I kept jamming the camera in for close-ups even as the model raced through this most active motion file.
–
The result of my camerawork was a video that's pretty hard to watch with lots of scene cuts and so many close-ups!
But then when I made screen captures from that video, I was delighted with the many nice images that I had to choose from… here are just a few of the 39 screen captures that I used…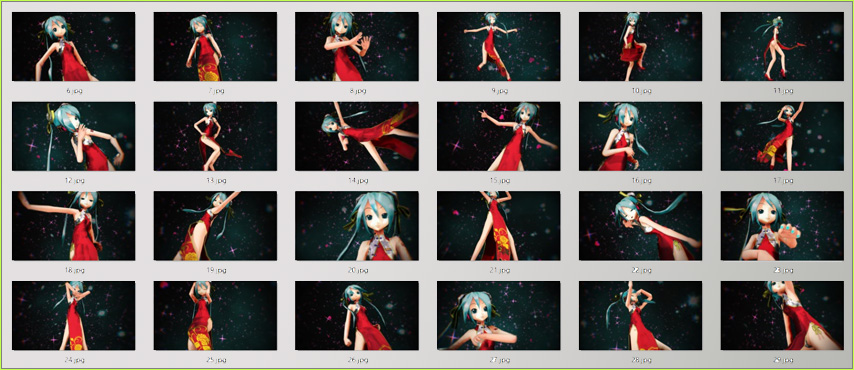 The screen capture process was to open Photoshop and the video… bop-around back and forth through the video looking for "perfect" moments to capture, hitting PrintScreen to put the capture into the clipboard, and then pasting each one of them as layers into a Photoshop document. After I had about 40 captures (40 layers), I set about saving each layer as a JPG image. So now I had about 40 images for my slideshow.
Animation clips in my slideshow!
To kind of tie the entire MMD Model Adoration Slideshow together, I included some 5- and 7-second clips of MMD video. I actually opened my saved MMD animation and did a "Render to video" of a handful of short scene sequences.
Windows MovieMaker put it all together…
That's how easy it is. I added all of my images and film clips into MovieMaker… spent some time putting things into proper order and then I pushed the button to generate the finished video. … Well… OK… not that easy. I probably generated the video about eight times before I had the finished "keeper". You know how it is as an "artist": no piece is really "done"… there is always a little more you want to do to it.
Enjoy MMD model 1052C China Qipao Miku…
Have fun with MikuMikuDance!
---
– SEE BELOW for MORE MMD TUTORIALS…
---
— — —
---
– _ — –
---