---


.
Where can I download MMD ballet poses? How can I get ballet poses for my MMD models? Who creates MMD dance poses for download?
Download MMD Ballet Poses…
…created by ctrlaltdelete999
I was checking out Chestnutscoop's list of ALL EFFECTS when I saw this entry from
Ctl-Alt-Delete… a 4-color effect… but what caught my eye was the large number of MMD POSE DOWNLOADS available from that page!
Please visit that link and help yourself to the many poses (and more) available there.
I chose the set of nine BALLET POSES. As you will see… the poses are named 1, 2, 3, … 9.
The Download includes this image…

Pose #8 is… … On her head??
As you can see from my video, I did not realize that in #8, the model should be "foot-up!"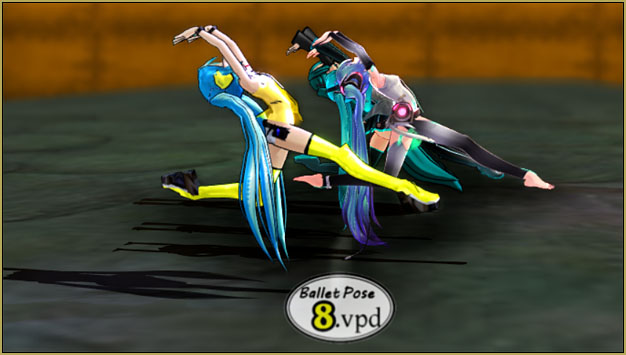 I got it, now… but too late for my video!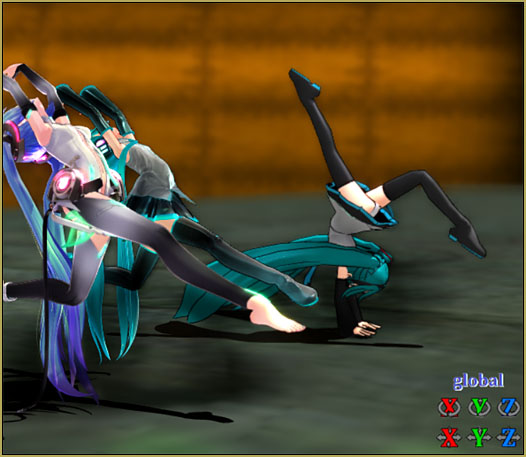 (I am reminded of why athletic dancers wear "dance" costumes!)
To add some interest to my video…
My demo video looked like it was going to be boring… just the collection of models showing-off the poses. They look kind of like virtual animatronic robots making synchronized motions. … I need MORE!
So, I added camerawork to help keep MY attention as I watched the video play. I added SSAO-Lite to give the models some color depth. I added SvDOF at an Si size of 5 and left it there throughout the animation… giving a reasonable sharpness to the models while the distant elements went into soft focus. I added Autoluminous because I remebered that TDA Miku Append was created with some lights. I added the BlackOut effect so that I could start and end with fade-from/fade-to-black. … and finally I added the DiscoLight effect to add some motion to my otherwise quiet tableau.
Music… I need music…
I admit: I waste some time on free online slot machies. I enjoy decyphering the logic used to create the various games… ANYWAY, many of those games have some pretty nice incidental background music… and I capture a minute or two, here and there. My music for this video came from such a capture. Sparkly and bright, this piece.
That

Yellow PV LAT

… no face texture!
The model on this end of the line-up is a LAT model. Those models do not work well with shaders because there is no texture used for that beautiful face… there's actually no "skin" on the face. The face looks great but it's an optical illusion. When the DiscoLight, in this case, shines on the LAT model's face, her true structure is visible! Watch the first part of that video… I am using only SSAO-Lite and if you look closely, you can see her lack of a face. So, what DOES work with a LAT model… you will have to experiment.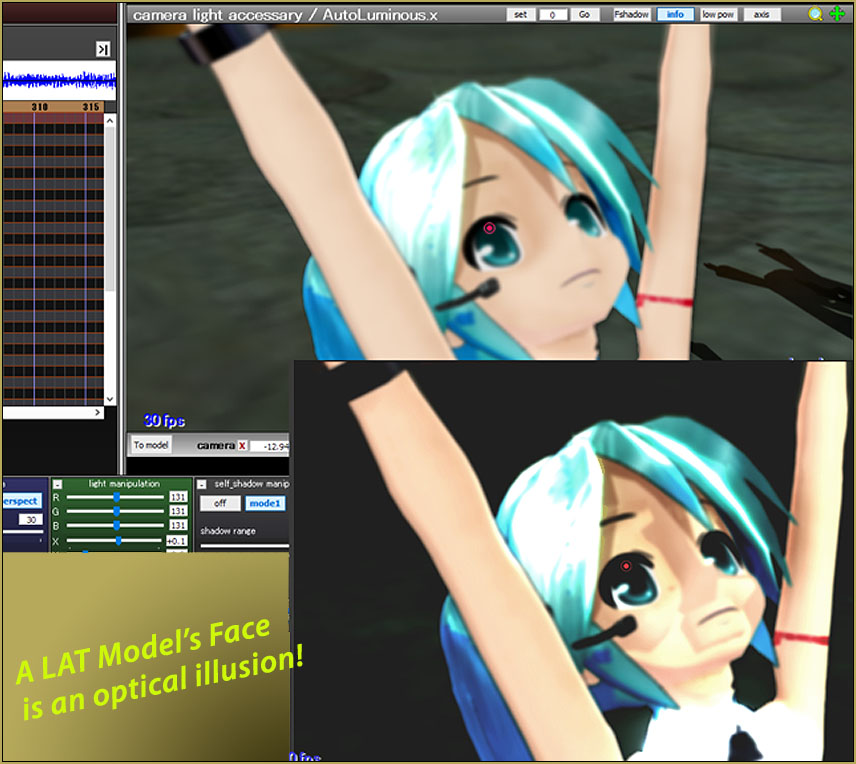 CREDITS…
Models:
Yellow PV LAT: https://www.youtube.com/watch?v=6Ars2kl5aic
TDA Miku Append: https://bowlroll.net/file/4576
Appearance Miku by mamama: https://www.deviantart.com/touko-p/art/Appearance-Miku-mamama-Original-MMD-345307533
… and, of course Animasa's Miku
The "floor" they are dancing upon is my Deck Panel … available from the LearnMMD Downloads page.
The list of effects is in the video's description.
That's it…
Enjoy the ballet Poses and the other items made available by ctrlaltdelete999.
Have fun with MikuMikuDance!
---
– SEE BELOW for MORE MMD TUTORIALS…
---
— — —
---
– _ — –
---