---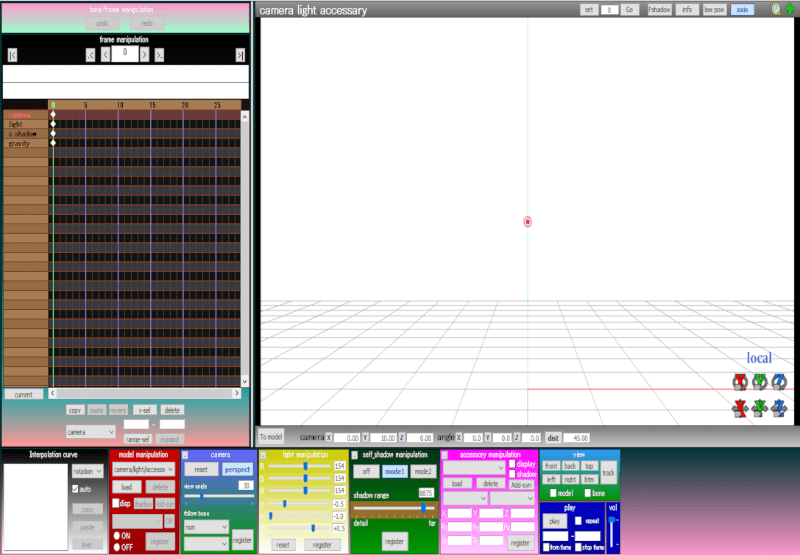 Hi and welcome to your personal MMD care and color service, where I give you some tips on how to change the colors of your MMD software to give you fitting colors that suit you and make your MMD software comfy enough to make it feel like home!
It's pretty easy actually and doesn't require much. To be honest, I thought it would be tough so if your thinking this while reading:
"Sounds convincing but, I doubt it. This is going to be too hard."
Don't listen to that voice you think you're hearing! I thought the same too! It all changed after realizing how straight forward it is!
Are you convinced now?
If yes: I hope you will enjoy my service and have fun doing something different to your software!
If no: You got this far, there's no stopping and going back now! Plus, you may be able to understand once you read through this whole article! It may not be as hard as you think!
——-
A Tutorial for Coloring MMD's Interface
——-
To start… you must find your MMD program's main source folder! (AKA. the root folder) Don't let this scare you though! You just have to remember where you downloaded MMD onto.
"But I don't have the greatest memory…"
No worries! Type down 'MMD' or 'MikuMikuDance' in the search bar of your computer's Taskbar! It should show up!
There is a second way to finding your MMD folder so, if that doesn't work:
If you have the MMD's icon as a shortcut to the program somewhere on your desktop (or anywhere else you may have put one) you right click it. Then press 'Open File Location.' It should automatically open up the root!
Next, you go to the folder that says 'Data'. It should show a file called 'color.txt'. This is when things get easy! Just go ahead and click it! Don't worry! It won't show strange alien words!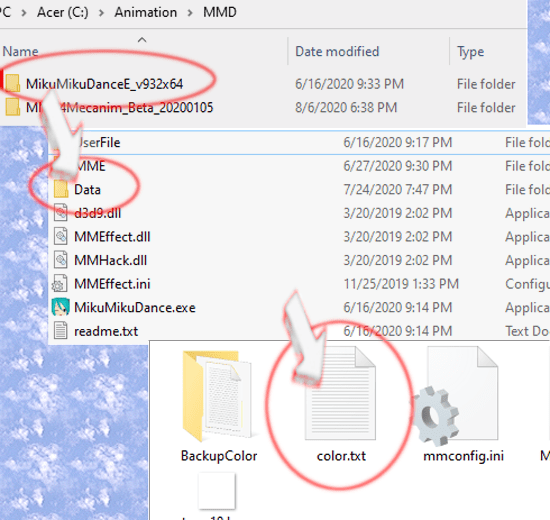 A window should pop up showing a little bit of instruction you should follow. (Just a 3 lined paragraph. Not that long!) Along with a list of MMD's interface boxes and numbers with them!
"What are all of these numbers?"
Those are the numbers that control the color of the boxes!
You just need to change the numbers and experiment with what results you get. Open your MMD software to see results. If you make any more changes afterwards, reset the software.
Now go and have fun!
. . .
Oh…your still here? OH! Is it because you want to know what numbers represent which color?
Oops! Almost forgot to let you know there's a site that shows you what number is what color!
Click here for a table of colors!
https://www.w3schools.com/colors/colors_picker.asp
(I used this site for HTML when I was in High School by the way! That's an another story though.)
IMPORTANT MESSAGE
Please rename or 'Save As' the original of the color.txt file onto an another folder

first!! Move it to somewhere you will remember it for a time when you

want the original colors back

!
Once you get the link opened up, choose the color you like a certain box on MMD to be like!
Then you highlight the numbers separated in 3 parts, just like how they are on your color.txt file! It should be located under a huge colored box with the color's name and a hastag (#) number.
Highlight the numbers within the brackets beside the letters 'rgb'. Then paste them, replacing the existing numbers on your colors.txt window.
Did you notice that there are two lines for most boxes and your confused about those ones? Well, don't be confused!! The earlier instructions in this tutorial was just the beginning of the fun! It gets even better from here on!
The 2nd line of the RGB numbers–lets call them for now, are the 2nd color for each box to create an interesting soft mix of colors that will show up horizontally for each box!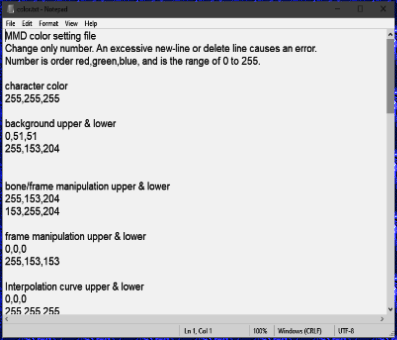 ~~~~~~~
My Example:
~~~~~~~
Here is how I set up my MMD interface as an example…
Make your own style, though! It makes it feel more personal that way!
character color
255,255,255
background upper & lower
0,51,51
255,153,204
bone/frame manipulation upper & lower
255,153,204
153,255,204
frame manipulation upper & lower
0,0,0
255,153,153
Interpolation curve upper & lower
0,0,0
255,255,255
model manipulation upper & lower
204,0,0
153,0,0
camera, bone manipulation upper & lower
102,102,255
0,153,0
light, facial manipulation upper & lower
204,204,0
255,255,255
accessory manipulation upper & lower
255,0,255
255,204,255
view upper & lower
51,153,255
0,153,0
play, vol upper & lower
0,0,204
0,0,153
frame background 1,2,line
19,19,19
55,55,60
160,65,13
frame name 1,2,line
166,124,82
151,109,67
100,0,0
frame selected 1,2
84,19,19
105,55,60
frame vertical line 1,5,now
75,75,75
150,150,255
150,255,150
frame character color
0,0,0
frame selected character
255,100,100
self shadow color
0,51,25
255,153,51
——-
That's all for this article! I hope my service has helped you through this fun option to do on your MMD program! It's not needed and it's very optional but, I thought it was something fun to do…especially if your someone who loves variety!
See you later on an another article, young warrior!
---
– SEE BELOW for MORE MMD TUTORIALS…
---
— — —
---
– _ — –
---