---
What are .vpd pose files? Why have .vpd pose files in Miku MikuDance? How do I make .vpd pose files in MikuMikuDance?

Use .vpd Pose Files to quickly pose new models!
Keep a collection of pose files handy so that you can quickly add a nice pose to your models. I have only a small number of saved poses … but they come in handy when I just want a pleasant pose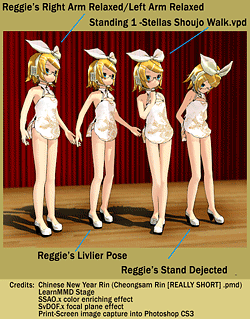 for a quick test of some kind … or when I am showing visitors how MMD works.
This is my little collection of poses. You can DOWNLOAD MY POSE COLLECTION and have them for your own. The Zip file includes the poses shown here as well as my nice collection of hand poses. (See my Hand Poses page for pictures of the poses.) The hand poses really work well and are a great time saver!
How can you make and save your own poses? Remember that a pose is only a single frame. So set up your pose, hold down the shift key and select each diamond in your pose. (You can click V-Sel to select every diamond in that frame, but you might not WANT ALL of the diamonds in your pose.) Click COPY and then, from the FILE Menu select Save Pose Data. Name the file … and you are done. MMD saves the new pose in the POSE folder. To use a .vpd pose file, choose your model. From the file menu, select Load Pose Data … and watch your model snap to the new pose. Click REGISTER to lock-in the pose. Sometimes a pose will include the Center and IK bones … so your model may leap to center stage … just be prepared to move her back where she belongs.
---
– SEE BELOW for MORE MMD TUTORIALS…
---
— — —
---
– _ — –
---