---
How do I make MMD Comics? What programs do I need to make comics using MikuMikuDance? Making MMD comics is fun!

Have Fun Making MMD Comics
using MS Paint or GIMP!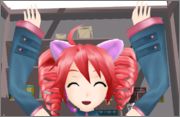 Have you ever seen a comic made in MMD and wished you could make one too? Well, you can. It's all a matter of having the right models and accessories! All you really need besides that is MS Paint to put in text and pull together pictures.  (You can also use GIMP, a free program, but it takes a while to learn how to use it!)
Most people think it is very hard, but making a great MMD comic is pretty easy! First you need to come up with a plot line. It's cool to have intricate ones like Madokah's VIRUS3VIL, but you should start small at first and do something easy and short. My first one was Teto being uninstalled. (It was kind of depressing.)
But if you need ideas, you can have them act out… a) a favorite vocaloid song, b) a scene from a movie/manga/anime, c) being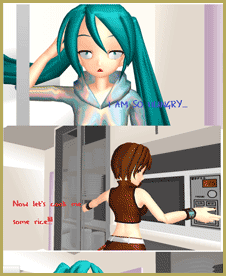 uninstalled, or d) their daily life. But really, the possibilities are endless. Don't let my ideas limit you.
The next thing to do is load up your models and stages like you normally would. Try to use all the same types of models (for example, Animasa models might be a bit out of place next to Project Diva rips) to make your world seem believable  Get all the characters in the right places for their scenes and remember not to use other people's poses if you can help it. Save the images you want to use and open MS Paint.
Open all the images in one, expanding the canvas as you go, and add the sound effects, speech bubbles, and etc. as you need them. When you are done, save as a .PNG file and post to your favorite site!
Sourcess for the top picture:   Stage– Koichi Muite Baby Stage   Models: PD Teto by Bookazoid
MMD Comic Picture, above, by LearnMMD's Noko2
---
– SEE BELOW for MORE MMD TUTORIALS…
---
— — —
---
– _ — –
---