---
Do I have to do a Windows screen capture to save pictures from MMD? How does the Render to Picture File work in MikuMikuDance? How do I make Miku Miku Dance pictures?

MMD Screen Capture tool makes pictures
from inside of MMD

Ever thought you wanted to save a a picture of a frame in your MMD motion data? You can do that easily with the MMD screen capture tool. Here's how:
Put together your scene … Load any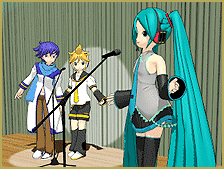 model you want, set a stage and load a pose. Now click FILE and select "Render to picture file". Name and Save your file. A window should pop up. Your picture should be there. If a black window pops up, you may want to save your MMD file and try again later.
The MMD screen capture tool lets you save the image as bitmap, JPG, PNG, or any of several other modes. The on-screen display stuff does not show on your new picture … it looks sharp and clean.
If your picture successfully saved, great job! You can edit it from here in Gimp, MS Paint, or any other art program.
---
– SEE BELOW for MORE MMD TUTORIALS…
---
— — —
---
– _ — –
---