---

Luka Megurine is included in MMD 8.10!
For the first time since the release of MMD 7.39,
a NEW MODEL is included in MMD 8.10 …
Welcome Luka Megurine!
This version of Luka is a new Animasa / Crypton Future Media model, version 1.0
She looks great! I opened MMD 8.10 … loaded the new Luka model, applied the MME SSAO effect to get some better shadows and color-depth … I loaded some motion data and pushed PLAY … and Luka moves beautifully!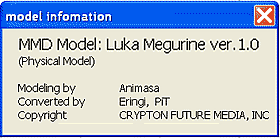 Be sure to download the newest version of MikuMikuDance to get all of the newest features!
See the LearnMMD Downloads Page for links and downloads!
---
UPDATE: New Luka ver 1.1 is now included in MMD 8.11
---
---
– SEE BELOW for MORE MMD TUTORIALS…
---
— — —
---
– _ — –
---