---
My VDE-3 Entry has Music, Camera, Dancers…
Now for the HARD part.
… gotta animate the Lead-Singer!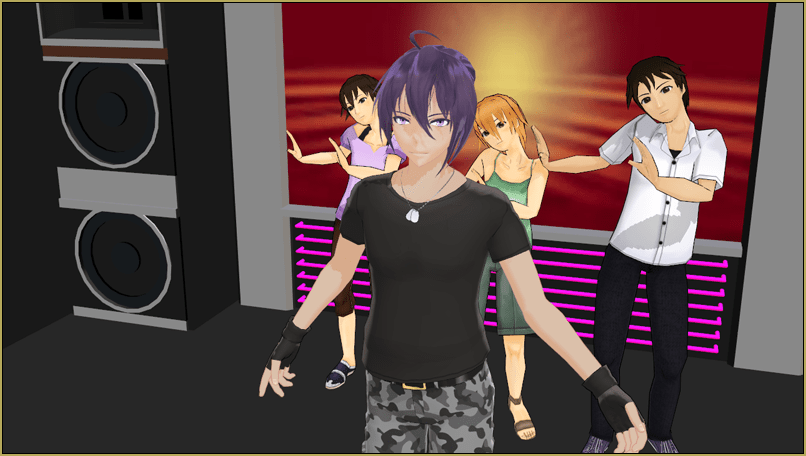 THIS is how I create my animations…
I start with a concept.
I needed an idea for LearnMMD's Video Dojo Expo 3 "Gotta Sing… Gotta Dance!"… While listening to this old Robert Palmer song "Trick bag", I "had a vision" of MMD characters "doing" this song. … on stage… in a nightclub environment.
I dig for models!
I needed a tough-guy MMD model and, after a search, I fell back onto my TDA Gakupa (Soldier) edit by Krrrakers. This model has a lot of "issues", like tons of extra bones, that make him hard to work with… but in the world of MMD models, he seems like one of the most manly of men.
I searched for a stage and found Trackdancer's "MMD Nightclub Stage" on his Deviant Art pages… perfect!
I searched through my folders of downloaded MMD models for the background dancers and spotted these three from a collection I downloaded from Mikudance.info, years ago. Known as the "Summer Group", these models had no coherent ReadMe… so I do not know whom to credit for them.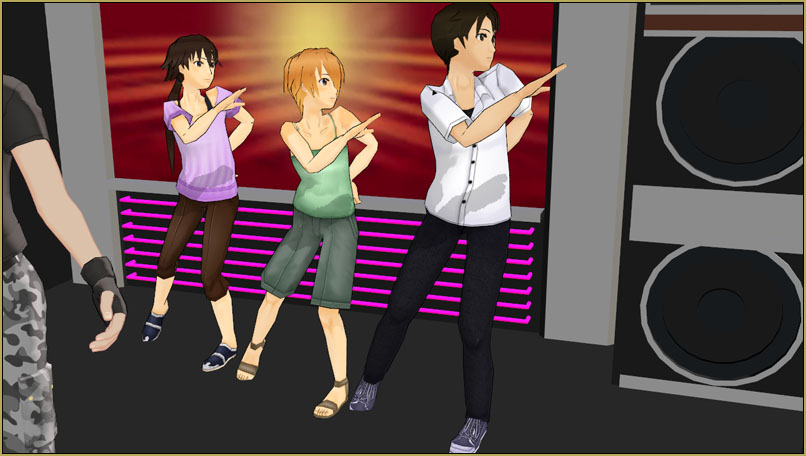 I do my Lip-Sync for the main Singer.
I spent a couple of hours, spread over a few days, doing the lip-sync for this song by hand. I had printed lyrics and the soundtrack, itself… and I noticed a couple of deviations between the lyrics and the actual song version I was using.
I put everything together.
With all of my bits collected, I put the scene together. I loaded Krrrakers's TDA Gakupo… and then Trackdancer's MMD Nightclub Stage… spending some time to maneuver the stage so that Gakupo was towards the front of the stage and bit off-center. Then I loaded my three background dancers.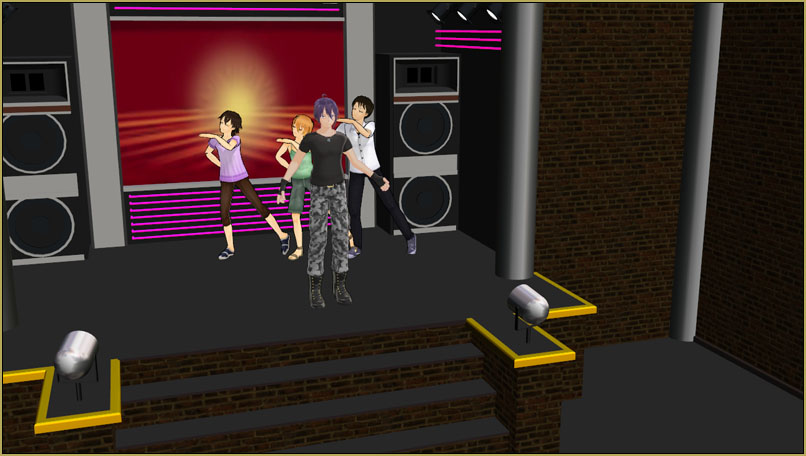 I needed a motion file for my dancers… and, if you know me, there's only a couple of motions that I use… almost all the time! .. I used Mahlazer's "Feel the Sound" motions file. It has great action, moves pretty quickly, and seems to fit almost any fast-paced song! I did a bit of cut and paste of that motion file to remove parts that didn't fit and also to add TO it to make it longer. … and I edited the final moments where the dancers take a bow… I think it all looks pretty smooth!
The CAMERAWORK…
Here is where I make my dream come true! … The stage with the models is sitting there like a block of ice. Once the camera gets involved, the whole scene comes to life! In my animations, I try to never let the camera be still; it is always on the move… even if making only a slow pan shot… whatever it takes to avoid that frozen-in-place look of a still camera. With the camerawork roughed-in (I can always change it, later), I make a TEST VIDEO to see how it looks.
NOW… as I face the HARD part: I am EXCITED to do it!
That video gives me "the look" of what I am creating. I can see everything! … I can imagine the animation I will create to breathe life into Gakupo… I aim to keep it fun and lively.  … This song has so much animation potential built into it… Sight-Gags, even! ("I see Bernie takin' it on the lam!…" "YOU ain't nothing but a Son-in-LAW!" … I will be putting a hot-mic in Gakupo's hand and give him some total body gyrations and facial expressions with his eyes and brows, shoulders and arms flailing… and work to exaggerate his mouth and body movements… it's going to be fun!
Keep it short!
One of my "secrets" is to edit the song, the soundtrack down to about 90-seconds… A 90-second video is only 2700 frames… and they go by quickly when you are doing hand-made animation. THIS one is at 2:18 (4160 frames) because I wanted to keep all three verses. … ALSO, I added applause and laughter to the soundtrack to give it an environment, make it seem like a live performance.
MME Effects to be added!
I already used BlackOut3 to give me a fade-from-black and fade-to-black at beginning and end. I plan to use SvDOF for depth of focus, and probably SSAO-Lite… but we'll see what other shaders might be used with my TDA lead-singer.
I have less than ELEVEN DAYS to go! 
LearnMMD's Video Dojo Expo 3 CLOSES on the night of March 29th… and I still have PLENTY to do! But when that moment arrives, I will post my video to YouTube… "PERFECT!"… or not!
"See" you there!
Have fun with MikuMikuDance!
---
– SEE BELOW for MORE MMD TUTORIALS…
---
— — —
---
– _ — –
---