---

How do I make an MMD music video? What's the easiest way to make a music video with MikuMikuDance? Where can I download motion files for MMD MikuMikuDance?
Easily Make an MMD Music Video…
"Feel the Sound" features a motion file by Mahlazer!
I went searching for a new MMD project… new to me!… I searched for
MMD (dl, link)
and I found "Feel the Sound". There are MANY MMD videos of this dance on YouTube… and after doing a bit of research I came across a video with  the original motion created by Mahlazer: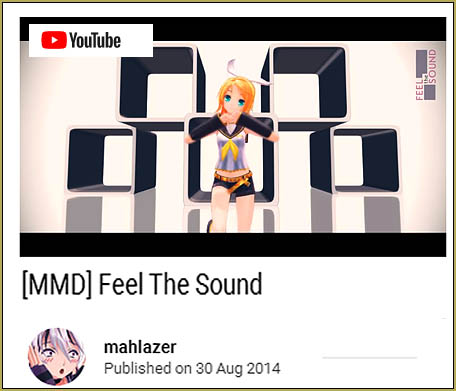 Fun stuff! … I see that many of the YouTube "Feel the Sound" videos are used to show off an MMDer's model collection… the models pop in and out as they are replaced with new models who carry-on the dance.
For a test of the motion, to see if the motion file has special requirements, I loaded three models. a TDA Neru was to be my modern, complicated model… an original Animasa Rin to which I added a motherbone… and the original Animasa Metal Miku, unmodified.
And… when I loaded the motion data, using a Center Position Bias of -9 and +9 to spread the models apart onstage… and pushed Play… I found that the motion worked well on all three models… no difference that I could see…
So I figure that Mahlazer's nice motion file works well on the standard MMD models.
Have fun with it! … Download Mahlazer's RaR folder. It contains one motion file and the WAV file… a 13.1Mb download. I used Bandizip to Extract the RaR folder… I slid the folder into my MMD UserFile folder… Opened MMD, Loaded a model, put that motion file onto the model… loaded the WAV… Pushed Play… and "Bingo!" … a nice little dance, easy as that! … YOU will want to add a stage and some effects… There is plenty of room for creativity as you make this animation your own!
Have fun with "Feel the Sound"!
---
– SEE BELOW for MORE MMD TUTORIALS…
---
— — —
---
– _ — –
---