---

Where can I download Beamman's Effects? What do I click to download Beamman's MME effects. How do I find what to click on those Japanese pages?
Getting around on
the Beamman's Effects Page
Many wonderful MME effects are available from Beamman's Effects page at http://www43.atwiki.jp/beamman/
The trouble for many first-timers is figuring out what to click on and then… what's next… is this new page OK… is it normal? The answer is probably "yes"… clicking a link on Beamman's page sends you to another page where you must click a link and then you are sent to a THIRD page which loads and remains on-screen while the actual download takes place.
So… go to the Beamman page… and I use Control-f to FIND a particular effect… or just scroll down until you see the one you want.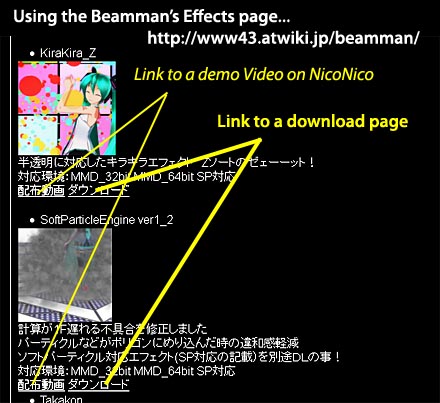 When you click that Download link, you are taken to the download page for that particular effect…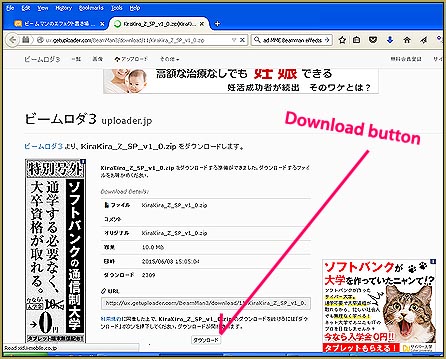 Of ALL the stuff on that page, all you really want to do is click that download button at the bottom of that screen.
THAT takes you to a third page… where you wait a few seconds before your download begins…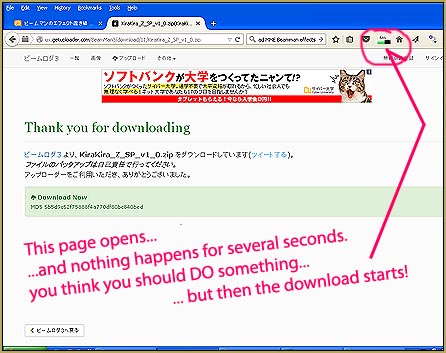 … it SEEMS like you should click on something to start the download … but do not… just wait until your download begins… and then keep that window open until the download is complete.
There you go… a quick tutorial about getting into Beamman's Effects!
---
– SEE BELOW for MORE MMD TUTORIALS…
---
— — —
---
– _ — –
---