---
I am keeping my eyes open, now, more than ever.


Just watch the world around you and imagine how you could translate what you see into a Miku Miku Dance animation. See how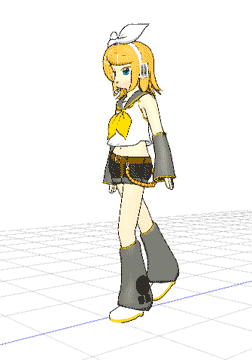 people walk, how they turn, how kids run and jump. Watch people lifting things and how they shut a door or throw a ball or throw a kiss. Also … watch cartoons and Anime with the new awareness you have acquired.
I have long been an anime fan … an otaku! Watching something like the old Ranma 1/2 series with my new eyes lets me see more than I used to. The animators of Ranma 1/2 used a nice tool kit of methods to minimize the amount of animation that they had to produce. Long camera pans of a still image … distracting music … and repetitive sequences drastically cut the number of Key Frames required for each show.
We can use those tools, too. Even if we don't want to run everything through a final editing in another program, we can still use repetitive sequences and amazing camera work to enhance our animations.
Keep your eyes open … keep thinking of the possibilities … keep dreaming … have fun with MikuMikuDance!
---
– SEE BELOW for MORE MMD TUTORIALS…
---
— — —
---
– _ — –
---