---
Download New MikuMikuDance Model of Miku by Zelda09pokemon
On YouTube I came across a video by Zelda09pokemon in which he makes this model of Miku available for download: http://youtu.be/vC4N4CjdcM4. In the description he includes the links and the appropriate credits.
You will see that the link in the video's description takes you to the author's Deviant Art page where he gives his permissions for the use of his Miku model. (See Reggie Dentmore's Deviant Art page, too!)
This is kind of a Street-wise version of Miku. There are two models in the download … with Jacket and without.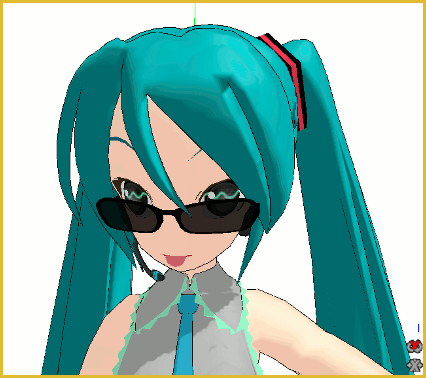 The dark sunglasses are transparent so that you can see Miku's eyes through them.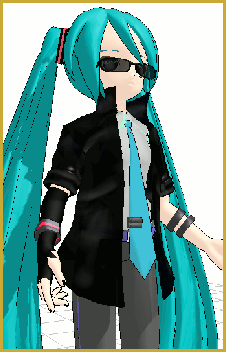 The shades, the jacket, the slacks and shoes give Miku a new look. She's tough, man … ready to rumble!

Watch the video. Follow the link. Read the permissions. Download the ZIP file. Move the zip file to your desktop. Unzip the Zip file and drop the resulting folder into the Models folder inside your Users folder … and enjoy your new Miku! Be sure to keep a record of the links you used to obtain the model. When you use her, you will want to give the credits for your sources.
---
– SEE BELOW for MORE MMD TUTORIALS…
---
— — —
---
– _ — –
---