---

Can I still download Hatsune Miku type N models? Where can I download a few of the older MMD models? I need a Miku bikini model! Where can I get an MMD Miku Bunny-Girl model?
Download Hatsune Miku type N models…
… a set of 6 models created in 2010!
While doing my research on those 1052C-Re0710 models, I discovered a link to these Hatsune Miku type N models.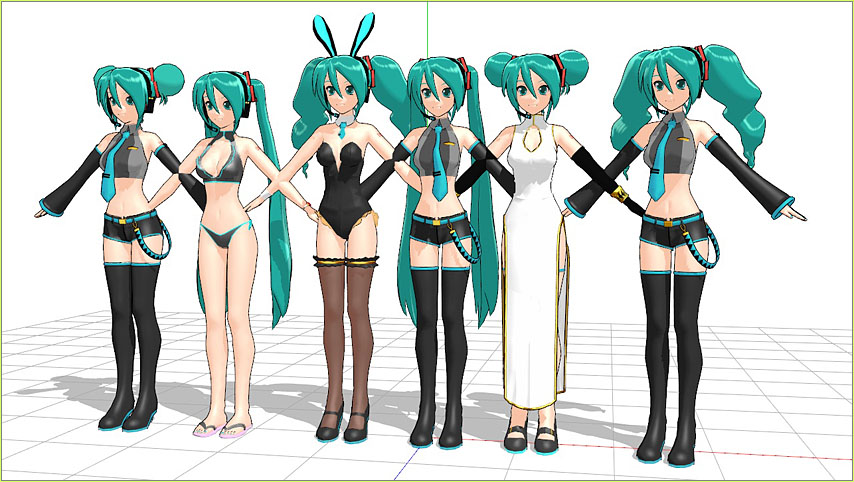 How refreshing it is to see these nice old-school models on the big screen. One of the nice things about these girls is that they are not TDA (Ta-dah!). Modern TDA models are so very beautiful and sexy… and they must be fairly easy to work with because almost all of the modern MMD models I stumble across for download are TDA models.
TDA? No. THIS group is different. The Hatsune Miku type N models were created in 2010 by nakao in Japan. They are early MMD models that are a little rough around the edges but beautiful to behold… and fun to use!
I saw in the README that users have permission to redistribute the models as well as modify and then distribute these models.
For my use, I examined each model and renamed the PMD file with my new name.
–
I then went back through them in PMXE and added a MotherBone, and translated each model using PMXEditor and GoogleTranslate… and then saved them as .PMX models.
When you download the folder from LearnMMD, you are getting all of the above as well as the original zip-folder that I downloaded so that you will have the original files.
They are not "perfect"…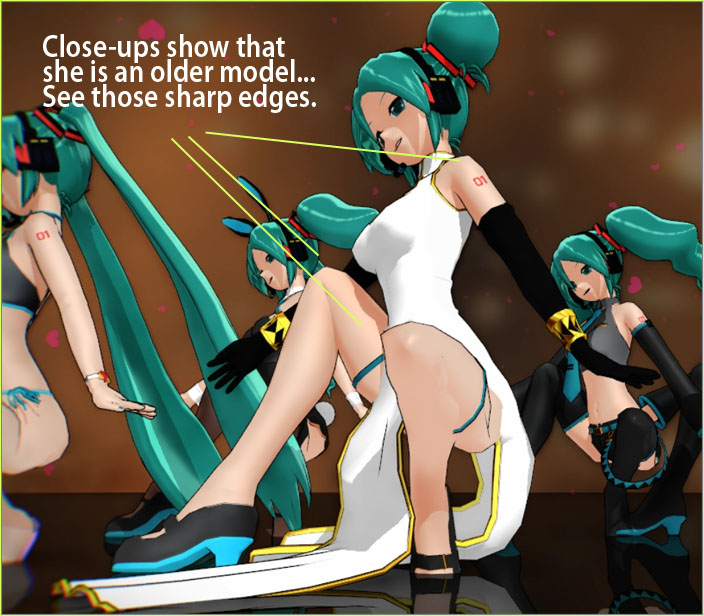 These guys are not perfect… in fact the creator, nakao, says in his README that there are issues to be fixed in several areas. The clothes do not always fit perfectly… there are some collisions that cause things to jitter when in some poses. He goes on to describe the areas that he hopes future users will improve upon.
Miku… 18 years old??
Nakao also says that, at the start of this project, he was hoping to create a sexy adult Hatsune Miku MMD model who might be at least  20 years old… but, he says, for some reason it just wasn't coming together as he had hoped, and so he settled upon calling his type N girls 18 years old.  (No telling of his exact dissatisfaction, but these models are awesome, none the less!)
I captured a few screenshots from the video… Enjoy!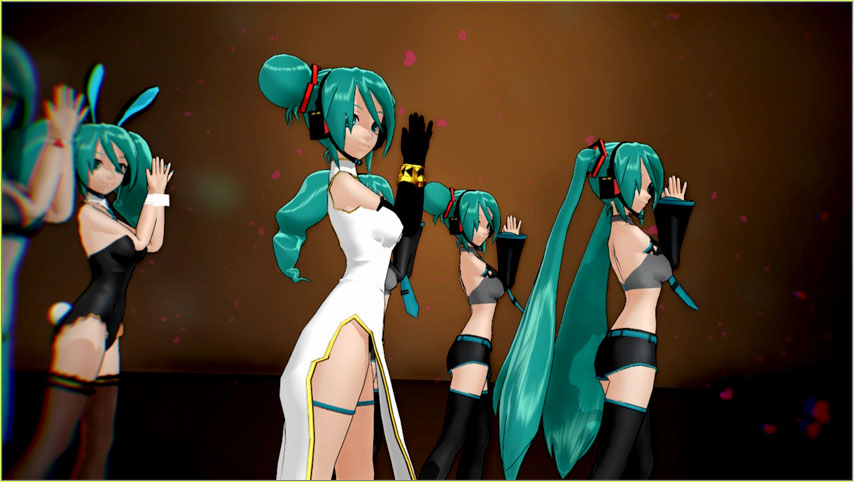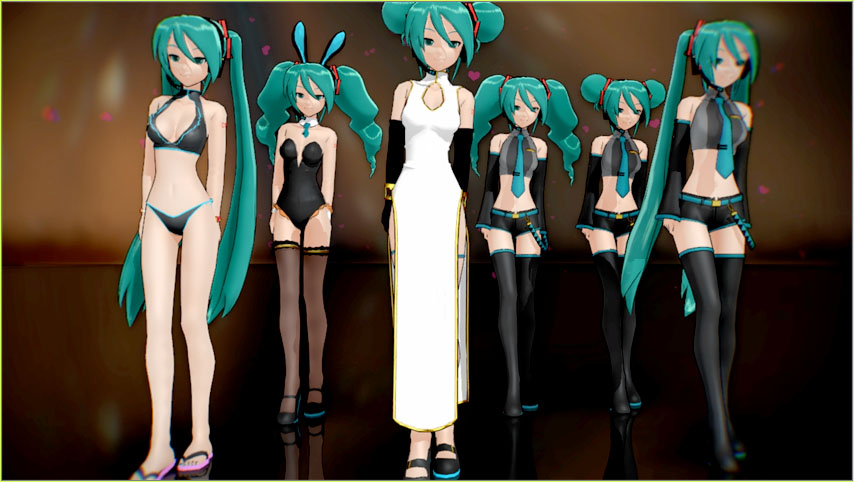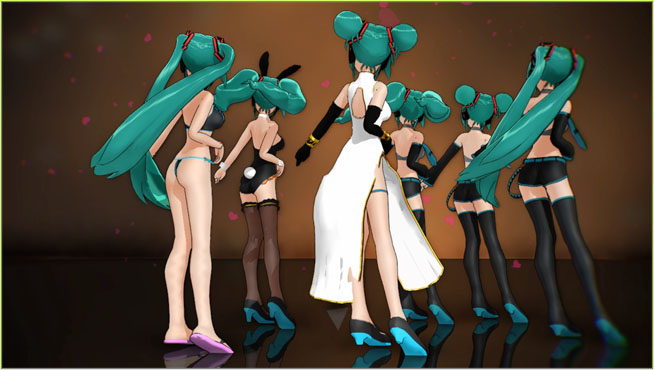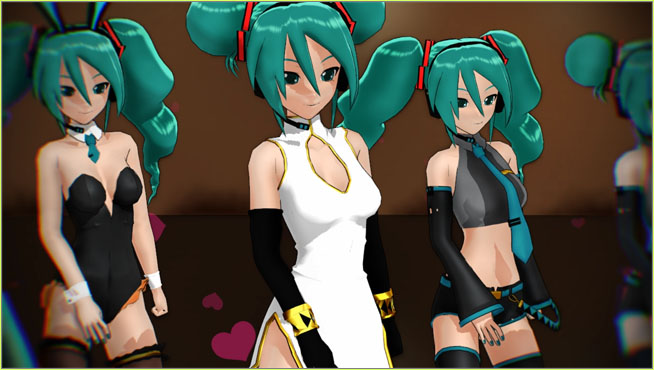 VIDEO INFO AND LINKS:
Please see this earlier "Hand Clap" article for the full write-up and download links for the "Hand Clap" animation with motion files by ureshiiiiii. Ureshiiiiii is very particular about the use of his files. He allows no alteration, no modifications of any kind. He doubles down on that by finishing his files so that every bone in every frame has a diamond. No way CAN you make a change! … For THIS video, on my page, above, I "cheated" a little. The original camera VMD file was too close to the group of models. I put the very same VMD motion file on each of my six models and then I scooted them to new positions on-stage by using their MotherBones… that included putting the China model a few units behind the coordinate-grid center spot so as to move her way from the camera just little bit. Then I clustered the other five dancers so that they would get good on-screen time when using ureshiiiiii's unmodified camerawork VMD.
Type N models are not TDA models…
Ureshiiiiii creates his motions to fit the TDA models, I believe. When I use a TDA model with his motions, the look is flawless. You know that each "line" of MMD models has it's own proportions and these Type N models have a shape that doesn't work perfectly with Ureshiiiiii's motion files. In that "Hand Clap" video I made, I see the arms passing through the breasts as well as several other collisions taking place. Because the motion file cannot be edited, there is nothing I can do about those crashes except consider using a different model. In that opening moment of the "Hand Clap" video we see the girl's breasts almost blinking in black and white as they flutter around that collision point with the arms. Keep a sharp eye while watching that video, some of those collision moments will put a smile on your face!
Have fun with MikuMikuDance!
---
– SEE BELOW for MORE MMD TUTORIALS…
---
— — —
---
– _ — –
---