---
Why is my new model white in MikuMikuDance? New models do not download correctly in MMD. The clothes are the wrong color are white.  My new model not right is broken has white has no color not showing working mmd.
Downloading Japanese Models Can Scramble File Names
I saw a video on YouTube by "animegirldais" in which she supplied a link to a source for new models: http://bowlroll.net/up/dl3934 … These are LAT V2.3
That zipped file gives you this gang of Miku characters by LAT: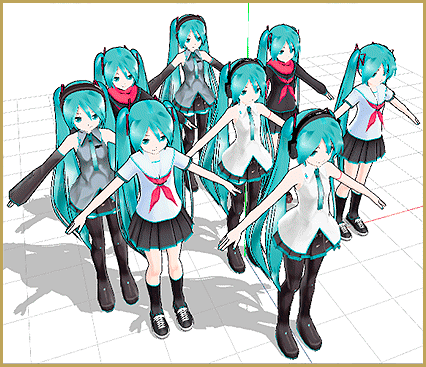 Coming from Japan, these models use Japanese file names that your American computer will scramble … breaking your model.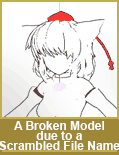 A model with bad files will have colors that don't show … will have white  clothes and skin … will look like they are colored white. You will need to extract the new files from the zipped folder using a special technique in order to keep your computer from scrambling those file names. READ MY ARTICLE FOR THE INSTRUCTIONS for opening Japanese models.
These Miku models feature several special features addressable through the "Other" slider control, underneath the "Mouse" slider. You get things like alternate shoes, remove the headset, add glasses, add blush, add the "perturbed" hash mark to the brow …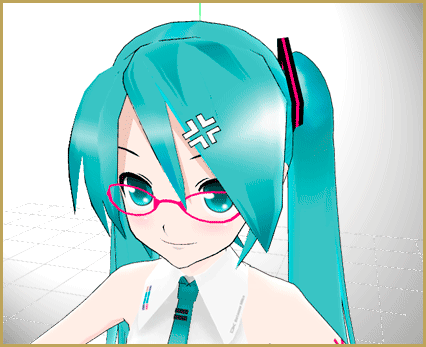 These models are very Japanese … their names do not show in the drop-down menu underneath Camera/Light/Accessory … just a blank line shows there. The Bone Menu, too, is in Japanese. It will take some experimentation to identify the bones you want to use. Alternately, you could animate an English character and then copy/paste the motion data into this model.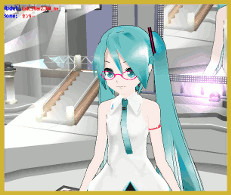 Try it with the Sample Dance.
Choose Miku from the drop down, Range Select "All Frame" a range of 0-800. COPY. Delete Miku. Open one of these new models. PASTE to put the old Miku's data into the new dancer. PLAY to watch her do her stuff!
---
MikuMikuDance is a free 3D animation software utilizing all of the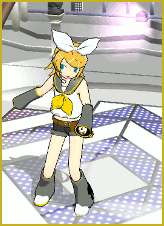 talents of computer literate artists and dreamers, young and old. A Masters Degree in Art, Music and Stagecraft or Computer Science is not required … and in fact might get in the way of the pure, simple enjoyment of the digital animator's craft. MMD was released as a promotional push to popularize Yamaha's Vocaloid voice synthesizing software. SONY, SEGA and Yamaha are partnered in the creation and marketing of the Vocaloid video games. Being Microsoft DirectX based, MikuMikuDance is like a modern video game … without the game! It's a complete set of elements and special effects, beautiful dancers and 3D Models, with a Graphic User Interface allowing users to, essentially, create their own DirectX game. Google Sketchup can be used with the 3D-RAD plugin to create DirectX .x models for use in MMD animations. Custom textures and background images can be created in any art program. I use Gimp.org's GIMP 2.6 and the Adobe Creative Suite including Photoshop, Indesign, and Adobe Illustrator to create the special images I need.

Keep an eye on LearnMMD.com as we discover the intricacies of MikuMikuDance!
---
– SEE BELOW for MORE MMD TUTORIALS…
---
— — —
---
– _ — –
---