---

Where can I find a Cry Baby Motion DL? I want to download MiyukiOhayashi's MMD Cry Baby Motion for MikuMikuDance.
Free MMD Cry Baby Motion DL …
…from Smol-Hooman on Deviant Art
This morning I doscovered Smol-Hooman on Deviant Art… Wow! So many MMD creations on her pages! I see that her Profile says that she has let this page be "dead"… but also that her many works are still available for Download.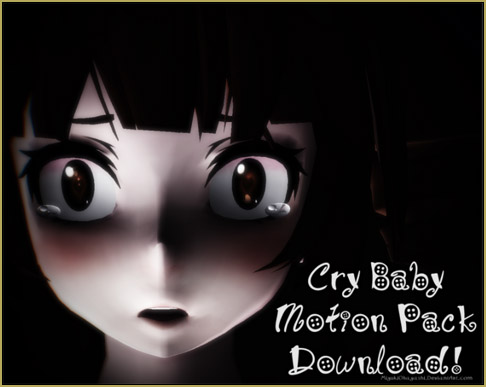 DOWNLOAD a set of Cry Baby Motion files. On Smol-Hooman's page there are instructions and passwords. READ the ReadMe when you make the download. The main ReadMe says to credit MiyukiOhayashi for the motion files.
My TEST video…
After I got into my downloads I put together that test video. There are three files in the Cry Baby motion set… Camera, Facials, and the main Singer file. The notes say that the motion was created for a TDA model… so I used TDA Miku Append. I tried using only Singer.vmd on my model but, sure-enough, you will also need to add Facials.vmd to your model.
I used  the free 4K YouTube to MP3®  software to download the music I used from another YouTube video.
When you load the VMD, she is in a sitting pose… so you will need a chair or a bench… maybe a swing… for her to sit upon. I used a chair from the "Cafeteria Table and Chairs" download here, on LearnMMD.com. … That chair doesn't quite fit TDA Miku Append, she needs a chair with longer legs! … But since I was not using a stage with a floor, I simply floated that chair "up" until she looked properly seated.
I used a dark background image from my collection… I added RealFigure Shader to Miku… I adjusted the MMD light settings for a nice balance of light and shadow on her face.
The downloaded files did all of the work!
I made no adjustment to the downloaded motion files. They simply "worked".
Have fun with the downloads from Smol-Hooman's DA page.
Enjoy MikuMikuDance!
---
– SEE BELOW for MORE MMD TUTORIALS…
---
— — —
---
– _ — –
---