---

Where do I get MMEffects? Where can I Download MME v037 in English? MME and MMEffects are two names for the same thing. I need 64-bit MME! Download MMEffects from LearnMMD.com's Downloads Page!
Download MME V037 MMEffects from
LearnMMD's Downloads Page!
---
"MME V037 in English" in 32-bit and 64-bit versions are now available from the Downloads page!
---
When you download MME v037 in English, a whole new world will open-up for your MMD enjoyment! The zip folder contains instructions in English for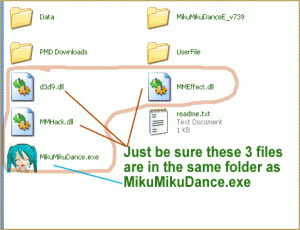 installing the MME files. It is easy! You simply drag and drop the three new DLL files into the main MMD folder where you keep mikumikudance.exe … Download Now!
When you download MMEffects from LearnMMD, you get the original files which Reggie Dentmore extracted from the original Japanese MME zip file using the Applocale/7-Zip routine as outlined in the "Scrambled File Names" article so as to preserve the original Unicode structure of the files. (The Japanese webpage source credit for the MMEffects v037 is included in the READ ME file in the download.)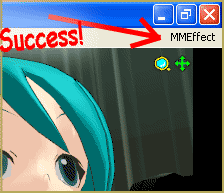 He translated the included .TXT files into English using the Notepad++/Google Translate routine discussed in LearnMMD's "Translating Japanese Files" article. Those files are saved in both .TXT and Microsoft Word .DOC format (97-2003 compatibility). The Word files are much easier to read.
Download MMEffects v037 from LearnMMD and hurry back to follow our links to some of the cool MME Effects available for MikuMikuDance 7.39!
---
– SEE BELOW for MORE MMD TUTORIALS…
---
— — —
---
– _ — –
---