---

Let's put together the "Happy Hands"  meme!
A meme is a quick and easy way to generate an MMD animation and video. They are a great way to show off your latest models, too!
A meme is like a kit that you open and assemble in MikuMikuDance. It will have a motion file and a WAV music file. It may also have a camera motion file … and, as in "Happy Hands", it may contain a background image.
Once I decided to create my version of the "Happy Hands" meme, I searched  YouTube for   mmd happy hands link   and then searched through the results until I found a link I could use.
The MEME Links are no longer associated with this video … but this is the video that got me started on the Happy Hands meme; posted by LakiraVocaloid:
The link for the meme is no longer valid. It used to be this one:http://www.angelfire.com/sinlessrogue/Motion_files.html — but that link is no longer online.
LearnMMD.com now hosts the meme from our Downloads page.
Download the Happy Hands Meme.ZIP file and put it on your Desktop.
Double click the zipped folder to open it … and see the Happy Hands Meme folder. Then select the command EXTRACT ALL … and follow the defaults to find the new Happy Hands Meme folder on your Desktop. You can discard the original Zipped folder if you wish.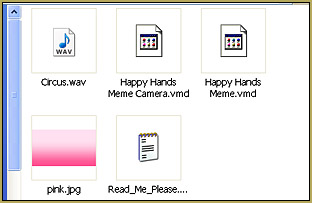 Look inside the Happy Hands Meme folder and you will see FIVE files: the WAV music file, 2 .VMD motion files, a ReadME, and a background image: "Pink".
I moved that new Happy Hands Meme folder into my Users folder inside MMD's main folder. Leave those files together, in their folder. You might be tempted to put the WAV file into your WAV folder and then move the two VMD motion files into your Motions folder … but doing so may just confuse you later. Leaving everything together in one folder keeps things tidy.
We are ready to start MikuMikuDance!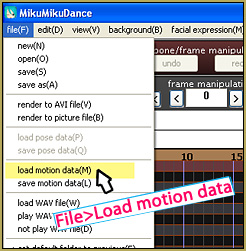 When the program opens, you have a blank stage screen. See that "Camera/Light/Accessory" is already selected in the Model Manipulation menu box. Go ahead and select LOAD MOTION DATA form the FILE Menu … navigate to your Happy Hands Meme folder and select the Camera.vmd motion file.
Now, load a dance model. I chose Meiko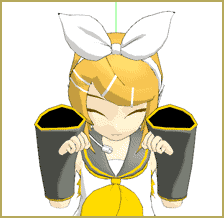 Sakine because she has no sleeves to get in the way … and because she is one of the original Kio characters included in the basic MMD download. Once she is loaded, go to the File menu and LOAD MOTION DATA and select the other VMD motion file. You can push PLAY and watch the action!
Next, load the WAV file by choosing LOAD WAV FILE under the FILE Menu. Again, navigate your way to the Happy Hands meme folder and select the Circus.wav file. Push PLAY and see what you have created!
Finally, load the PINK background image by choosing LOAD BACKGROUND PICTURE FILE under the Background Menu.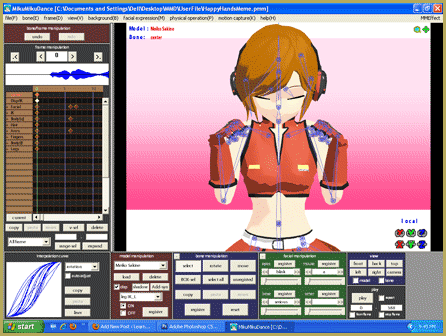 Under the VIEW menu, turn off the Display Coordinate Axis to clear your grid lines from the screen.
You can resize that background image by holding down the Control key while you drag on the Magnifying Glass icon in the upper right of your screen.
Push PLAY and watch this nice little animation. That's it! … It is that easy!
NOTE that the windows beneath the PLAY button are empty. MMD does not know how many frames are in the video. You cannot save the dance as a video until you identify the number of frames. A quick check of the model and camera frames told me the action ended at about frame 355. When I entered that range (0 – 355) and pushed Play, the final notes of the music were chopped off. I noticed on YouTube that most Happy Hand Memes were 13 seconds long. At 30 frames per second, that comes to 390 frames. I entered a range of 0-388 … pushed play … and was "happy" with the result.
I went to the FILE menu and chose RENDER TO AVI FILE. I chose to save it to my Desktop … and I chose the Cinepak Codec by Radius video format for a nice-looking video with good resolution and a small file size that plays well.
After playing my new video a few times, I logged-on at YouTube and Uploaded my new MMD Happy Hands Meme:
Be sure to include MMD in your title … and the name of the Meme.
Fave fun with memes … the results are so easy and so fast …
… you'll be hooked!
---
– SEE BELOW for MORE MMD TUTORIALS…
---
— — —
---
– _ — –
---