---
Was there a MikuMikuDance workshop at San Japan? Did learnmmd.com sponsor a panel at San Japan? Wasn't there an MMD

workshop at San Japan? MMD and San Japan?
LearnMMD In San Japan.
This is more a letter of thanks than an article. Last Saturday (July 19, 2014) I attended San Japan Samurai 7. San Japan is an annual anime convention in San Antonio, Texas (https://www.facebook.com/sanjapan ). I had the honor of hosting a panel on learning to use MikuMikuDance. About 30-50 people attended the panel. I hope everyone learned a lot and got excited about using MikuMikuDance.
Just over a year ago my friend NekoMANiac aMMDy came up with the idea of doing MMD panels for anime conventions, in particular San Japan. I honestly hadn't considered it so we set about working on the logistics of doing this type of panel. One of the biggest hurdles in doing a panel on MikuMikuDance is the name. Most people think it's a dance. The prevailing misconception is that the panel will require DJ's, rave pants and glow sticks (it doesn't). The other mistaken preconception is that people think we'll be teaching them the choreography from Miku Hatsune videos (not happening).
Once you overcome those preconceptions, the program gets many people excited about animating. A goal we decided on was to have one of the attendees make a video during the panel and show their completed work toward the very end and let them take it home on a flash drive.  I was very glad that Ashley was able to make her first animation at San Japan.
MikuMikuDance + San Japan = San Japanimation.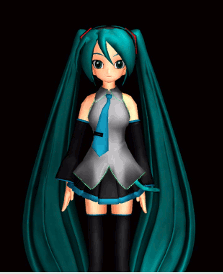 "If anything can go wrong, it will." is a variant of Murphy's Law (People don't realize that Murphy was an optimist). Though I am no stranger to public speaking, you never know what will happen. Fortunately, nothing completely unsurmountable happened. In large part, that is due to the following people. I must thank and compliment the attendees for all of their enthusiasm I was really concerned about the possibility of no one having any questions (In reality, my biggest fear was no one showing up for the panel).
So, I was glad to have such a good turn out and the fine caliber of questions from all of you. I hope to see you next San Japan. I must also thank the organizers, volunteers and staff of San Japan. This was such a fun event! I hope they will let me host again next year. I now know that I'll need longer than an hour for next time. It would be remiss of me not to thank Reggie and my colleagues here at learnmmd.com. I reviewed just about every article we have in order to prepare for this. I had no idea what questions would  be asked. Yes, not only do I write for learnmmd.com, I use the site as well.
Special thanks for the support of the wonderful people of S.A.A.N. (The San Antonio Anime Network) especially my fellow hosts (Alex, Andy, and David). You all are my best supporters.
Special shout out to NekoMANiac aMMDy for the idea and supporting role. Because of you, two newbies were able to make their first videos. Because of all of you, I can now "Tell My World" about MikuMikuDance in another and more personal way. I had fun with this.
Sources: Model: Default Animasa Miku. Effects: Adultshader and SSAO.
---
– SEE BELOW for MORE MMD TUTORIALS…
---
— — —
---
– _ — –
---