---

I started this MMD animation
with music, camerawork, and effects…
and the actual animation is coming last!
Can Animasa's Haku pull-off a Diva performance??
It's all finished except for the animating… !
… Rather than starting with the animation, I started with the soundtrack and the camera-blocking… and the effects.
Now all I have to do is animate my main character ":o).
… I have a day into it, so far… pretty QUICK, I think.
Melanie's "Arrow" song…
Yesterday afternoon, I had a vision… I was playing Melanie's "Freedom Knows My Name" CD… I heard this song and I thought how awesome it would be to have Haku singing it.
I started with creating the soundtrack/music WAV. I decided to do a fade-from-black and a fade-to-black with some applause at the beginning and end of the animation and so added that applause to the soundtrack. I opened MMD and added the old LearnMMD Auditorium Stage, the wooden stool, and the Animasa Haku model, and the guitar. I customized the look of the stage by adding a couple of the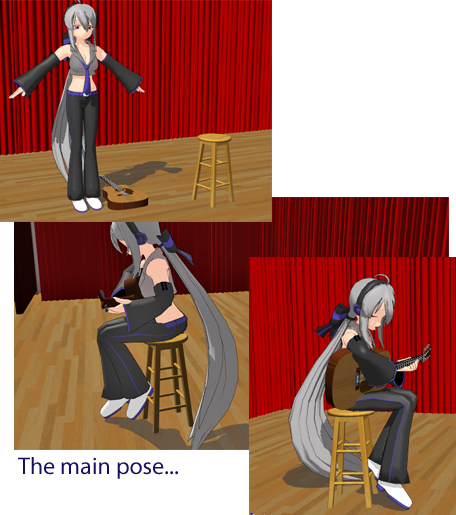 included colored drapes. I spent a good long time on Haku's pose with the guitar and the stool. I loaded the WAV file and set about doing the basic camera moves. I was very careful with the camera motion, trying to keep a balance between keeping it interesting and keeping it "not too busy" considering it's a quiet love song. I used SvDOF for adjusting the focus with each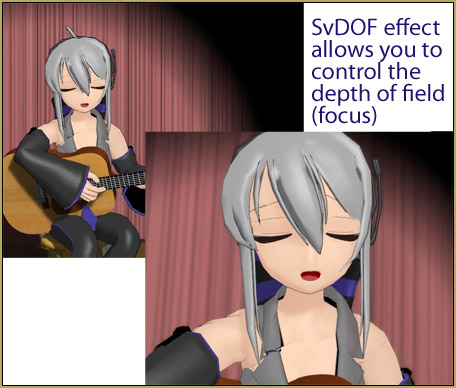 camera move.
… After trying out several shaders and effects, I settled upon the Spotlight Effect as the defining "look" for my animation.
All of this has taken a day, working on it when I could… and now it is finished almost to completion… except I still have to animate Haku. herself…  ":o). … THAT will take some time.
—
I recorded Melanie's love song, "Arrow" from her "Freedom Knows My Name" CD album… over three minutes nearly four-minutes long, and I edited the song to just under two minutes by taking out the last verse, but keeping the final few seconds of her song… it seems kind of abrupt, the way it ends… but the song ends in MY version as it is recorded in her version. It's a beautiful little song… I love it.
I chose Haku to sing it because Haku seems to be "the least" of the Animasa models included in the MikuMikuDance download.  In this song, she is hoping to fall in love… if anyone deserves it, it is she. I thought the song fit her well. … I am hoping to complete this animation using that Animasa model… although she is pretty limited; not many facial sliders and her clothes don't seem to fit her very well.
The Spotlight Effect…
The Spotlight effect is amazing… and overpowering! It acts as a shader, a shadow-smoother, and the lighting controller. I found my overhead lights (the basic MMD lighting) did have a little effect on shadows… but the spotlight is really in control. Spotlight ate-up my computing power so that I couldn't PLAY my animation within MMD at more than a 2 or 3 FPS rate. … and when it comes time to do the render, it increased my render by 8- or 10-times. I had 3900 frames @ 854×480… and even using the MPEG4 compression it was rendering frames at what looked like only two or three per second! My computer is usually pretty fast… surprising to see it labor, so.
Model: the Animasa Haku
Stage: LearnMMD.com's Auditorium Stage
Stool: Downloads page, LearnMMD.com
Music: Melanie "Arrow"… edited to fit my time requirements
MME Effects: Spotlight v2, SpotLightMasterControl, SvDOF
I plan to spend a bit of time FINISHING this animation… but I was excited to show it to you today… so… Enjoy!
---
– SEE BELOW for MORE MMD TUTORIALS…
---
— — —
---
– _ — –
---