---

Is there an Audacity tutorial video? How do I use Audacity to make a soundtrack for my MMD animation? What do I do with Audacity? Where can I get Audacity software?
An Audacity Tutorial for MMDers is now on LearnMMD's YouTube Channel!
Audicity® Audio Editing software is Powerful … but MMDers only need to use a few of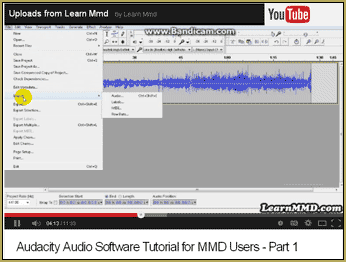 its many functions! This Audacity tutorial will show you the basic functions that I use all the time. We will import a music file, cut it down to be shorter, add applause sounds, and edit those sounds to fit with our project. Using these simple tools, MMDers will be able to make their own MikuMikuDance soundtracks.
You can get your free Audacity® software from a link on the LearnMMD.com Downloads page.
The Audacity tutorial video was made using Bandicam® screen capture software using the free demo version … that's why the Bandicom.com logo shows at the top of the video. Bandicam is easy to use on my Vista laptop computer … I couldn't get it to record sound from my XP computer. Bandicam allows you to record both the computer sound and your microphone narration at the same time! … easy … and the free demo is … free!
---
– SEE BELOW for MORE MMD TUTORIALS…
---
— — —
---
– _ — –
---