---
How do you use the Floor Light Art Effect in MMD? What is the Floor Light Art Effect?

Where do you get the Floor Light Art Effect for MikuMikuDance? LearnMMD MME Tutorials. What else can you do with the Floor Art Effect for MMD DirectX9?
 The Floor Light Art Effect
… Simple and Elegant!
I wasn't originally planning to write about the Floor Light Art Effect until I watched a video by MotionMakerDiva where this was used. I thought it was a simple yet elegant effect. I had no clue what this effect was called. So I contacted her and not only did she tell me that it was called the Floor Light Art Effect but she went above and beyond and hunted down where to get it. So, I'm honored to share credit for this article with her.
The Floor Light Art Effect can be downloaded at: http://harigane.at.webry.info/201209/article_1.html
The site has other effects as well, so bookmark it for future reference. Place the Floor Art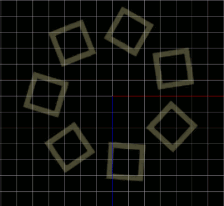 Effect in effects file of your Accessories folder-as you should have all of your effects stored.
What the Floor Light Art Effect does is create a circle of stars, hearts, squares, and musical notes (reminds me of a box of Lucky Charms ©) that rotate and close in toward the center. Unfortunately, you cannot "lock in" a particular shape in its pattern.
You load the Floor Light Art Effect like you do most effects. You click load in the Accessory Manipulation Panel (AMP); select it from your Accessory file and that's it. So why is nothing happening? The Floor Light Art Effect requires a dark background. Go to your main menu bar and click on the background tab and check "black background" Ta Dah! There it is.
You can manipulate this effect by changing the size of the shapes in the Si field of the AMP, although, if you go too large, the shapes just meld together into an amorphous blob of light. The drawbacks to this effect are; if you try to move it off the display field it disappears. The other drawback is there are limits to how far you can use the Rx, Ry, and Rz fields before it disappears.
I uploaded a Floor Light Art Effect video at our YouTube Channel:
http://www.youtube.com/watch?v=D506dKHFM9o&feature=youtu.be
Have fun with this.
---
– SEE BELOW for MORE MMD TUTORIALS…
---
— — —
---
– _ — –
---