---

Download MMDxShow.dll … Direct Show cannot read MMDxShow.dll! There is not 'MMDxShow.dll' in 'Data' folder. Please download the newest ver. MikuMikuDance. I get an error about a missing DLL file when I try to render to AVI. MMD crashes when I try to render to AVI. My MikuMikuDance is missing MMDxShow.dll file.
My MikuMikuDance runs fine until I render to AVI …
An Experimental Fix for the
Cannot Read MMDxShow.dll Error
Download MMDxShow.dll …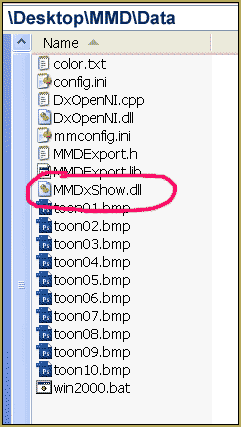 Download MMDxShow.dll from LearnMMD.com … Reggie's personal copy of that missing DLL file.
As of this writing, Christmas Day, 2013, I do not know if downloading and installing this DLL file will solve the cannot read MMDxShow.dll file error problem; that's why I call it "Experimental" … Please let us know if it works for you … leave a comment!
Start by renaming your old MMDxShow.dll file (if you have one). Name it something like orig_MMDxShow.dll so that you have the original file saved, if you need it later.
Then, Download MMDxShow.dll from LearnMMD.com's DOWNLOADS page. Unzip the folder and drop the new DLL file into your MMD DATA folder, as shown in the picture, above.
Close MMD (if you have it open) and start MMD. Make a quick test … render to AVI and see if it works … … Yes? … No? … PLEASE leave a comment to let us know how it works for you!
Editors Note 04/18/2017:


The MMDxShow error sometimes can be triggered by lack of necessary MS Visual C++ Redistributable packs. If you downloaded the proper .dll file from our page, placed it where it belongs, and still are getting the error, make sure that you have them installed as instructed.
---
– SEE BELOW for MORE MMD TUTORIALS…
---
— — —
---
– _ — –
---