---
How do I reverse motion data in MMD? What does the reverse Button do? How do I get the models to

reverse their motions in MikuMikuDance? How do you reflect a model's motions in MMD? How do I get a model to dance in the opposite direction in MMD DirectX9?
When Models Reflect on Their Actions…
Have you ever wanted to have your models face each other and reflect each other's motions or have one doing the same motion data only in reverse?  Well you can. Here's how you reverse motion data.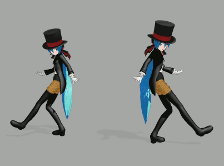 First load your model and their motion data (this is the model you want reversed. Remember: Reversed is first). Now go to the main menu and select Frame. Then click: select all bone frame (N). Go back to Frame and this time choose, select all disp/IK frame (M). You now need to go to the Frame Manipulation Panel (FMP) and click copy then click delete. You will notice that your model has returned to their original position. Then click reverse, the model now has the motion data reversed. Use the center position bias to move it to wherever you want. Then, click register in the Bone Manipulation Panel (BMP). Now load your other model and the original motion data and position that model. Don't forget to load the matching .wav file. Press play and you're good to go.
Okay. You're not really done yet. Whenever you reverse motion data in MMD, weird things can happen.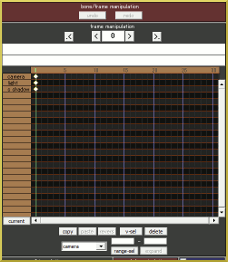 Notice, the reversed model has no facial motion data it is dancing with a blank zombie-like expression (not unlike the expressions you see in Math classes). I don't know why, but facial motion data won't transfer with the first reversal. I've tried…I can't find a way to do this on the initial reversal. Whenever I click select all facial frame(F) on the first reversal it really messes things up with other parts of the model. However if you copy/paste (but don't reverse) at this point it works out.
Let's do that. Make sure the Model Manipulation Panel has the name of the model with the original motion data (or press your keyboard's tab key). Go to the main menu; select Frame then click select all facial frame(F), then go to the FMP and choose copy. Next, go back to the MMP and select the other model. Press paste in the FMP and register this change in the Bone Manipulation Panel. At this point the model might jump toward the other model. All you have to do is reposition and register again. Then click play.
This would be the time to watch your work-in-progress and make any changes to your model's positions. Whenever you reverse motion data, you don't want them to meld and or collide into each other. For example, the animated GIF at the top of this article I had to move one of the models a little further back. Try out different positions! They could be side by side, facing each other, back to back or even at opposing angles.
Check out my example of reversed motion data at our YouTube Channel!
http://www.youtube.com/watch?v=w0z7Pb8e8rU&feature=youtu.be
Have fun with this!
Credits:   Model: 88 Magician MikuMotion   Data: Popipo by unknown.
---
– SEE BELOW for MORE MMD TUTORIALS…
---
— — —
---
– _ — –
---