---
Video Dojo Expo 3 The CHAMPIONS are CHOSEN.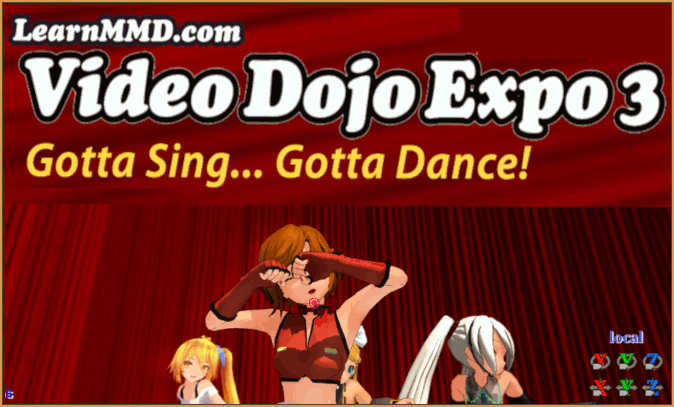 We've DONE IT… The ENTRIES are IN!
Our competition got EIGHT Video Dojo Expo entries, including one by LearnMMD's Reggie Dentmore…
Each entry is a special piece created by an enthusiastic MMDer… and to choose our SIX winners out of only the EIGHT entries would be an atrocity.
… so, we have SEVEN winners and Reggie's entry as an Honorable Mention.
The goal for this Expo was to create a "Live, on-stage" performance with a Lead Singer/Dancer and backup dancers using a different motion from the Leader. It needed to look like a bit of "live" show-biz… a nightclub, a Broadway show, or even a high school performance. This Expo was open to all MMDers and their Entry posted to YouTube between February 14th, 2020, and March 29th, 2020. The only content restrictions were no commercial entries and all entries needed to be family-friendly.
The Prizes: SEVEN Winners!
With only Seven qualifying entries… EACH entrant is a CHAMPION!
Champions will get an article on LearnMMD.com and will have their video enshrined in our Video Dojo Expo HALL of CHAMPIONS!
The CHAMPIONS of Video Dojo Expo 3…
… all Equal Champions…
CLICK

to View
Video
Our Champions

… and our non-competitive Honorary Mention:
THANK YOU, Champions

… Awesome Creations!

---
– SEE BELOW for MORE MMD TUTORIALS…
---
— — —
---
– _ — –
---