---
Hey Hello!
My name is Angelique, I am 18 years old and live in the Netherlands. At the moment I am a 3rd-year student in a "Sign Making" program in college.
Video Dojo Expo 1 Winner: Angel Dreams
I follow many other MMDers on YouTube and DeviantArt, so that I can see how they do their work and to find inspirations!
I am so happy that I have this win… it made me feel like I have reached an important goal!
I'll tell you a little more about how I got into animating with MMD and why I find it so interesting.
After explaining a bit I will talk about my experience creating my winning video!
Let's start!
So! First things first, I watched so many Youtube video's where people created their MMD video's of their favorite character. But I didn't see THAT many video's of my favorite Utauloid: Yokune Ruko.
That's when I realized that I wanted to introduce him (and other less popular characters) to the people by featuring him in my animations; creating my own motions and using the right effects in my videos so the people will enjoy watching these characters in action.
I watched many tutorials and as I was looking through the web, I discovered LearnMMD.com!
It was a real life saver to have found this website and I use it almost every time when I'm in progress of learning something new in a MMD project!
I found so many solutions on LearnMMD.com when I was having hard times!
Downloaded MikuMikuDance…
This all started when I downloaded MMD one and a half years ago.
Starting with using other people's motions, I soon discovered that I wasn't really satisfied showing other people this.
SO! I started to create my own motions, story, etc.
This (of course) didn't go too well in the beginning because the model was standing too stiff or would barely even move it's legs. After some long practice I started to understand how everything works and I improved more and more!
With the animation smoothing tool, it's very easy to make the motions smooth.
Now, at some parts, it is a little TOO smooth!
But I've been able to fix this with just deleting that little part and redoing it.
My winning video experience:
As I was looking for new effects to try on LearnMMD.com, my eyes fell right on the "Video Dojo Expo 1"!
I decided to take a look and read everything carefully.
That's when I wanted to participate and now had to create a video!
First I started thinking about what kind of animation do I want it to be? A dance motion? Or maybe a funny scene?
None of them satisfied me and I started to listen to some UTAU covers where I imagined in my head how the movements will go.
After hearing this cover "Palette Desire Path Remix" that Kimchi-tan has made, I came up with this story and decided to pick this cover! (of course with asking permission first).
I repeatedly listened to the music and then searched for the lyrics so I would easily remember and envision what and when, at which parts of the music, something will happen. When I really want to remember something, I make a rough little sketch on paper… sort of a storyboard.
I started thinking about what kind of story would I like to show people?
After studying the lyrics I decided that an emotional story would fit the best for it… so that it would touch other people (and myself too).
For example: Rook and Ruko (the main characters in this video) have to meet each other at some point but how do they meet?
There are many options to choose and I went with this:
There is a little problem that something or someone pushes Rook and he drops his ice cream… here is where Rook gets sad and Ruko feels for him and wants to comfort him.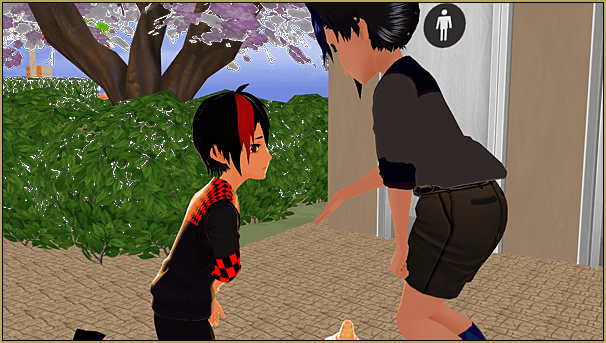 This is the moment where they become friends and spend everyday together.
Only, one day (or night), Ruko suddenly disappears.
(Whatever could have happened? is up to your imagination).
So Rook is alone now!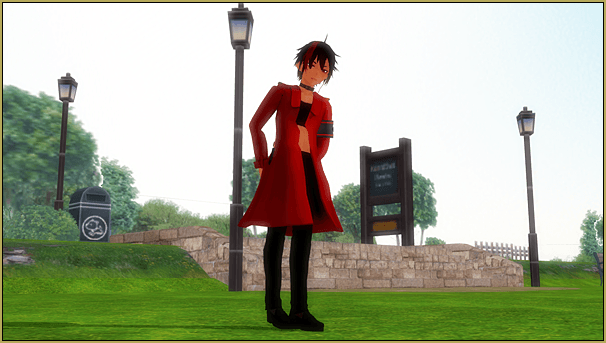 After all those years of being without Ruko, he jumps into Ruko's arms teared-up, longing for his warmth.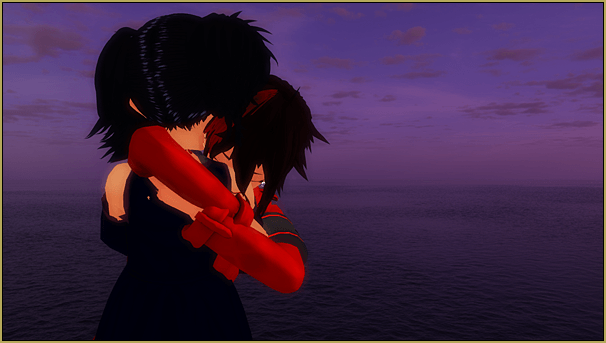 That's what makes this story emotional for people (for me as well), because what is better than loving your beloved person. ;)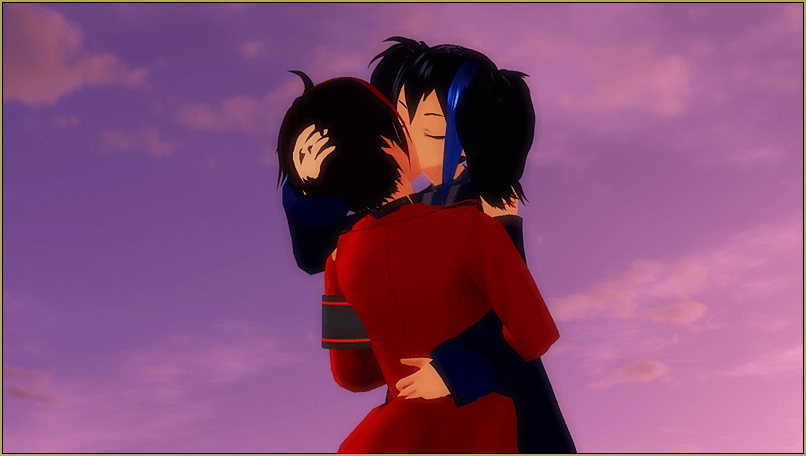 Models:
The main Rook and Ruko models (both little and grown up) I made using VRoid studio.
(however I can not take all the credit for Rook's look since I couldn't create the coat, arm band and earring with string).
I started making the models BEFORE I knew about this competition.
Since there are a lot of people who use TDA models I've decide to use this as a different way to show that there are MANY more model types that can be used with love.
I had to work in different MMD files (one for the younger-kid scenes and one for the grown-up scenes), or else it would have looked really weird.

Camera cuts help you create scenes…
The good thing is that when you use more characters you can switch in between the characters with the camera.
For my example: when Rook fell down on his back with his ice cream and I switched the camera's view over to the part where Ruko was running up to him, I could quickly reset Rook's pose so that when we see him, again, he has moved to sitting on his knees without you seeing that happen.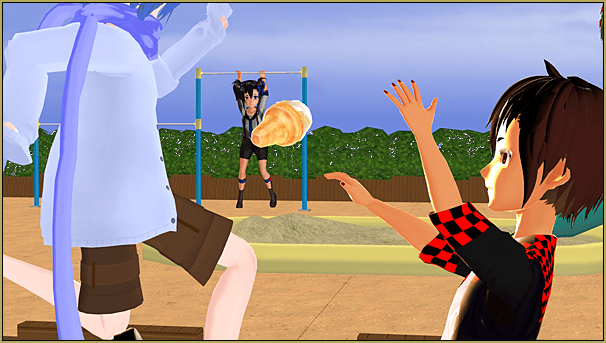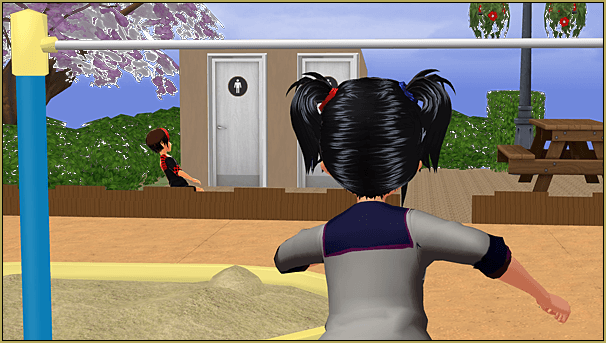 And so on… I did the same technique to other parts of the video, too.
Struggles!
-I had so many struggles with converting the Rook younger model.
Each time I rendered this model, his head was bigger than it has to be. I tried to fix this in PMXEditor and it worked after giving it some tries.
But then there was this other problem which is that Rook was taller than Ruko.
So… I had to fix this again and I don't know if you noticed, but there's a gap between Rook's neck that should connect his head! … I decided to let it slide because "Hey… not everything is perfect" and mistakes may be made.
-When I used the motion smoothing tool for the younger part, it went all wrong.
Models were in places they shouldn't be at that part… or the smoother would change the walking cycle.
I decided to leave the smoothness and curved the younger part.
Luckily this wasn't the case at the grown-up part… but after I uploaded the video on YouTube I noticed Ruko's hand had a glitch because of this tool…
It couldn't be solved because I had already uploaded the video and had already sent an email to participate in the Contest.
Last words:
After becoming a winner I realized I had reached an important step that I would have never expected.
I had a fun experience creating this video and, because it was a challenge with all these struggles, I learned more and more about using MMD!
I'm really glad to have been part of this competition and I wish everyone "Good luck!" for the next competition!
— Angel Dreams
---
– SEE BELOW for MORE MMD TUTORIALS…
---
— — —
---
– _ — –
---