---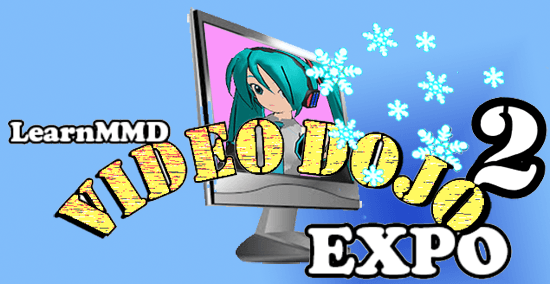 Video Dojo Expo 2 –
FINISHED, December 2019
– – –
Holiday/Seasonal Song "Diva Performance"!
For THIS MMD video exposition, you are to create a music-video featuring your favorite model singing a song of the Season…
FINISHED, December 2019
You will probably want to create your model's motion from scratch although downloaded motions will be allowed… yes.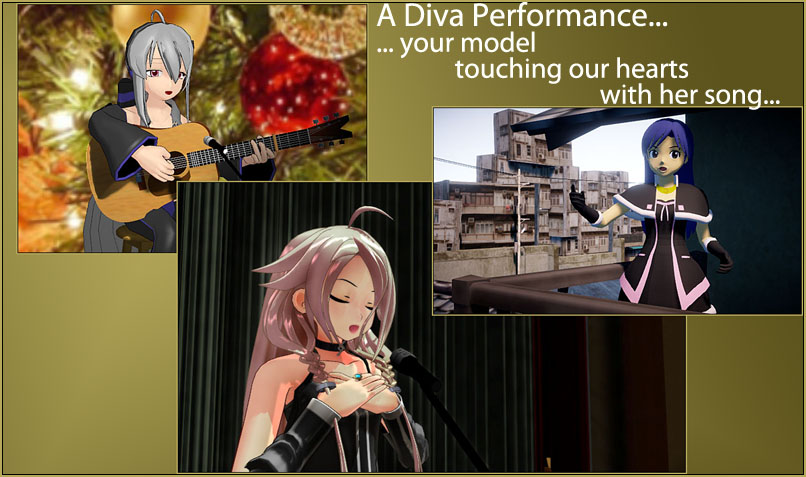 This exposition requires your thoughtful animation as you bring the video-viewer into your heart.
Bright and happy or Soft and sad…
Your entry does not need to be ANY song in particular… but it should be related to the Holiday Season, the Winter Season, or a "New Year's" song. It can be up-beat and happy or soft and "bluesy".
Here is my FIRST TEST of the Song I may use as my entry…  See that I have chosen an unusual Holiday song… chosen a model… and used that holiday-skydome I created for the "Call for Entries" video. I plan to make that TDA Gakupo model be my "Diva" for this song. … In actuality, my finished video may not look like this, at all… but I wanted to test my music to see if YouTube allows me to keep that song.
… and… Old Dog learns New Tricks:
I downloaded new music from YouTube: Kelly Clarkson singing "I'll Be Home For Christmas"… and I opened an old animation that I had put together years ago featuring IA singing the MMD "Departures" meme… and, when I play that song with that animation, MAGIC happens… it almost "works!" … My plan is to rework that old animation to fit the new music… should be a very nice Diva Performance when I am done with it… Fun! 
And…
Here's my finished video… my "Diva Performance" as I have IA perform that song…
… If you watch my video on YouTube you will see the description I wrote, there, telling of what's in my animation… and I give full credits for everything I used: Keep the Faith-MMD!
Get the idea? … Have some FUN with your project!
Judging:
I want to "feel" the emotion. The "Diva Performance" puts your model onto the stage and into our hearts.
This should be some SWEET animation… careful attention to the mood and the experience.
You don't need to "do" the entire song. Start it where you wish and cut it when you wish.
Length of the video is not important… but, often, viewers do not "last long enough" to watch a long video. We find that about 90-seconds is often a proper length.
No "extra credit" for effects except as they add to the quality of the emotion you are trying to elicit in the viewers.
The strength of the actual animation is the key in this exposition. "Wow, that's so nice!"
Include Video Dojo Expo 2 in the Video's title on YouTube.
Announce your entry by EMAIL to

[email protected]

with the link to your video.
Entries are due on December 28th, 2019…
Your video entry must be posted to YouTube before the stroke of midnight (Pacific Time) on the night of December 28, 2019.
JUDGING will be by "Viewer's Choice" in which the viewers will be asked to vote for their favorite video. VOTING will take place between December 29th and January 4th, 2020… with winner announced on January 5th.
SIX WINNERS will be announced…
FIVE winners will be selected by the "Viewer's Choice" and a SIXTH winner will be selected by the LearnMMD Team.
This is an Exposition…
No one entry will be "the winner"… our goal is to pick the top six entries which will then be entered into our HALL of CHAMPIONS!
THE PRIZE…
Each of the six winners will be awarded a listing on our HALL of CHAMPIONS page with a link to their video and a link to their YouTube Channel… links that will be online, on display, there, for all eternity (or, for at least as long as LearnMMD.com is able to stay online)… and each winner will get a "The making of…" article on LearnMMD.com so they can describe their video and how they "made it happen!"
Content Limitations…
Please, no commercial or advertising content in your animation entry. Also, please remember that this is a "family show" and so the content must be respectful and responsible. Reggie Dentmore will have the "final say" on the admissibility of any entry. Please don't embarrass him… make him proud! … If your video IS flagged, Reggie will contact you to discuss your entry and its elements.
The Legal bits…
Know that each entry stands on its own merit. LearnMMD.com is not responsible for the content of any of the entry videos. To the best of our ability, entries with content deemed inappropriate will be disqualified from entry in this competition. Contestants retain full ownership of their creative submissions. Entrants, by entering this competition, acknowledge that they give permission for LearnMMD to use still image-captures from their submitted entry for promotion of this and any future competitions (LearnMMD will endeavor to credit any such images). The "prizes" offered are write-ups and links published "permanently" on LearnMMD.com as noted in the rules, above… and that "permanence" will be in effect for as long as LearnMMD.com is able to maintain its published pages.
READY… SET… GO!
HAVE FUN…
---
– SEE BELOW for MORE MMD TUTORIALS…
---
— — —
---
– _ — –
---