---
Video Dojo Expo 2 CHAMPIONS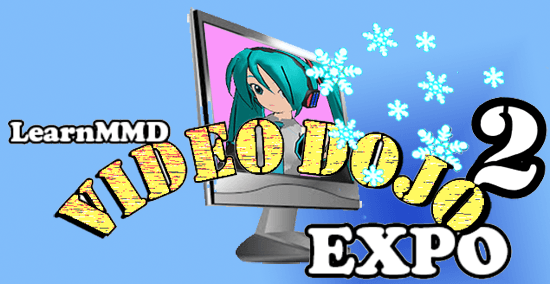 We've DONE IT… The ENTRIES are IN!
Our competition got SIX Video Dojo Expo entries…
…Plus TWO Demo-Videos by LearnMMD's Reggie Dentmore
The goal for this Expo was to create a "Diva Performance" in which you star an MMD model in the spotlight as you present to us a song of the Season. It's all about the model and the intimate presentation of the song. We want to get to know that model… we want to "feel" the emotion of the performance. This Expo was open to all MMDers and their Entry posted to YouTube between November 12th, 2019 and December 28th, 2019. Only content restrictions were no commercial entries and all entries needed to be family-friendly.
The Prizes: SIX Winners!
With only SIX qualifying entries… EACH entrant is a CHAMPION!
Champions will get an article on LearnMMD.com and will have their video enshrined in our Video Dojo Expo HALL of CHAMPIONS!
The CHAMPIONS of Video Dojo Expo 2…
… all Equal Champions…
CLICK

to View
Video

EmberAce216

BOOM!
Fanfic-a-Latta!

Macaron
TeaCupBaby

MMDv

Turquoise Narcotic

blazeraptor
… and the two Demo-animations by Reggie Dentmore
THANK YOU, Champions

… Awesome Creations!

---
– SEE BELOW for MORE MMD TUTORIALS…
---
— — —
---
– _ — –
---