---

What is the ExcellentShadow2 effect? How do I use the ExcellentShadow2 Effect in MikuMikuDance? How do I get rid of the ugly self-shadows in MMD?

Use the ExcellentShadow2 effect to smoothen those ugly Self-Shadows
Hallo LearnMMD readers, it`s parkeerwacht with another article here on LearnMMD. In this article I will be explaining how the ExcelentShadow2 Effect by Minced works, and give a step-by-step instruction on how to use it.
What is the ExcellentShadow2 effect?
This effect changes the way Model self-shadows are rendered. ExcellentShadow2 smoothens them out instead of showing ugly pixelated stuff. You can see this properly here: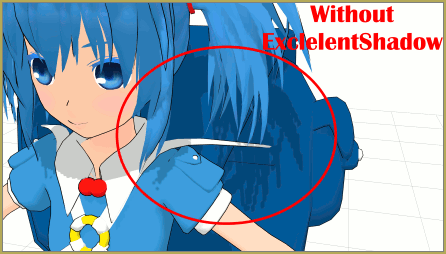 Wow that looks nice! Where can I get this effect?
You can download the effect from Minced`s OneDrive … You have to login on that page… it's free. When you do login, that full page will be there. When you get there, DO NOT select a folder to download. Instead, CLICK that DOWNLOAD button in the upper left corner of the page and you will download a single zip folder containing ALL of those effects!
Some requirements
Before using this effect, there are some things required that you need or have to do:
Make sure to have MME installed (V0.27 or later required). Don`t know how? Look at this article by our editor Reggie Dentmore: Download MME v037 in English 32-Bit or 64-Bit from LearnMMD.com
Graphics card that has at least 1GB of Vram
Graphics card that supports Shader Model 3.0 or higher.
(optional) A High-End system is recommended. This effect may cause a lot of framerate drops, It may even on fast systems!
Ok, so how does this effect work?
I will explain how to use it step-by-step, how to use the basics of this effect.
Step 1: Create your animation.
Before we  load the effect, it is a good idea to finish you animation first. Like I described before, this effect isn't light on your system. That's why you should finish the animation first.
Step 2: Prepare the effect
Open the archive you downloaded and extract it to the folder where you keep your effects. I named mine ExcellentShadow2.
Keep your files organized; it will save you a lot of hassle. What I did was create a folder called MME inside the Accessory folder, then I dropped my ExcellentShadow2 files into it. So my folder stucture looks like this:

Step 3: Load the effect
Loading the Effect is very simple. Just load it through the AMP (Accessory Manipulation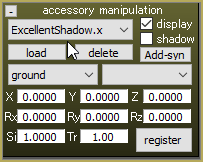 Panel, It's the yellow area). To load, open ExcellentShadow.x in the AMP
There is also a folder called ExShadowSSAO. Use the .x file in that folder to add SSAO to the shadows. This looks good in combination with the SvSSAO effect. This file must be loaded after ExcellentShadow2.
Step 4: Load the effect file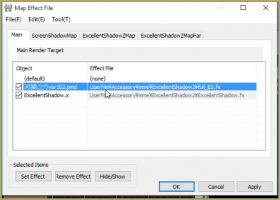 This effect won`t work without the effect file loaded on a model. To do this, go to the effect mapping window of MME. Double click on the model you want to use the effect on. Then load the Effect file: full_ES.fx. If you are using a PMX model you must load full_ES_pmx.fx.
MAKE SURE TO CLICK ON APPLY BEFORE CLOSING THE MME WINDOW!
But does this mean I can't use other effects on my model?
Yes that is true, but our author Winky made an article about this: How to Add Multiple Effects on a Model.
There is another way by editing the .FX files of those two. It is described in the Japanese Read Me file, but Google translate makes it hard to read the instructions. Basically what it says is that you can somehow merge the two together. However I haven't got that to work and I have been using the tutorial above. If you use that, try and see what works best for you. I can tell you what I use for my video (Each video I use ExcellentShadow2 in uses a different combination, even for the same model.), but my settings probably won`t work for you. It heavily varies on the models you use, the background/stages you use and the entire setting of your animation.
There also effects that have support for ExcellentShadow2 built in. As far as I know this is only the GreenerShader effect.
Step 5: (optional) Change its settings
You can edit the effect by adjusting the Si and Tr values.
Si will change the amount that the shadows will be smoothed. This value can be anything from -100 to 100.

Tr will change the brightness of the shadows. This can be anything between 0 and 1. The lower this value, the darker the shadows will be.

Try and see which settings work best for you.
That's it, That is how you use the ExcellentShadow2 effect!
I have made a tutorial video on my YouTube channel which you can watch here:
If you have any suggestions, questions or feedback, please leave a comment. I will read them all.
Model used in images: Nitori Kawashiro by Ki
---
– SEE BELOW for MORE MMD TUTORIALS…
---
— — —
---
– _ — –
---