---
How to use the Rainbow Ring Effect in MMD? Where do you get the Rainbow Ring Effect?

LearnMMD MME Tutorials. How do you get the Rainbow Ring to follow the model? Is there a tutorial for the Rainbow Ring Effect?
Using the Rainbow Ring Effect in MMD.
I hope you have enjoyed watching the Momi Cup as much as I have. I  noticed that one of the top 5 finalists had used the Rainbow Ring effect in a very different way. Aelita1234's entry SuperStar used the Rainbow Ring as effect lighting by enlarging it to at least 10-15 times its usual size. You can see Aelita's entry here: http://www.youtube.com/watch?v=oe447Jmdveo Her wonderful video is the inspiration for this article.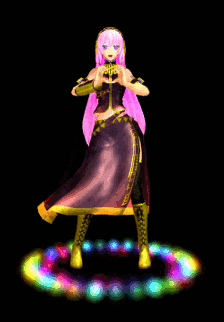 You can download the Rainbow Ring effect (along with some others) at Roriicon's YouTube Channel at: http://www.youtube.com/watch?v=XIO06nbdblI . Don't forget to mind your manners and say "Thank you".
I'm sure you have MME properly installed. If not, you should check out (Noko2's  article about downloading and installing MME for MikuMikuDance)  Then place this into your Effects folder. If you don't have an Effects folder then make one and place all of your effects there.
Load your model, motion, and .wav files. Make sure your Model Manipulation Panel (MMP) reads camera/light/accessory. Then click the load button in the Accessory Manipulation Panel (AMP). Now go to your Effects folder and select the Rainbow Ring Effect. So now, you look at your screen-and nothing's happening. You need to go to your Main Menu bar and click the background tab and select black background and now you'll see it.
Somewhere Over the Rainbow.
At this point, you can now change the size and diameter of the ring in the Si field of the AMP. You can also attach the Rainbow Ring to your model's center bone and have the ring follow underneath their feet. Let's do that! In the AMP there is a field that has ground written click the down arrow and select your model's name.
Next to that, is another field; here you choose where on the model you want the rainbow ring attached. Select the center bone. (Note: if you're using a model with Japanese names then you might have to do some trial and error. More often than not, the center bone is the first or second in the list). Now you will have to put in negative values in the Y field of the AMP to lower the Rainbow Ring around your model's feet. Don't forget to register this in the AMP.
I was so inspired by Aelita1234's video that I made my own Rainbow Ring video for our YouTube channel:http://www.youtube.com/watch?v=uPIck0JH2VQ It is in no way, shape, or form as superb as Aelita1234's; it was still fun to play with though.
Have fun with this.
Sources:
Luka_default by Montecore.
Motion Data: Libera Me.
Effects: Adult Shader and SSAO Lite
---
– SEE BELOW for MORE MMD TUTORIALS…
---
— — —
---
– _ — –
---