---

I want to use 2D background images in MikuMikuDance. How do I use a photograph as a background image for my MMD pictures? Will a simple photo work as a background image?
Use 2D Background Images to make pictures and videos in MikuMikuDance!
Hello Everyone!
Today I will show you how to use background images to your advantage!
(Please note: This tutorial will apply mostly to picture making, but some of the methods and techniques that I use here can come in handy in your videos, too.)
First, select one of your own photos or browse DeviantArt or another website with good stock photos and find one you can use. (Remember to credit the person or group who makes the stock photos). Here I'm using a fence scene, taken from Moon_WillowStock on Deviant Art. I've edited it a tad bit ahead of time in GIMP, but this method will work well with an unedited photo, as well.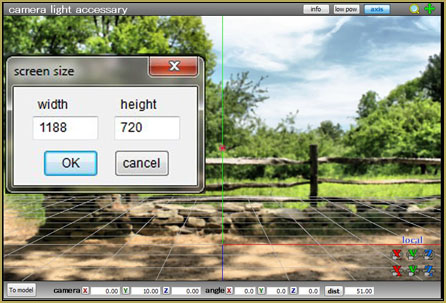 Try to adjust you screen size as close as you can to the pictures dimensions. By going to View> Screen Size.
Move the coordinate axis down so that it is pretty level with the ground in you picture. Do this by adjusting the camera angle.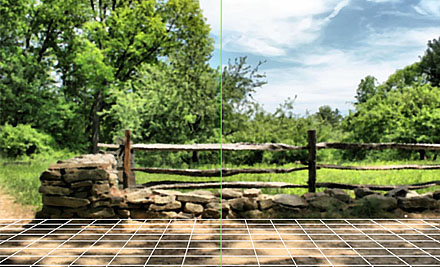 Move around with your camera a bit and lower the view angle to about 25, so it matches up with the ground accurately.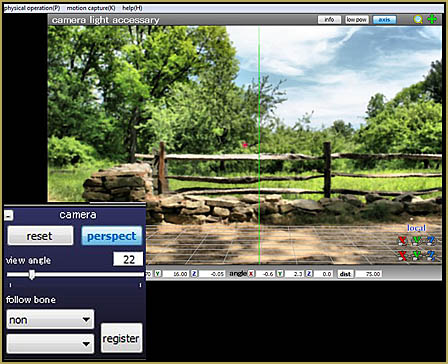 Load your model, pose her (or him) up, and move the camera around the 3D space to a position that makes sense. When working with a 2D background the camera will offer more help positioning a model than the model itself. HINT: Getting rid of the axis might help you with this step.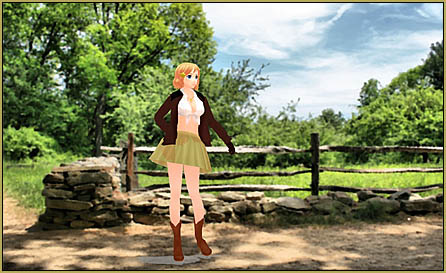 Now, remember to register your camera. Then, add a diffusion effect. If you can't get Diffusion 7 on your computer because of your graphics card, you can use Diffusion 6 which worked on my old computer just as well as Diffusion 7.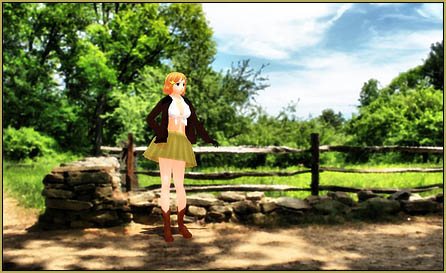 If you want to leave the picture like that, that's okay. If you don't, crop it and sharpen it in GIMP or Photoshop.
Final result: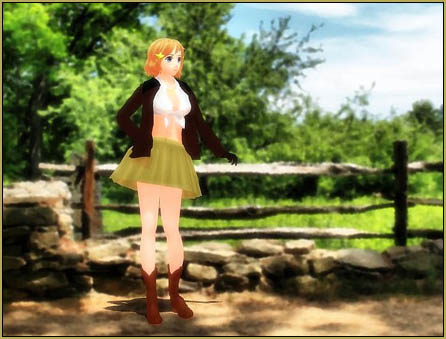 Credits:
Fem!America Model: Aoringo
Fence Background: Moon_WillowStock (DeviantArt)
---
– SEE BELOW for MORE MMD TUTORIALS…
---
— — —
---
– _ — –
---