How do I use Raycast? Where can I download the latest version of the Raycast effect?

Friend: HAVE YOU SEEN THE AMAZING MMD RAYCAST VIDEOS??? THAT SHADER IS SO COOL, RIGHT???
You: "Yea, but its so complicated I won't be able to use it" :<
Hey, don't worry. I know how to use Raycast
… I came to help
A Quick Glimpse of Raycast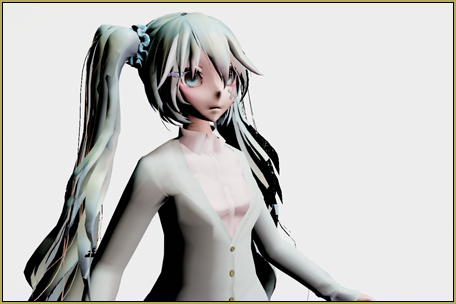 So all ya have to know is 945+6854=Raycast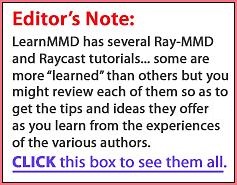 Just joking! Raycast is a powerful and sophisticated, complicated effect… but ya just need to know the basics to get started!
For this demo, I'm gonna use the new raycast 1.5.2 … a 47Mb download!
Visit that link, Click the green CODE button and choose the bottom choice: Download.
SO, OK… FIRST THINGS FIRST…
We need to load our beautiful model…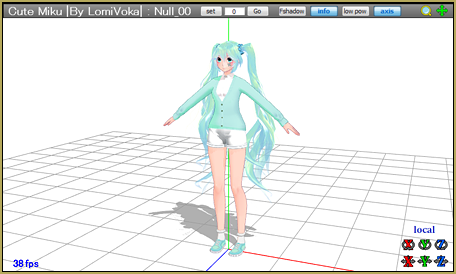 … this model will work (Cute Miku by LomiVoka).
Now open MME>Effect Mapping and let's apply the shader to the model; go to the "Raycast/Main" folder and load main.fx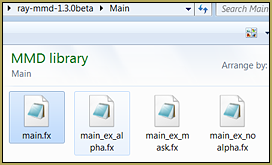 If you're using the new Raycast 1.3 it should look like this: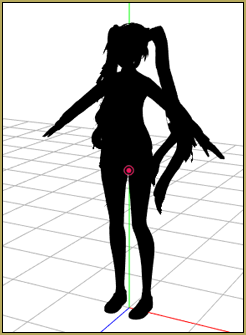 with old Raycast 1.2, it should look like this: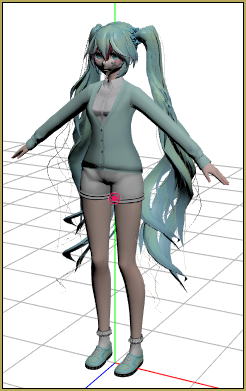 When you load the main.fx it will look horrible!… and that's why we MUST load ray.x in the main Raycast folder.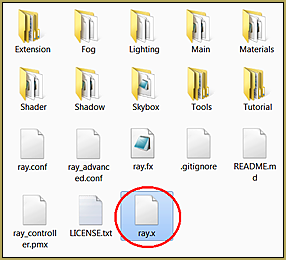 EDITOR'S NOTE: When I loaded ray.x, MMD seemed to lock-up because my system took a long time to open/process that file… and when it DID come back, the stage was SOLID Black. Go ahead to the next step and load a Skybox model to get your stage back.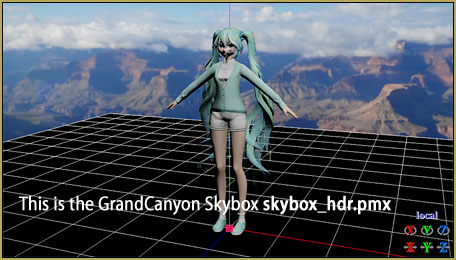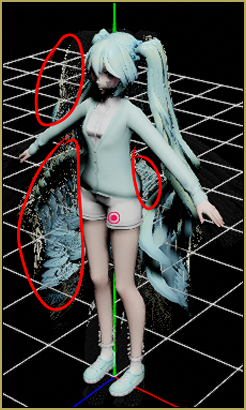 NOW THAT LOOKS BEAUTIFUL
… but there are some weird spots!
AH… WE NEED A SKYBOX…
Load a skybox as a model file from the Skybox folder inside your Raycast folder…
Loading the Skybox gets rid of all of those weird spots we saw in that image, above.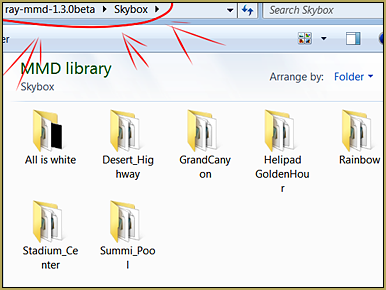 GREAT… now load a background image or your favorite skydome and probably hide the coordinate-axis.
(I have downloaded extra skydomes from this person: ignisdraconi on Deviant Art. Just put them into Raycast/Skybox.)
You can go to MME Effect Mapping and use Hide/Show to hide the Skybox. (If you use the Display checkbox to hide your Skybox, all of those weird spots will be back! … so use the Effect Mapping Hide/Show button, instead.)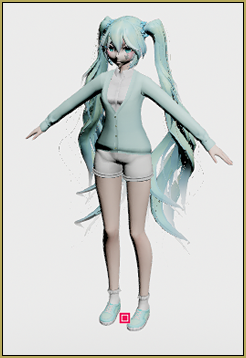 BEAUTIFUL… LOOKS GORGEOUS!
OK… now we will make it even more beautiful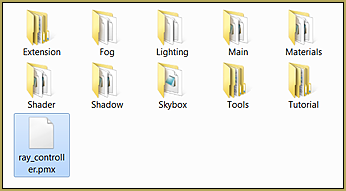 by loading the ray controller.pmx model.
When we load the controller we suddenly have control of allot of settings and effects!
This is the brow facials list…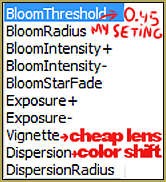 these are the settings for my picture…
– BloomThreshold 0.45
– BloomIntensity- 0.40″
There is kind of a cheap-lens effect and a color-shift effect and using BloomThreshold we will make everything very pretty.
… but it is a little dark from the other sides!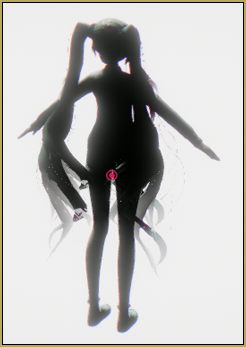 Well, then, let's load some lighting!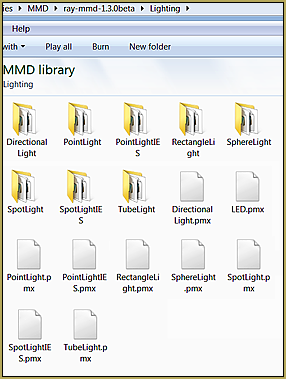 Load the DirectionalLight.pmx model.
LED.pmx does not work that easily and I don't know how to make it work but I messaged the creator of Raycast and he said
"first, you need to download the (MMBG, avisynth) and install , then convert your avi to avs ,and loading the avs file into MMD… finally, put a Extension/DummyScreen.x and LED.pmx into MMD… MMBG AviSynth"
You can change the position and swivel the light direction of the DirectionalLight using the XYZ rollers. Swivel the light to shine on the front, back or side of your model.
… and change the quality of the light with the facial sliders.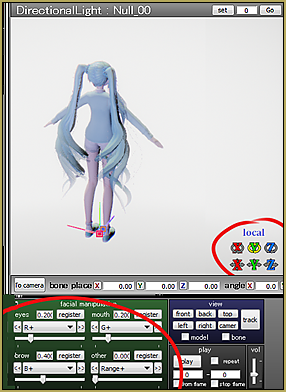 In my image, I loaded the DirectionalLight model three times so I could add light where I wanted it on my model!
On back light I like to make it a little blue and in "other" facials use "intensivity-"
… and little bit of light manipulation…
You can easily hide the lights model by going to MME and click "Hide/Show" in MME tabs Main, MaterialMap, Depthmap, PSSM.

The arrows show from what positions my lighting is coming as I lit her with the three DirectionalLighting models.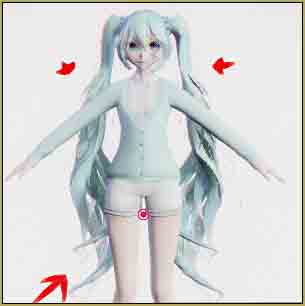 NOW ITS TIME FOR THE MATERIALS…
You can go to MME/MaterialMap and apply the effect to your model.
I will show you how they look when applied in the image, below.
*it's a new version of Raycast, though, so there will be more materials and they will look better*
I recommend that you download these from my Deviant Art page…
link1  link2 … there should be instructions in the description.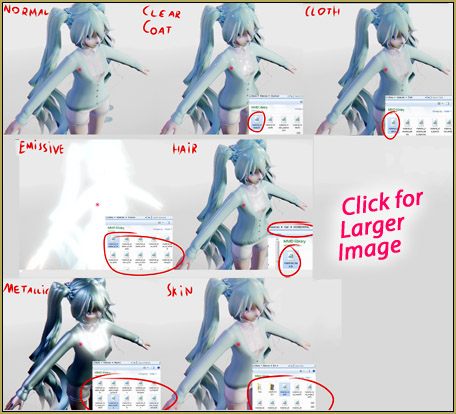 Have fun with Raycast and MMD!
---
– SEE BELOW for MORE MMD TUTORIALS…
---
— — —
---
– _ — –
---