---

I get a black image when I Render to Picture File in MMD. How can I capture images from my AVI file? Where can I get IrfanView Media Viewer?
HAVE A PROBLEM WHEN RENDERING PICTURE IN MMD?
NO FEARS BECAUSE XAV IS HEEEEERE!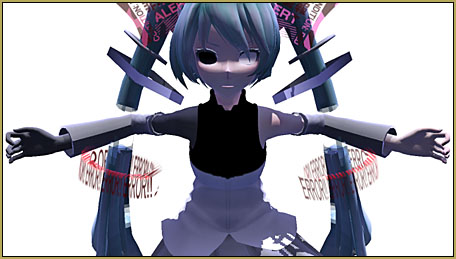 IrfanView captures single-frame images from Video AVI files!
Hi, it's Xav again! I am now going to help you confront your problem. You could use "Print Screen" to capture that image… or you could capture the image from a video using IrfanView®.
What you'll need…
Of course, I want to make a picture for my dear friend.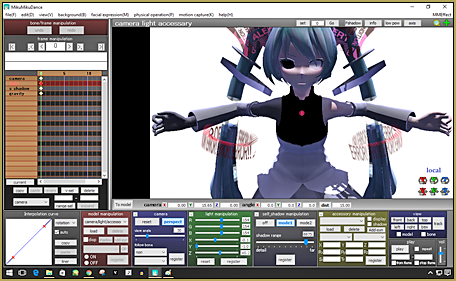 But, when I rendered  it, it was pitch black! Huhuhu…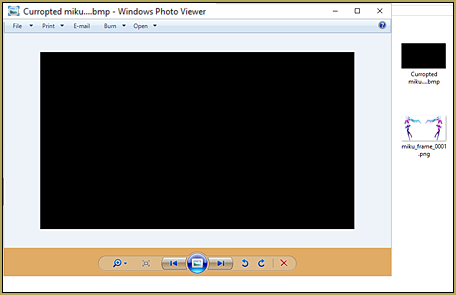 To capture this image from video…
Set you animation length to just a frame or two. Render your project to AVI. Just put it like this, the size of the image depends on the screen-size you entered under the View menu in MMD (the larger the screen-size, the larger the captured image).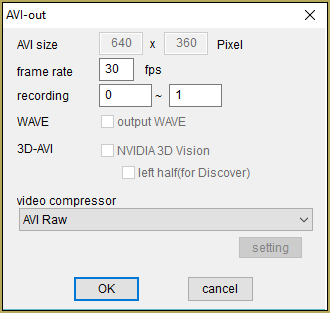 Open the AVI file with IrfanView. Open " Options " and choose " Extract all frames ".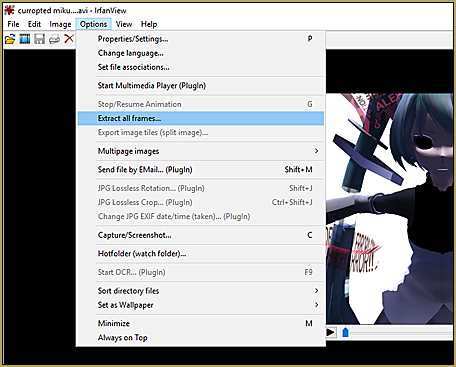 And then click OK. You'll find a folder in your Picture folder which is has two pictures in it. It is your picture! Now your problem is solved!!!!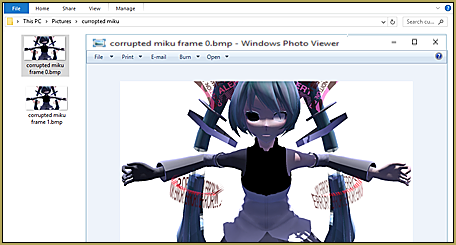 More information about IrfanView Media Viewer…
The IrfanView® website says: "IrfanView is a very fast, small, compact and innovative FREEWARE (for non-commercial use) graphic viewer for Windows 9x, ME, NT, 2000, XP, 2003 , 2008, Vista, Windows 7, Windows 8, Windows 10."
IrfanView can open and view… and save… all kinds of image and AVI files that you find on the internet.
Credits:
Model is "TDA Corrupted Miku" GingerCat-P on deviantART
Thanks for reading my tutorial~!
I hope it helps!
---
– SEE BELOW for MORE MMD TUTORIALS…
---
— — —
---
– _ — –
---