---

What is a chibi model in MikuMikuDance? How do I make a Chibi model? Can I use PMDE / PMXE to make a Chibi model?
Make Chibi Models for MikuMikuDance!
Hello everyone, welcome to Silent Headset and co.'s PMDE tutorial! Hosted today by yours truly, Silent Headset!
First off, what is a "chibi character"?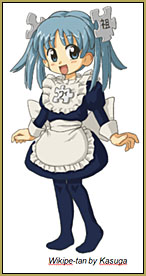 "Chibi (ちび or チビ) is a Japanese slang word meaning "short person" or "small child". The word has gained currency among fans of manga and anime. It means someone or some animal that is small in stature. It can be translated as "little", but is not used the same way as chiisana [小さな] (tiny, small, little in Japanese) but rather cute."
"In English-speaking anime and manga fandom, the term chibi has mostly been conflated with the "super deformed" style of drawing characters with oversized heads or it can be used to describe child versions of characters. Chibi style is usually used in depicting scenes which are cute and/or humorous, and it is extremely rare for it to be used for an entire anime series."
You can MAKE a Chibi Model for MMD!
Making a chibified MMD model is quite an easy task, if you know what you're doing. Make sure you have all the ingredients needed; the sugars, spices, and everything nice.
See the PDF for the full instructions.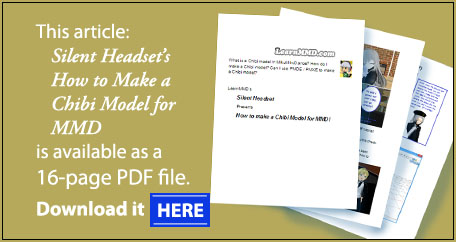 Get the full story. Click the image, above, to open/download Silent Headset's PDF!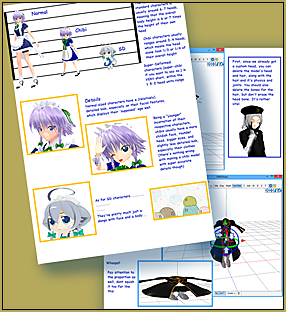 ---
– SEE BELOW for MORE MMD TUTORIALS…
---
— — —
---
– _ — –
---