---

How can I decrease AVI file size when I Render to AVI in MMD? How can I make my MMD .avi file size smaller? Where can i get Prism video converting software?
Dramatically Decrease AVI File size
before uploading YouTube videos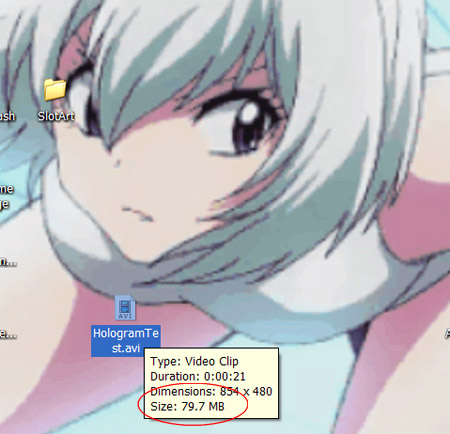 Before I start this article…
Experienced MMD animators have let me know…
Do NOT reduce that AVI file size using the method I describe in this article. The original, large AVI file MMD produces yields the best quality of video you can upload to YouTube. Our Trackdancer2015 explains this in his article:
DO NOT reduce AVI file sizes that go up to YouTube.
For MY use of MMD, for the resolutions I use, I find the quality loss to be negligible and, with my slow internet connection, the upload speed I gain, with a smaller AVI file to upload, is a "plus!"
---
I have been using the "UtVideo YUV420 BT.709 VCM" codec for my video compression tool when doing a Render to AVI in MikuMikuDance. The resulting video is excellent… and the final AVI file-size is pretty large! … but TRY this Codec… you will like it.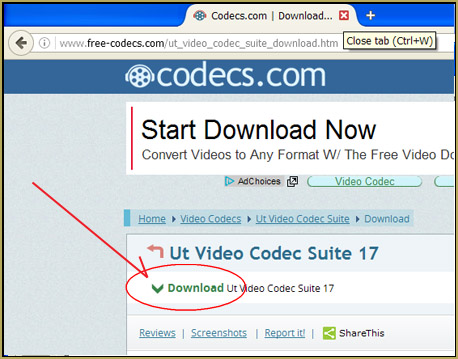 Download the install.exe, install it… and when you are running MMD, see the UTVideo option as a compressor choice as you render to AVI. … You will see several UTVideo codecs in the list, I always use the topmost choice, the .709 version.
I just made a twenty-two second animation with the resulting video being almost 80 megabytes!
For several months, now, I have been using Prism® video conversion software to reprocess my MMD AVI's into much smaller final file-sizes. After running THIS 80Mb video file through Prism, my final file size is not-quite THREE megabytes…

and, with the settings I have used, I can see and hear no difference in the quality of that final video. …
… Okay, THIS exact video has no soundtrack… no sound. … but look at that image… My original ARROW video (the one named Weds PM.avi) was over 400Mb, and with the soundtrack and the beautiful video images, it was reduced to only 20Mb.
Download Prism®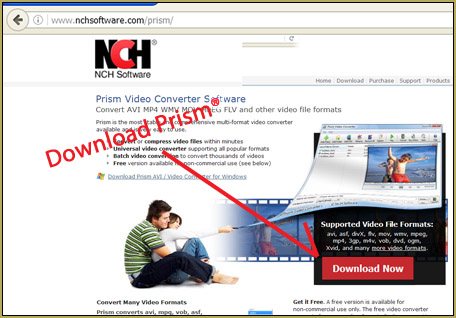 Download and install Prism. It's easy and it's free.  Each time you USE Prism, a little pop-up asks if you are using it for personal use (no charge) or for commercial purposes (need to pay for the use). For our hobby of MMD, just check "personal use".
Setup Prism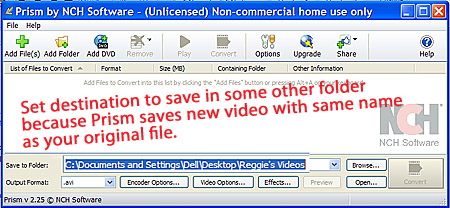 On the Prism GUI, set the output to AVI. … and then setup your Encoder options.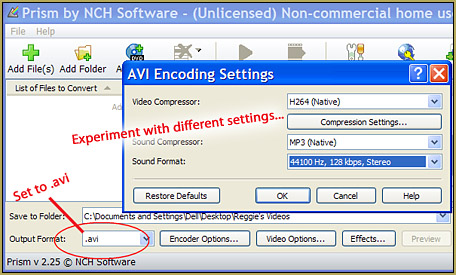 For my latest little Hologram video, I just went with the defaults (as shown in that image). For my Arrow animation, my original video was so huge, that I set the encoder for some of what I thought would yield a minimum file size, maximum compression. … and I chose the "UtVideo YUV420 BT.709 VCM" option rather than the default  "H264 (native)"… output Mp3 audio at only "22050 Hz, 128 kbps, stereo" as I tried to get that smaller file size.
As I said, "Arrow" went from nearly 800Mb (my actual final, finished AVI size) to only about 20Mb… and I feel the final video has all of the quality that it needed after it got through the YouTube processing-mill.
Enjoy Prism…
So… download Prism video converting software and try out the various options. I have found that, even on my slow DSL connection, I can upload a video to YouTube in the time it takes me to write the video's description!
---
– SEE BELOW for MORE MMD TUTORIALS…
---
— — —
---
– _ — –
---