---
Happy Birthday Miku … SIX YEARS OLD on August 31st, 2013!
A little Tribute by Reggie Dentmore
Hatsune Miku's birthday is coming around, again … her phenomenal instant-burst into stardom continues as her creators release her into new venues. She started out as a character in the Yamaha/Sony/Sega Vocaloid games. Today she stars in concerts "Live on Stage", in Toyota TV commercials, and in tens of thousands of fan-made videos on NicoNicoDouga and YouTube, thanks to the free program: MikuMikuDance! With her popularity on the rise, Miku's showbiz career has no end in sight! Happy Birthday Miku!

has been online for just over TWO years. I have been writing for, and working on, these pages every day since August 18 of 2011. I can't tell you how excited I was to discover MikuMikuDance, back then. Wow! … a free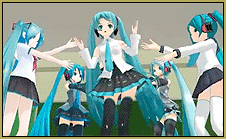 3D animation software featuring anime-style dancers … How awesome is that?! I downloaded the program and got started. Learning the nuts and bolts of this software has consumed my brain and my spare-time for this last couple of years … and every now and then I need to remind myself to "stop and smell the roses" … take a break from the details and re-discover the Magic of MMD. MikuMikuDance is a wonderful program with limitless creative possibilities. There are tens of thousands of "users", MMDers, creating unique animations and works of art … a veritable explosion of human creativity on a global scale! Unbelievable that Miku's charming little face and the simple 5mb downloadable program folder could release so much pent-up energy!
Many "Favorite" Videos …
My list of YouTube "Favorite" videos is long, indeed. But I keep coming back to this one … I just love it:
"Don't take off my Sailor Suit" or "Won't take off my Sailor Suit" … something to that effect … by YouTube's aoki2720 … Fun Music and dynamite use of the motion files to create a wonderful romp of a sing-and-dance routine. LOVE the use of the many Miku models … and Neru and Rin, as well. This is one of my top favorites! … (My brother's response was "Wouldn't want to be the janitor in THAT school. I mean, who's gonna want to sweep-up all the blue hair?") … too funny!
So … Get Re-Excited about MikuMikuDance …
Say "Happy Birthday Miku!" … and revisit YOUR list of favorite videos … relive the excitement that first got you started with MikuMikuDance!
---
– SEE BELOW for MORE MMD TUTORIALS…
---
— — —
---
– _ — –
---