---
Stage for MikuMikuDance. I need a new stage for Miku Miku Dance? Where can I download a new stage for MMD?
Download the
LearnMMD Auditorium Stage

for MMD

I wanted a school-auditorium-style of stage for my "Dueling Banjos" project … and I could not find one. So … I went into Google Sketchup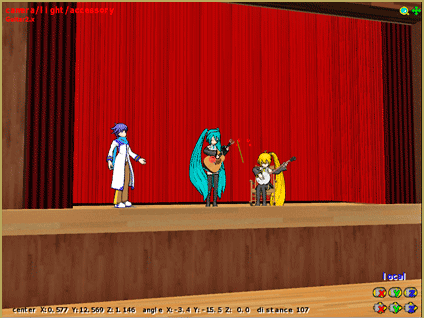 and made one! I was trying to remember some ancient history … my elementary school days … as I designed the elements of this stage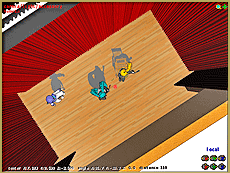 for this MMD accessory.
See the instructions for using the LearnMMD Auditorium Stage.
I built the model "from scratch" except for the curtains which I found in the SketchUp Warehouse … bright red! (I saved my new model to the Warehouse and gave credit, there, to the modelers who made my drapes.)
Go to the DOWNLOADS page, click the button, there, to get your own copy of the LearnMMDStage1.zip . Drop the zip folder into your Accessories folder, open it, and Extract ALL. This accessory is made up of a bunch of small files … so keep 'em all together inside the same folder.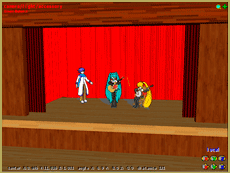 You will want to turn off the View Coordinate Grid in the View Menu. Note how bright those curtains are … BRIGHT red! You will want to adjust the lighting to bring some shadows onto the drapes. Also be sure to use the Black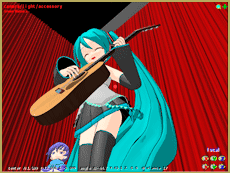 Background setting so that the overhead looks dark rather than white.
This model is also inside the Sketchup Warehouse. Search the Warehouse for Simple Stage or Stage MMD or Reggie Dentmore and you will find it. Go ahead and make changes to it … adjust the size, change the colors, add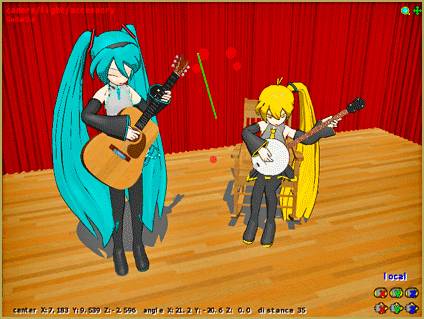 things … give it your own name and upload your version back into the Warehouse. Save it as a DirectX model using the 3D-RAD plugin. Please CREDIT LearnMMD.com as the inspiration for your model. Thanks!
Have fun with it! … It's SHOW TIME!
---
– SEE BELOW for MORE MMD TUTORIALS…
---
— — —
---
– _ — –
---