---
Where can I get Haruka Nana? Download Haruka Nana for MMD MikuMikuDance.
New LearnMMD Video Features Haruka Nana Dancing Modified Sample Dance
MikuMikuDance is very powerful. It can do more than  make show biz dance routines. Adding Text and graphics converts MMD into a powerful communicator! The program is not far different from the professional 3D animation software used by commercial studios.
I recently located the Haruka Nana model available from her UTAU Official Website. The link to that home page website is listed in the video's credits. See the video for the credits.
She is a UTAU design … her downloads include huge syllabic collections for the UTAU synthetic voice software … but the download file ending in STARTER .ZIP contains the folder containing the MMD model: Haruka Nana. For simple MMD use, you can delete the unused file folders.
I made this GIF to show you some of her optional features: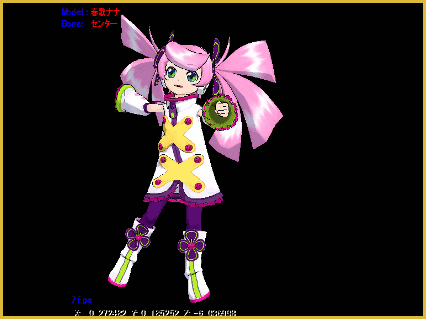 When you collect Haruka Nana for your MMD dressing room, be sure to save her links and info so that you can give her creators proper credit.
The concept for the new video was to show that MMD can do more than dance routines. I learned a lot as I created the many pieces needed for the various effects. To start with, I located and downloaded the MikuEffect program … and the Nameplate Effect … a special thanks to Eric at Mikudance.info … and I learned to use the type tool within Gimp 2.6 to create the PNG files with transparent backgrounds required by that Nameplate effect.
All of that barely scratches the surface of the many concepts we can focus upon in future posts … more later!
---
– SEE BELOW for MORE MMD TUTORIALS…
---
— — —
---
– _ — –
---