---
LearnMMD Teammate "Meters Persecond" has a …
New "Getting Started with MMD" Video on YouTube!
Meters Persecond has posted his first video in what he is calling his "How-To" for MikuMikuDance series. It's a nine-minute intro to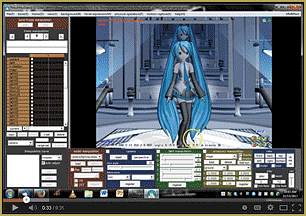 MikuMikuDance … Getting Started with MMD … showing LearnMMD as "the place to go" to get your MMD download … Much Appreciated, Meters! … 
Full of enthusiasm and encouragement, Meters' new video will get new MMDers off to a good start! He visits LearnMMD.com and downloads the latest version of MMD … setting the Zip file into one of his open folders. He then unzips it using 7-Zip and shows us that the new folder contains the MMD program … and it is ready to use; there is no "install" as it runs right from your desktop.
Meters then clicks around, a bit, to show us the demo "sample dance" and some of the features native to the MikuMikuDance software. He lets us know that this video is the first in the new series he hopes to create … with a new episode coming every Wednesday! That's a tall order!
"We're counting on you Meters!"  ":o).
---
– SEE BELOW for MORE MMD TUTORIALS…
---
— — —
---
– _ — –
---