---
How many animes have been made with MikuMikuDance? MMD and making anime? Are there

any animes made using MikuMikuDance. Is Tesagure! Bukatsu-mono really made using MMD?
Tesagure! Bukatsu-mono is an anime with MMD associations.
I'm a long time anime fan and have been MMD-ing for just over two years. So I'm really pleased to find out that this fall anime season there is an MMD related anime called Tesagure! Bukatsu-mono. The only reason I found out was one of the members of the anime group I belong to had mentioned it to me.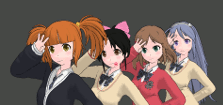 Tesagure! Bukatsu-mono is a slice-of-life comedy that parodies anime and manga in general. There are four main characters: Aoi, Koharu, Yui and Hina,. They are the four members of an unofficial school club called the Groping Club-NOT what you are thinking. They are groping for a reason to exist as a club (Actually the group is called the Temporary Everyday Activities Club. I watched a rather bad translation when I had written this article).
So, if you are looking for mechas, vampires, zombies, magical girls, rom/coms or any other jejune anime classification; then you wouldn't want to watch this one. If your taste runs more toward Joshinraku and Sayonara, Zetsubou-Sensei then you might want to give Tesagure! Bukatsu-mono a chance. Bitmapchao's YouTube channel has a translation of the opening: http://www.youtube.com/watch?v=P2NHwqqaGpU . I can't comment with any authority on the accuracy of the translation it's still funny though.
A Model show.
MikuMikuDance has been used for other animes. Most notable are Gdgd Fairies (pronounced Goody Goody Fairies) and a lesser known work Straight Title Robot Anime. It seems that Japanese television sees the value of MikuMikuDance as a viable (and cheap) means of animation. Tesagure! Bukatsu-mono is MMD's first foray into somewhat realistic character design.
As part of Tesagure! Bukatsu-mono's marketing strategy, Nippon Television Network Corporation has made available MMD models of  the four main characters. The site is here: http://www.ntv.co.jp/tesabu/mmd/. Please click and read the terms of agreement. I have uploaded a video featuring these four young ladies http://www.youtube.com/watch?v=Z17IiyudK8o&feature=youtu.be
Sources:
Tesagure! Bukatsu-mono Models from NTNC.
Gif Motion Data: Girls from MotionMakerDiva's YouTube video: http://www.youtube.com/watch?v=yXQfk5s9Myg&feature=c4-overview&list=UUkPOVQIYzl9K545RCbSfDnw .
Have fun with this.
---
– SEE BELOW for MORE MMD TUTORIALS…
---
— — —
---
– _ — –
---