---
How do you create a silhouette in MikuMikuDance? How do make the models go black in

MMD? LearnMMD MME Tutorials. How do you make a silhouette of an MMD model?
Creating Black Silhouettes in MikuMikuDance:
If you have been looking at the video responses for the Momi Cup 3 you may have noticed a trend of the entrants using silhouettes in a lot of their entries. There is a Silhouette effect in Beamman's site (but that's another article). However, if you already have the Spotlight Effect you have a built-in silhouette effect.
Before you start, make sure that you have MMEffects properly loaded into MikuMikuDance (See Noko2's  article about downloading and installing MME for MikuMikuDance). Then, refer to my Spotlight Effect article (https://learnmmd.com/http:/learnmmd.com/using-the-spotlight-effect-in-mikumikueffects/) to get the Spotlight Effect, if you don't already have it.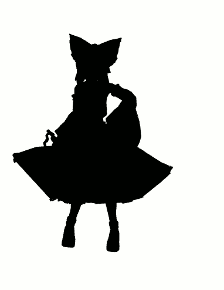 Load your model, .wav, and motion data. Click on the MMEffect button at the top right corner and select Effect Mapping. Another window will open up. Click on the model's name and select the Set Effect button. Go to your Accessory file and select your Effects Folder. Find the Spotlight effect folder and open that up.
Now choose the SpotLight1_Object option, and your model will become a silhouette. If you rotate your view around the silhouette it appears to be a three dimensional shadow of your model.
I made a video showing this silhouette effect for our YouTube channel (https://www.youtube.com/watch?v=2ATMOE7LIBI). In this upload I switched between Meiko's usual appearance and silhouetted form. As I was making this video, I added the Diffusion 6 effect to the "normal" version of Meiko. This blocked the silhouette from showing. To solve this, I went back to the frames where I switched from standard to the silhouette form and unchecked and checked the disp check box for the Diffusion 6 effect in the Accessory Manipulation Panel (AMP) for each transition.
This is another reason why you should always add effects at the end before you render your movie to .AVI.  You won't know how well they will work with each other until you put them all together. In MMD, and life, not everything is black and white.
Have fun with this.
Sources:
Reimu by Isao.
Motion Data: Bad Apple by Unknown.
Effect: Spotlight.
Personal Note:
I hope all of you found the 2013 Momi Cup as inspiring as I did. I hope you have some new ideas and visions. Even if you didn't get to enter this year, I hope you will enter next year.
I am very proud that we were able to sponsor this year's Official Momi Cup Website. I want to extend a special thank you to the Momi Cup Committee for allowing us this special honor.
We here at LearnMMD are ready to help out our readers with articles and a Forums page. We also sponsor Meme parties as training sessions for events like the Momi Cup (but mostly it's for fun). Please join us.
---
– SEE BELOW for MORE MMD TUTORIALS…
---
— — —
---
– _ — –
---