---
How do I add special effects to MikuMikuDance? Where do I find special effects for Miku Miku Dance? How do I use MMD special Effects? What is MME MikuMikuEffect?
Download and Install MikuMikuEffect (MME) To Use Special Effects
Downloading and installing MikuMikuEffect is your first step to adding a wide variety of special effects to your MikuMikuDance tool box.
Prior to creating my "Haruka Nana Dances the Sample.pmm" using Mason Williams' "Classical Gas", I had not used any special effects with MMD.
MME is required before you can use effects within your MMD animations. DOWNLOAD MME from the LearnMMD Downloads Page!
My "Haruka Nana" video uses the NAMEPLATE Effect (You can find this effect at Mikudance.info, lower left column "Effect Links") for the credits and the "Enjoy the Power" graphic.
NAMEPLATE shows "placards" that you create as PNG files. For Best results your image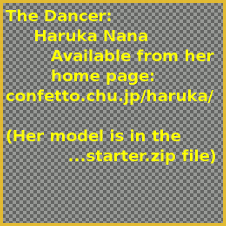 must have a transparent background. Part of what makes the Nameplate Effect special is the fact that it always faces the camera. You can attach the placard to a dummy bone to move it up/down/left/right along the X and Y axis … but the Z axis does not move the image to or away from the camera. You control the size of what is displayed by changing the size of the graphic on your PNG image. This can be a limitation because the maximum size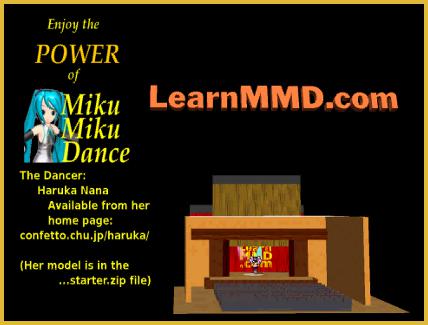 of PNG image is 512 x 512 pixels. I tried to use a larger, deeper image … but the image was squashed/distorted to fit the standard shape. I have discovered that you can adjust the Placard's size by using the "Si" setting in the AMP panel … a larger number makes your placard larger!
If you decide to download the NAMEPLATE Effect, be careful! This was given to me as a "Direct Link", and still I had to go through two Japanese pages before finding the button to actually download the .zip file. Just keep your eye on the prize: watch for  196881  (which is part of the file name) and only follow the links with that number in them. It's a small download, only 23k. Get yourself back to the Mikudance.info Help & Tutorials page to learn how to use Nameplate.
I will soon be writing instructions to help you make your own PNG files using GIMP 2.6 … "Stay Tuned!"  ":o).
---
– SEE BELOW for MORE MMD TUTORIALS…
---
— — —
---
– _ — –
---