---

MMD Theme Video "Let's Dance NOW!" says it ALL!
WHEN YOUR FRIENDS ASK YOU about MikuMikuDance (if you even let them know about it! ";o) what do you tell them? As

an "adult" I say it's a freeware 3D Animation program themed around musical dancing performances that I can create using my home computer. Everything is available for free online and the possibilities are endless! I especially like how I can download what I want or I can make my own dancers, stage sets and props … even record my own music … and then I can upload my finished work as a video to YouTube! Most people say "Hmmm … that's interesting."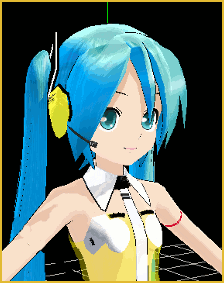 I realize that my long description, above, only scratches the surface of what MMD 7.39 is all about. As a child … the child within me … I can't describe how happy my heart was when I found this beautiful art form. The cute characters, the total freedom, the color, the music, the artificial reality … There are so many videos I'd love to share with you on these pages … but … That's YouTube's job ":o).
This video, "Let's Dance NOW!" is an entry in the "2nd MMD Cup" … and it has been touted as "The Theme" for MikuMikuDance. I believe it! This video describes the joy and the love … the obsession that we have … for MMD.  Posted by KAWARASAN … Enjoy …
This was shown as an opening movie in MMD Workshop of Anime Expo 2011.
Original SONG & MUSIC & MMD STRKAE P
Translation SEKKEN P
"Let's Dance NOW!" … like so many MMD videos …gives me a wide smile when I watch it … and the joy lingers on!
Here's another of my new favorites. This one by AOKI2720. Just TRY NOT TO SMILE when you watch this one … impossible!
I enjoy the MMD videos with jokes or little dramas … or big action sequences … but these two videos, here, totally define MMD for me.
Thanks for watching! Thanks for reading LearnMMD.com … come back often … and …
… Let's learn how to do Everything!
---
– SEE BELOW for MORE MMD TUTORIALS…
---
— — —
---
– _ — –
---