---

How do I make a transparent silhouette of my model? Where can I download the Kamitachi effect for MikuMikuDance? What can I do with the Kamitachi effect?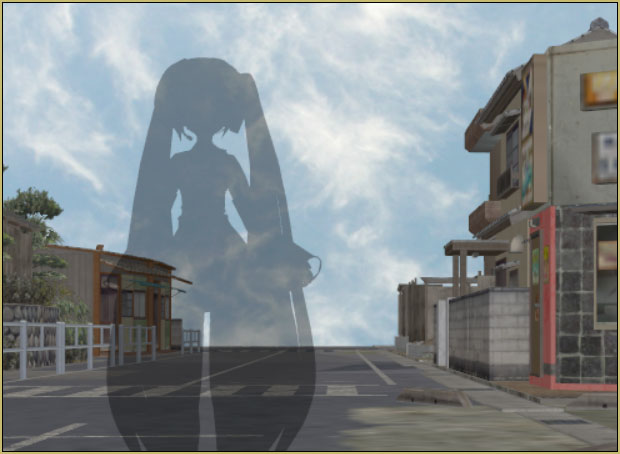 MME effect Kamitachi
… Night breeze silhouette shader of Kama
Super simple and easy to modify…
The Kamitachi effect, by Soboro, gives you a transparent silhouette of your selected model.
You can download Kamitachi from THIS page. … NOTE: There are many effects on that page… you can return there for OTHER effects when you are ready for something new to play with!
There is no .x file… only the one .fx file.
Load your model… go to Effect Mapping in the MME window, select your model from that list and Set Effect… navigate to your effect folder, choose that .fx file and… you are done!
Purple??
YOUR MODEL will now be a transparent purple "ghost"… The default color is purple…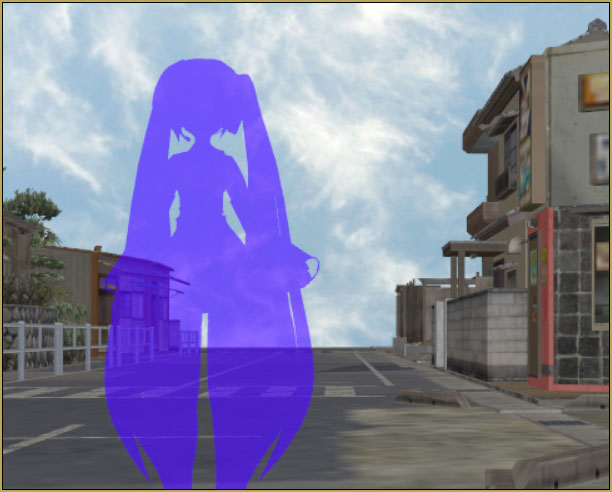 ADJUSTMENTS… COLOR and TRANSPARENCY
Here is the adjustable part of the FX file… Just open the .FX file in Notepad++ or any text editor. YOU can edit and change the Color and Transparency…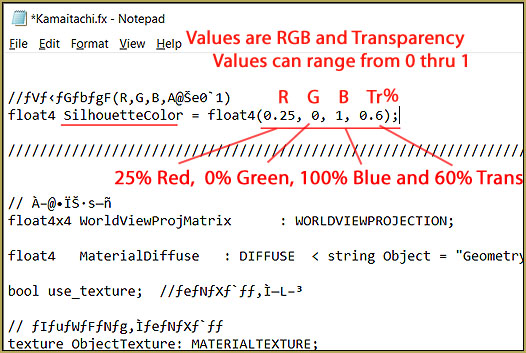 You can do it "LIVE!"
I found that you can have MMD open on your screen and then open that FX file in Notepad++… and adjust and save that FX file…. when you SAVE, MMD will now show you the new color you just made… so: no guessing… adjust colors WHILE watching the result "live" on your MMD stage.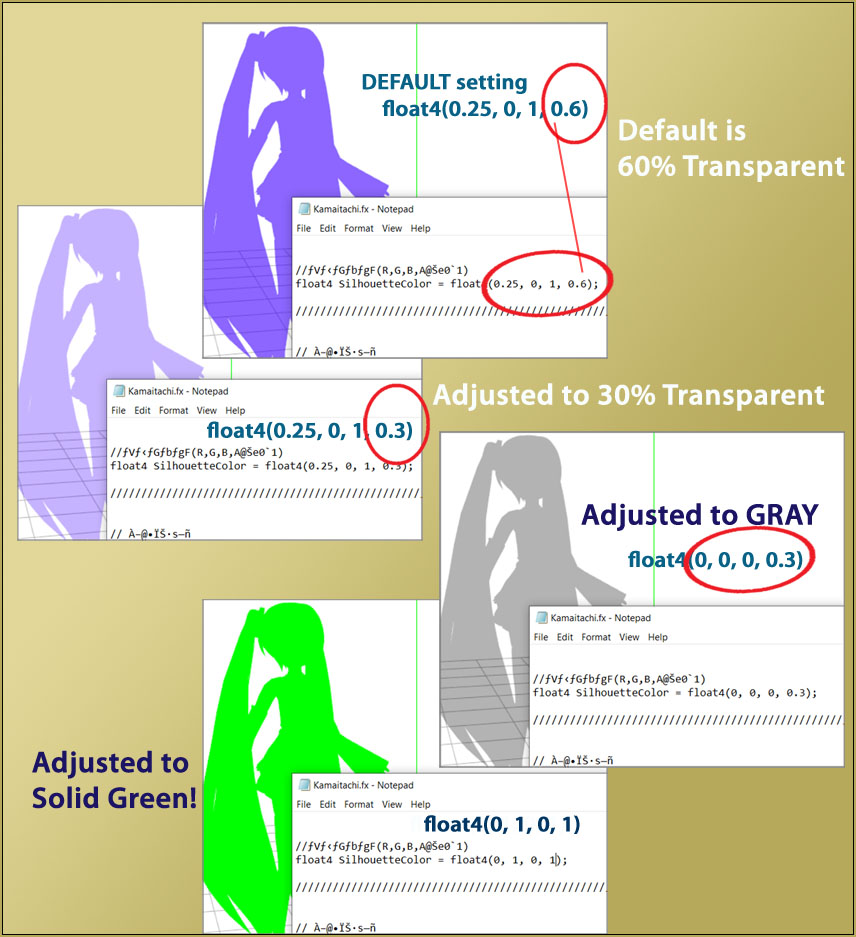 OK… but what can I do with the Kamitachi effect?
You could make a transparent ghost… you could use it like a shadow on a window shade…you could use it to show what someone is actually thinking…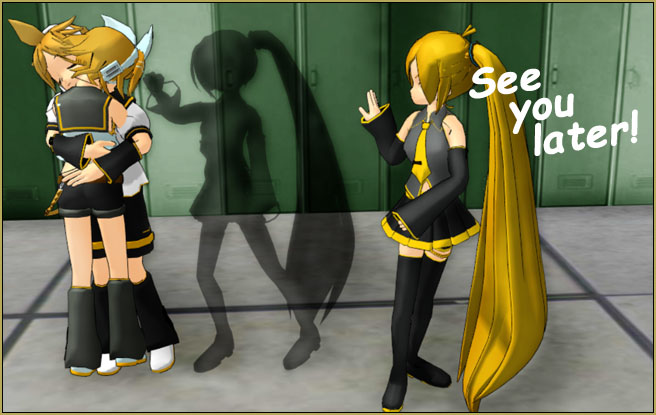 READ the README…
I translated the README file…
Night breeze silhouette shader of Kama

Production: Soboro

By applying it to any model, it becomes a semi-transparent silhouette like a certain game.
Unlike the case of simply playing with the alpha of the material
Overlapping polygons (hair, etc.) cannot be seen through.

It is necessary to put the drawing order later than other models
It is the same as a general translucent material.

Color and transparency can be adjusted by editing the effect and changing SilhouetteColor.
You can change it.

Because it uses a stencil buffer
It may interfere with effects that use other stencil buffers.

In that case, please insert the separately distributed "Stencil Clear" as appropriate.

Terms of use
You are free to use it in any way, but please do so at your own risk
---
So… NOW you know everything…
CREDITS:
Model: Animasa's Miku_Hatsune_Ver2.pmd
City Stage: Kelorin town by Kelorin Jo BTA
Locker-room scene: Harner Productions "MMD inside of school" by ShikaneNara on Devialn Art
Have fun with MikuMikuDance!
---
– SEE BELOW for MORE MMD TUTORIALS…
---
— — —
---
– _ — –
---