---

Happy Lebericson Day
… but no, seriously, lets talk about movies!
No, I don't mean the new Thor movie. OR Frozen.
I mean MIKUMIKU MOVIE!
What? You dont know?
Oh well … I wouldn't expect you to. It hasn't been made yet; key word here being YET!
'Project: MikuMiku Movie!' is UNDER WAY! And youve been invited to watch it all unfold! Every glitch, every crash, every deleted scene and blooper! I plan to document every mishap and screw-up; just for you- I think. *Fishing for suggestions* First order of buisnes, MIKU.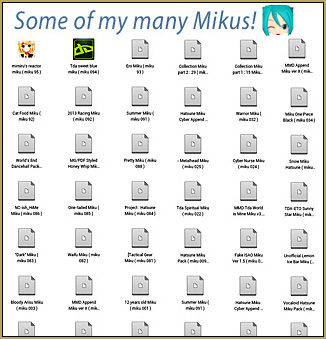 Were gonna need Miku models right? Let's use about 95 Miku models to start with. (spoiler* Miku raises an army of Mikus *spoiler.) But don't all the creators deserve credit? Yea! So let's show them our bookmarks!
No. this dosen't count. You have to name them and link them if possible! Though I'm not going to bore you with my extensive list of models at the moment, I DO credit. "Keep the faith!"
"Now what do we do after we document our models? FIND MATCHING OUTFITS ! I mean STAGES!
Wait.
Why cant I just use one stage?
Because its not pretty, that's why … and movies have scenes! Pretty matching scenes! So when Hatsune Miku meets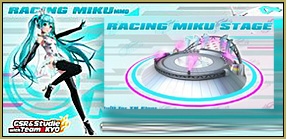 Racing Miku, we have a racetrack stage, right? Right!
Where do I get one of those? Oh my… this will work! We have everything we need for the first scene now!
( I had cars )
End Part One … of many!
---
– SEE BELOW for MORE MMD TUTORIALS…
---
— — —
---
– _ — –
---