---
How do I remove parts of the Model in MMD? How do you hide model parts in MMD? Can I use

the Subset-Extract instead of the pmd editor to hide parts of the model? Is there a tutorial for using the Subset-Extract in MMD?
Using Subset Extracts to Customize Your Models!
Last March I had written an article about using the Subset-Extract function for MikuMikuEffects. What I hadn't mentioned, is that you can use the Subset-Extract function to show or hide certain parts of your models. This is one more tool for the budding MMDer.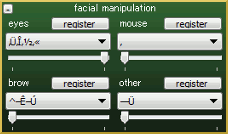 More often than not, a model maker will add accessories to their model that are controlled by the other slider in the Facial Manipulation Panel (FMP pictured here). If they do not have these sliders then you'll be glad you know how to use the Subset-Extract feature. As usual, make sure you have MME properly installed in your MikuMikuDance program. (See Noko2's article about downloading and installing MME for MikuMikuDance).
Model Makeovers.
To be fully prepared to do this, have a pad and pencil ready. Load all of your data (model, motion, .wav, and accessories). Next click on the MMEffects button at the top right of your screen and select Effect Mapping. Another window will open up displaying everything you have previously loaded. Now, click on your model's name; go to the Edit tab and choose Subset-Extract (Note: you can also right click with your mouse and have those same options). You should now see a list of check boxes with your model's subsets.
Now, you need to uncheck each of the subsets. Whatever you uncheck will disappear on the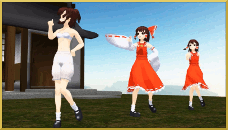 model so make sure to notate the changes. As a word of warning, this won't be so obvious. Sometimes the subsets are inside the model; so be thorough just don't be OCD about it.
After you have finished editing, you may save your changes by clicking the Okay button.
I have uploaded a video experiment to our YouTube channel showing Isao's original version of Reimu with two different Subset-Extract variations. It's here: http://youtu.be/HMqVvieNL0M
Have fun with this.
---
– SEE BELOW for MORE MMD TUTORIALS…
---
— — —
---
– _ — –
---