---
The New MMD Wooden Stool Accessory
is ready for Download
from LearnMMD's Downloads page!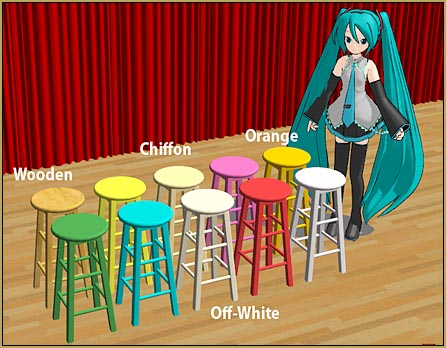 I scoured the Sketchup 3D Warehouse to find just the right classic wooden stool that I could use to create my MMD wooden stool accessory. These work great … and remember that you can adjust their size by using the Si field in the AMP.
The READ ME file in the zip folder gives credit to the original Sketchup artist who created the stool model. When I found the original model, it had a random "cork" texture finish. I "painted it" with a one of the Sketchup "wood" textures, customizing that texture in Photoshop by rotating the texture for vertical grain and lightening the color so that when converted to a DirectX .x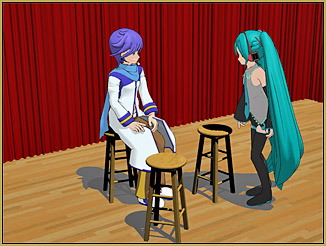 model using the 3D-RAD Sketchup plugin, the finished model wouldn't be to dark a color. After that wooden stool was a success, I then painted and repainted the model to save them in the various colors. They are nice …
So … have a seat!
---
– SEE BELOW for MORE MMD TUTORIALS…
---
— — —
---
– _ — –
---